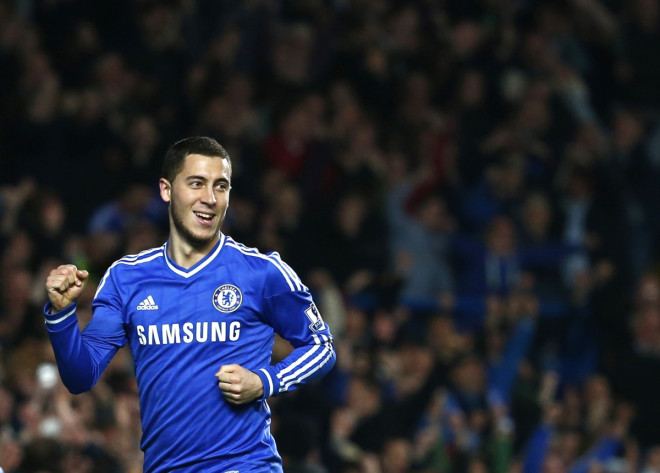 Paris Saint-Germain manager Laurent Blanc has admitted his admiration for Eden Hazard and hinted the Ligue 1 champions could make an approach for the Chelsea star in the summer transfer window.
The Belgium international has been in fine form for the west London club, having scored 14 goals and managed seven assists in 34 league appearances. His performance has seen him bag the Player of the Year award at Stamford Bridge, while also attracting interest from PSG.
PSG have been hit by a €60m fine for breaching UEFA's financial fair play rule and have to control their transfer spending for the next two seasons. The former Manchester United defender is happy to bring Hazard to Parc des Princes in the coming transfer window.
However, the French club's ban means PSG have to spend their money wisely in the transfer market.
"Hazard is the kind of player who can be decisive. You can talk about all kinds of things; tactics, strength of the team, individual class, but a player who is capable of beating three or four players is something else. You never know what to expect from him," Goal.com quoted Blanc as saying.
"Unfortunately for us, next year we'll be watched by Uefa. We will not be able to do what we want, but I think we will be able to improve the team anyway. We'll be working within Uefa's new constraints and want between two and four recruits."
"We already have a very good team in my opinion, so it does not take a lot of players. I think we'll get to do what we want to improve the team," the PSG manager concluded.
Meanwhile, Hazard had earlier admitted that he could leave Jose Mourinho's side and join PSG if his wife insists he move to Paris.
"If my wife tells me 'I want to go to PSG', I'd have to take that into account," Hazard explained.
Blanc had confirmed his side's interest in signing Chelsea's Brazilian duo of Oscar and David Luiz. The defender is set to complete his £50m switch to PSG in the next 48 hours.