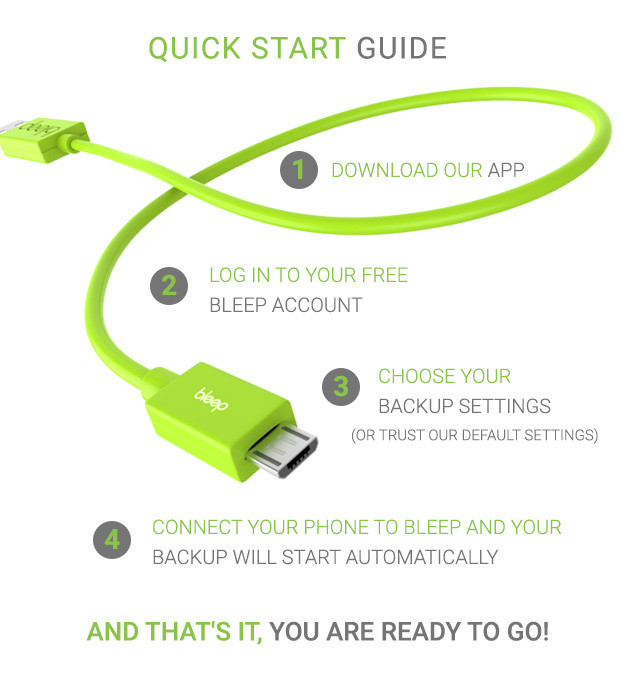 There is a new gadget on the block, a simple smartphone charging cable, but with a difference. This charging cable backs up all your smartphone data as soon as you connect it to your device.
This charger is called the Bleep charging cable, and fits in to smartphones of all brands.
All you are required to do is download the free Bleep app for your smartphones, connect the charging cable to your device, log in to your free Bleep account, customise your backup settings, and bingo! All your confidential data is backed up within the built-in internal storage of Bleep.
Bleep supports plug-and-play, so you can simply plug-in the charger to any Android/iOS smartphone, and create a separate backup unit to store all your confidential data.
Password Protected
All your backed-up confidential data is password protected within Bleep. You are required to set a password, and can only gain access to all your data by typing the password.
Built-in Internal Storage
Bleep comes with an exclusive internal storage area capable of housing 16GB to 64GB of your private data.
Bleep communicates with your smartphones via the free downloadable app, and automatically syncs your new daily data from your contacts, WhatsApp, pictures, history, videos and other media freshly stored within your smartphone.
The entire backup of all your data gets saved when you plug your device in for charging.
How do I recover my data from Bleep, in case my smartphone is lost?
Data recovery is easy. All you need to do is simply plug in the Bleep cable to any other smartphone, and choose the data you want to restore.
Then key in your password, and all your data is restored immediately.
New alternative to cloud
The Bleep charging cable is definitely a viable alternative to cloud backup, as the charging cable does not require an internet connection, unlike the cloud.
Also, Bleep is designed to work as a flash drive, and can be used with your computers as well, to transfer files between systems (smartphones and computers).
Pricing and Availability
Currently, the Bleep charging cable requires your funding, and the gadget is listed on crowd-funding portal Indegogo. Bleep has even surpassed its funding goal, and the Indegogo campaign is open till 24 October.
For contributions click here.
Early contributors get to save 20% on the gadget\'s retail price, when it is officially launched, along with a free USB wall charger and free shipping for citizens in the US and Israel.
The estimated delivery time for those contributing to the project is August 2015.
Contributors have the option of contributing $40 for 16GB, $55 for the 32GB, and $78 for 64GB internal storage variant of Bleep.