Both BMW and VolksWagen show off new electric cars at the Frankfurt Motor Show, as the market for green, rechargeable cars continues to grow.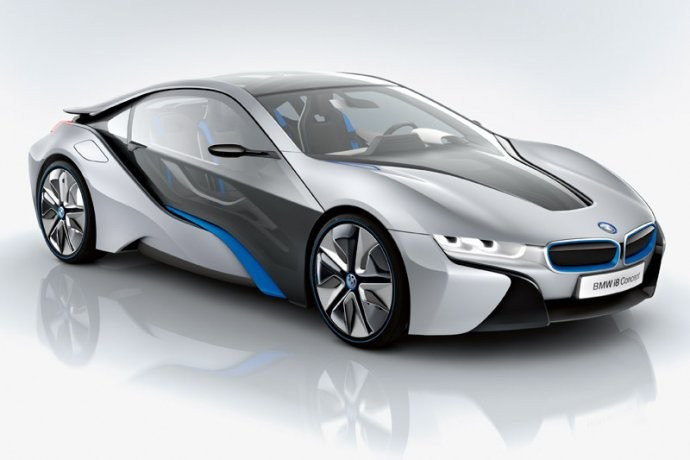 BMW has finally revealed in full the i8 electric sports car which it hopes will convince motoring enthusiasts that performance and electric power can go hand-in-hand.
In development alongside the smaller electric i3 city car, launched in July, the i8 is a sleek, mid-engined sports car with a carbon fibre-reinforced plastic body shell and lightweight aluminium chassis.
The i8 is powered by a lithium ion battery pack combined with a 1.5-litre three cylinder turbocharged engine. The battery powers the front wheels - and can be used to drive the car entirely on electric power for up to 22 miles - while the petrol engine drives the rear wheels and delivers power to a rear-mounted generator to keep the battery topped up.
Total power output is 356 bhp and torque is 420 lb ft, which means the car can accelerate to 62mph (100km/h) in 4.4 seconds and reach a top speed of 155mph, all aided by the car's relatively low weight of 1490kg; the i8 will drive at up to 75mph on battery power alone.
Such performance figures make the i8 as quick as BMW's hugely popular M3 sports saloon car and take the hybrid car concept into previously untapped sectors of the market.
Range
As for range - arguably the most important factor when considering an electric car against its petrol rivals - BMW claims the i8 is good for 310 miles in hybrid mode, with the engine providing power to both the rear wheels and battery via the generator.
In keeping with the car's environmentally-friendly remit, the i8's carbon fibre panels are constructed at a US plant powered by zero-CO2 hydroelectricity, while the power for BMW's manufacturing plant in Leipzig, Germany comes from local wind farms.
Although not an all-electric car like the Tesla Model S or Nissan Leaf, the i8 shows promise of an emerging market for hybrid cars aimed at the motoring enthisiast, and can be used for more than just inner-city commutes.
BMW prides itself on the i8's near 50-50 weight distribution front to rear, and the car's 2+2 seating layout, where two front seats are joined by two much smaller rear seats designed for children, echos that of the Porsche 911.
But using carbon fibre panels and a hybrid powerchain isn't cheap; BMW has admitted the i8 will cost in excess of €100,000 (£86,000), and in reality it is expected to cost around £100,000 when it goes on sale in the UK and across Europe before the end of 2013.
VW Announces Electric Golf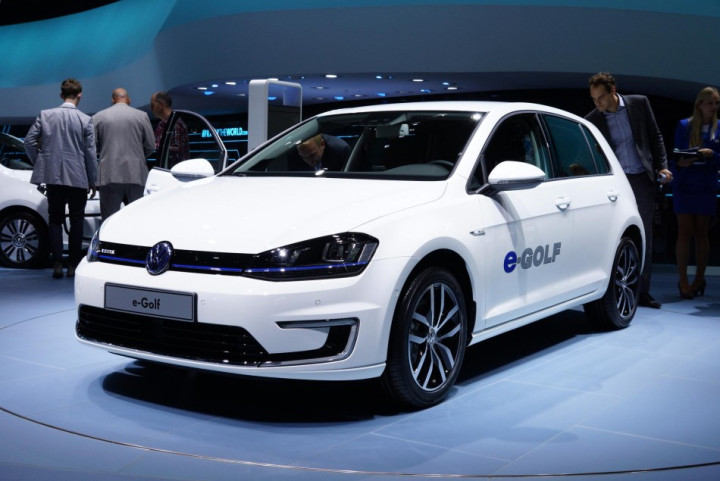 Meanwhile, at the other end of the electric car scale, VolksWagen used the Frankfurt Motor Show to announce the e-Golf, an all-electric take on the hugely popular hatchback. Powered by a 114bhp electric motor, the Golf can manage 0-60mph in 10.4 seconds (about average for a small hatchback with petrol or diesel power), while top speed is 80mph, conveniently the speed limit for much of Europe.
VW claims the e-Golf's all-important range is 118 miles on a single charge, but this range will vary on driving style, as VW hopes drivers will make use of the car's four levels of regenerative braking, which harvests energy used while braking to top up the battery.
As for charging, the supplied cable will take a full 13 hours to replenish the battery from a regular mains socket. Thankfully, VW will offer a more powerful charger capable of charging the car in eight hours. When out and about, access to a fast-charging station like the CCS systems beginning to spread across the UK will see the Golf's battery reach 80% full in just 30 minutes.
Cost-saving
In terms of cost savings, VW claims the e-Golf will cost around £2.76 in electricity per 62 miles driven. VW is yet to announce a price or release date for the e-Golf.
At first dismissed as a practical impossibility, the electric car is becoming a more viable option than ever before - and as these two cars prove, manufacturers are keen to offer options spanning a wide market. The UK's electric car charging network is constantly growing, and with the award-winning Tesla Model S due in the UK laster this year, a future of practical and affordable electric cars is edging ever closer.