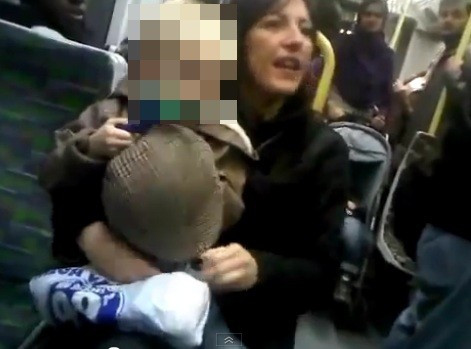 The British National Party (BNP) has sent Emma West a message of support following their appearance at her magistrates' court hearing this week and are defending her actions as "supporting free speech against immigration policy."
West, 34 from New Addington, Croydon, was the star of the My Tram Experience video that was uploaded onto YouTube and has since been watched by nearly 12 million people across the world. West is charged with committing a racially-aggravated public order offence on a tram between October 31 and November 28.
The International Business Times UK caught up with Carlos Contiglia, the BNP's London mayoral candidate, who claimed that the Criminal Prosecution Service's reasons for keeping West remanded in custody were false.
"By saying they are keeping her remanded in custody for her own protection, she remains imprisoned. We have spoken to the partner and family of West, who said no death threats have been reported - bar a single message on Facebook.
"This is the only way that they can keep Emma West behind bars without making it look and sound like she has been arrested, because they cannot detain her legally," he continued.
BNP leader Nick Griffin posted a message of support for West on his Twitter page, just hours before the hearing, urging supporters to send her a Christmas card following our report on right wing forums rally to her support.
Former Croydon Central BNP candidate Clifford Le May attended the hearing and the Croydon Advertiser reported he "nodded in approval and magistrates were shown the YouTube video".
Also present at the hearing were Mr Cortiglia and Dave Clarke, a BNP candidate for the council in New Eddington. Clarke was found guilty last year of assaulting two women who were protesting against fascism.