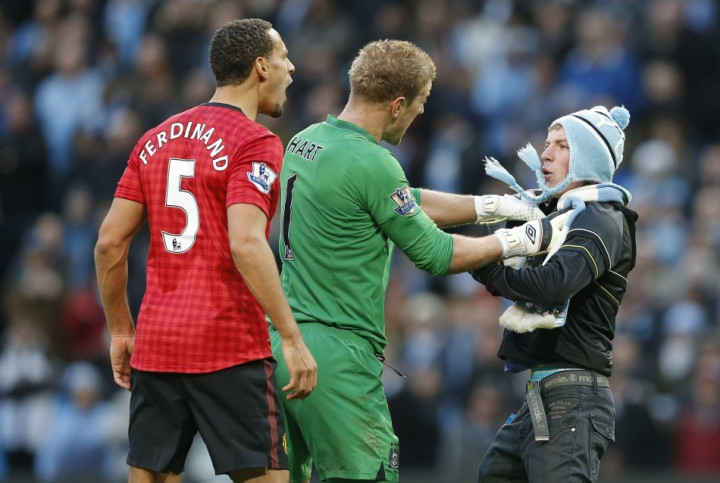 A Manchester City fan who ran onto the pitch and confronted Rio Ferdinand at the end of a heated derby game has been banned from attending matches for three years.
Matthew Stott, 21, of Knutsford in Cheshire pleaded guilty to pitch encroachment at Manchester Magistrates Court after running up to the Manchester United defender following their 3-2 win at the Etihad stadium on 9 December.
Stott was warned he came close to going to prison, but instead his 56-day jail term was suspended for 12 months.
As well as the ban, Scott was ordered to do 120 hours community service, pay £145 in costs and observe an 8pm to 6am home curfew for three months.
The landscape gardener, who had drunk eight pints of lager before kick-off, had to be restrained by City goalkeeper Joe Hart after running onto the field.
Ferdinand had already been left bleeding after being hit by a coin thrown from the crowd following Robin van Persie's late winner.
District Judge Richardson said: "He chose to attack somebody on a football pitch. But for the timely and appropriate intervention of the City goalkeeper the situation would have been a lot worse and could have triggered a serious incident of disorder."
Following his arrest, Stott apologised to Ferdinand, saying he was "extremely ashamed" of his actions.
He added: "I have let myself down, my family down, my fellow fans down and Manchester City Football Club [down].
"I intend to write personally to Mr Ferdinand to express my extreme regret and apologies and also apologise to Manchester United and their fans. I would like to thank Joe Hart for his actions when I came on the pitch."
Stott was one of nine people who was charged by police following the match.