The charred body of a man has been found outside a house in an area of California devastated by some of the worst forest fires to hit the state in decades. The victim was found outside a house in Santa Clarita, where the "Sand Fire" has destroyed 31 square miles of countryside and forced the evacuation of 1,500 residents.
In the town of Sylmar, the Wildlife Waystation had to evacuate hundreds of exotic animals including Bengal tigers and bears when the fire drew near. The owners had to ask local people with trailers to help them evacuate all the animals to safety.
Los Angeles is covered in smoke and South Coast Air Quality Management District (SCAQMD) has warned it will be unhealthy to breathe at times until it disperses. Some local swimming pools have been closed in the city due to falling ash.
SCAQMD's Jo Kay Ghosh told the LA Times that if the air quality was making residents uncomfortable: "Do whatever you can do to remove yourself. At the end of the day, people need to use their judgement. For people who are sensitive, I certainly would encourage them to be more careful."
Firefighters have blamed this year's high number of fires across the state on the continuing drought which has affected California over the last five years. Los Angeles County Fire Chief Daryl Osby said: "Because this is the fifth year of an ongoing drought we have a lot of dry vegetation. Some of these fuels, they haven't burned in decades. This fire has increased to about 11,000 acres just overnight."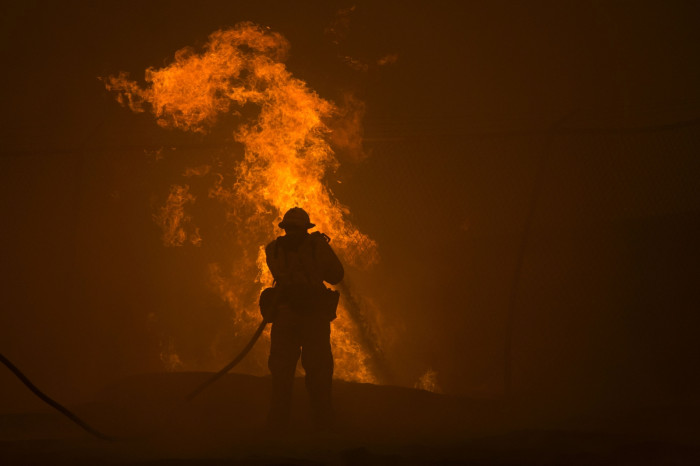 Three hundred miles up the coast in Garrapata State Park near Big Sur a separate fire caused the evacuation of 1,000 homes in Palo Colorado. A local school had to be turned into an emergency centre for residents fleeing the flames.
One resident, Jerri Masten-Hansen, told local station KSBW: "The fire that had been behind the range that was right next to us was never jumped over that and had landed on the slope coming into the Palo Colorado. If the wind comes up again this afternoon, it could be very, very hard for all of us."
The wildfire has been nicknamed 'Sand Fire' as it's believed to have started near Sand Canyon Road.