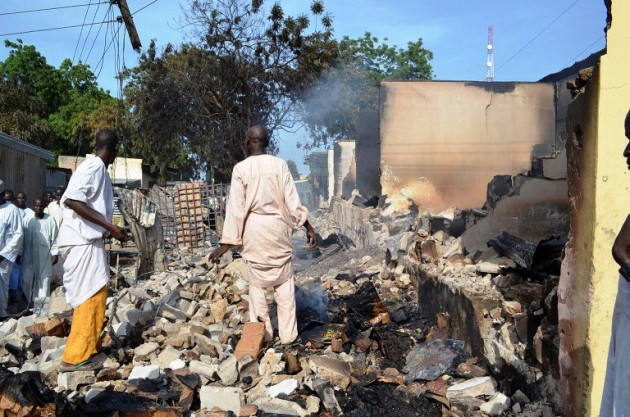 At least 50 students are believed to have died at the College of Agriculture in Gujba, Yobe state, northeast Nigeria, after gunmen from the Islamic Boko Haram broke into a dormitory and opened fire as they slept.
Security forces are yet to confirm the scale of the incident, but it is believed survivors have been frantically calling their families amid concerns the gunmen may still be in the vicinity.
Since its establishment in 2002, Boko Haram has killed thousands of people in Nigeria as part of a demand to create an Islamic state in the northeast of the West African country. Many of its victims have died in church attacks but according to Al-Jazeera most have been ordinary Muslims.
There has been a sharp upsurge in attacks since the group's former leader Mohammed Yusuf died in police custody in 2009. Schools and other places of education have sometimes been targeted as Boko Haram consider western-style education "un-Islamic". In a similar attack in Mamudo in July, gunmen broke into dormitories and killed at least 42 people, mostly students.
In May 2013 the Nigerian government imposed a state of emergency in three northern states in a bid to combat the threat from extremists. The turmoil in northern Nigeria has created a refugee crisis as frightened locals flee across the border into neighbouring Cameroon and Niger or to safer areas in the south.
Uncertainty surrounds the exact structure and membership of Boko Haram. Many Nigerians suspect criminal gangs adopt the name to carry out random crimes and some believe the Nigerian security forces commit atrocities in the hope of getting more funding to fight terrorism.
Although Nigeria is roughly split along sectarian lines, and the government is mostly comprised of Christians from the south, the ruling party does include Muslims.
Last week, speaking on the 53rd anniversary of the nation's independence, Vice President Mohammed Namadi Sambo called for ordinary Nigerians of all religions to live in peace.
Sambo was speaking after a man claiming to be the head of Boko Haram appeared on video to claim responsibility for a massacre in Benisheik, in which up to 200 people died.