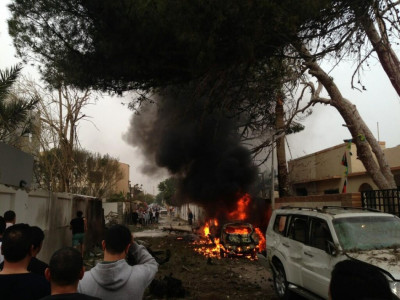 A car bomb has exploded outside the French embassy in Libya's capital of Tripoli, injuring two guards and a local 13-year-old girl.
The blast caused major damage to the building, located in the upscale al-Andalus neighbourhood, and has been described as a "terrorist attack" by Libyan foreign minister Mohammed Abdel Aziz.
French president Francois Hollande said the attack targeted "all countries in the international community engaged in fighting terrorism" and urged local authorities to act swiftly in bringing the perpetrators before justice.
"France expects the Libyan authorities to shed the fullest light on this unacceptable act, so that the perpetrators are identified and brought to justice," Hollande said.
The explosives-laden car was detonated before the diplomatic mission opened for business in the morning, Libyan security officials said.
Nearby buildings were damaged by the powerful blast and two cars parked outside the compound were set ablaze. A 13-year-old girl in a nearby house was injured and is being taken to Tunisia for treatment, Libyan Deputy Prime Minister Awad Barasi revealed.
"In conjunction with the Libyan authorities, our government departments will make every effort to ensure that all light be shed on the circumstances of this heinous act and its perpetrators quickly identified," French Foreign Minister Laurent Fabius said. Fabius is due to fly to Libya later today to assess the situation, the ministry confirmed.
The bomb is the latest is a string of attacks against Western diplomats in Libya since the toppling of late dictator Muammar Gaddafi in 2011. However it is the first such assault to hit a diplomatic mission in Tripoli.
The British consulate in the city of Benghazi closed in June 2012 after a convoy carrying the UK ambassador to Libya, Dominic Asquith, was hit by a rocket-propelled grenade in the city's streets.
Italy shut down its compound in the eastern costal town and pulled its staff out of the country after the consul was targeted in a similar attack three months ago.
Guido De Sanctis's bullet-proof car came under gunfire from a running car at a crossroads, in what Italian Foreign Minister Giulio Terzi described as "a vile act of terrorism".
Last September, US ambassador Chris Stevens and three other Americans lost their lives in violent uprisings at the US consulate, after the release of the anti-Islam film Innocence of Muslims.
No group has claimed responsibility for the attack yet. Al-Qaida in the Islamic Maghreb (AQIM) has threatened to hit French targets following Paris military intervention against Islamist insurgents in Mali earlier this year.