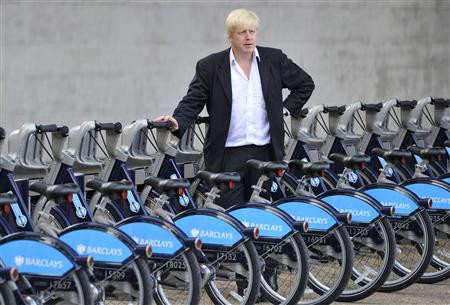 Transport for London has said that it would be putting on extra bus and river services in order to dampen the effects of a 24 hour strike on the London Underground, being held from Sunday to Monday evening. Meanwhile unions have accused Boris Johnson of "playing to the gallery" before the Conservative Party Conference.
TfL also said that the strikes held last month by the RMT and the TSSA unions had prevented only seven per cent of Oyster card holders from making their journeys despite unions predicting "paralysis".
The strikes centre on union accusations that London Underground staffing changes will lead to compulsory redundancies and the closure of ticket offices
For the upcoming strikes TfL said it would be putting on an extra one hundred extra busses and capacity for 10,000 extra river journeys. In addition planned roadworks are to be delayed or curtailed in some cases, while volunteers will be providing maps and advice for struggling travellers.
Despite this TfL recommended that Londoners walk or cycle to work, pointing out that in the last strike the new Barclays "Boris" Bike hire scheme had seen record usage.
Boris Johnson, Mayor of London, said, "As we saw in the last strike, the belligerent actions of the Union leaderships will not bring London to a halt. They may disrupt Londoners, but they will not stop us from getting around our city. We will keep London moving.
"We are expending every effort to give people alternative ways of getting around - boosting river and bus services, holding back road works and encouraging people to cycle.
"This strike is pointless, and I hope that this time - when Londoners beat the strike once again - the RMT and TSSA leaderships will see sense and return to talks to avert further disruption."
Peter Hendy, Transport Commissioner, said, "There is no need for this strike at all, and we continue to make every effort to avoid a dispute. Despite the RMT and TSSA leaderships saying this is about safety, they have failed to raise a single safety-related point with London Underground in hour upon hour of talks, and have not responded to our request that they set out their specific safety concerns.
"The changes we are making are essential - due to the success of Oyster just one journey in twenty now involves a ticket office, and some ticket offices sell fewer than ten tickets an hour. We have explained that the changes come with no compulsory redundancies and no loss of earnings, and mean that stations will remain staffed at all times and every station with a ticket office will continue to have one. Still the union leaderships are intent on disrupting Londoners.
"Journeys will be more difficult, and we regret that, but they will not stop London from moving. Ninety three per cent of our customers beat the strike using public transport last time, and we will be boosting services to allow them to do so again."
Gerry Doherty, Leader of TSSA union, called on Boris Johnson to cancel his trip to the Conservative Party conference this weekend. He said, "Boris seems determined to steal the show from David Cameron next week with a bout of union bashing to cheer up delegates attending the Tory Party Conference.
"We wrote to him over six months ago urging him and Peter Hendy to meet us face to face to discuss his plans to cut 800 ticket office jobs and slash opening hours by more than 6,000 hours at more than 250 stations.
"So far, he has not bothered to reply. Even at this late hour, we would urge him to stop playing to the gallery and enter into urgent talks to resolve this dispute before Sunday evening.
"This dispute is far too serious for him to be playing politics. Cheap applause in Birmingham may help him one day to become Toy Party leader but it will do nothing to help Londoners to get to work on Monday."