'Pandemonium' in Malaysia After Government Troops Re-take Borneo Village from Filipino Fighters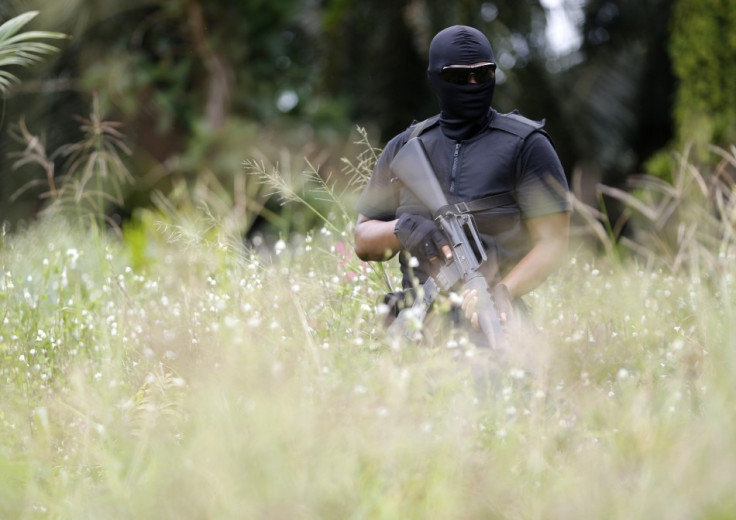 Malaysian authorities claim they have re-taken control of a Borneo coastal village in the north-eastern Sabah state from armed members of a Filipino clan during a military operation.
Government troops assaulted positions held by about 200 Filipino gunmen, who have been occupying the village of Kampung Tanduo for three weeks.
"We are yet to determine how many members of the enemy are dead or injured but we confirm there were no casualties involving our police personnel and soldiers," Malaysian police inspector general Tan Sri Ismail Omar said.
"We achieved our intended targets accurately in the air strikes carried out," Omar said, adding that the offensive was still ongoing.
Ground troops, backed by airstrikes and mortar attacks, raided the village in the Lahad Datu district in a joint operation with police.
The offensive ended a standoff which has left at least 27 people dead, after members of an Islamic Filipino clan sailed through naval patrols and landed in the disputed Borneo region to occupy Kampung Tanduo.
"We saw the jets fly past our village and then minutes later the ground shook when the bombs went off consecutively," local resident Nasir Asrama, 38, told Malaysian newspaper the Sun Daily.
"Pandemonium broke out and we all rushed out of our house, gathered outside and fled in our lorries."
Armed with rifles and grenade launchers, the clansmen call themselves the Royal Army of the Sultanate of Sulu, claiming to be descendants of an Islamic power that used to rule over the area.
The group is led by a brother of Sultan Jamalul Kiram III, of the southern Philippine province of Sulu, and claims sovereignty over northern Borneo.
Eight Malaysian police officers and 19 Filipinos were killed in fire fights that broke out during the standoff.
"After the first attack, I stressed that the intruders must surrender themselves or the security authorities will have to act," Malaysian Prime Minister Najib Razak told news agency Bernama.
Razak said police held negotiations with the Filipino fighters to persuade them to leave, but he was forced to order the assault as it became evident they had no intention of withdrawing.
"Our security forces were attacked and killed. Malaysians, particularly those in Sabah, are worried about their safety," Najib said.
"For our sovereignty and stability, we will not allow even an inch of Malaysian territory to be threaten or taken by anyone."
Rich in timber and oil resources, Sabah became part of Malaysia in 1963 but the government still pays a yearly lease to the Sulu Sultanate, which the fighters say should be higher.
"If this is the last stand that we could take to let the world know about our cause, then let it be," said Abraham Idjirani, a spokesman for the Filipino fighters.
The Phillipines' Foreign Secretary Albert del Rosario is holding a meeting in Kuala Lumpur with his Malaysian counterpart over the crisis.
Manila is facing internal pressure to do more in defending the Sultanate fighters, and the Government urged Kuala Lumpur to exercise maximum tolerance to avoid further bloodshed.
"We've done everything we could to prevent this, but in the end, Kiram's people chose this path," Filipino presidential spokesman Ricky Carandang said.
© Copyright IBTimes 2023. All rights reserved.