Borussia Dortmund have dropped a €100m (£90m) price tag on Ousmane Dembele after interest in the attacker peaked following Neymar's world-record transfer to Paris Saint-Germain.
Barcelona have made him one of their main targets to replace the Paris bound Brazilian but will have to meet the Bundesliga club's valuation to have any chance of landing him this summer. The Catalan giants are not the only club interested with Arsenal and more recently Real Madrid also said to be interested in signing the French winger.
Reports in Spain suggest that Arsene Wenger's side have had a bid rejected for Dembele, while the Spanish capital club are said to have identified him as an alternative to their main target Kylian Mbappe, who is valued upwards of €150m. It is believed that the latter have initiated contact as well, which will bode well for Dortmund in terms of getting the price they desire.
According to the Bild, the Bundesliga outfit are reluctant to allow one of their key players to leave this summer, but a bid close to the €100m mark is expected to bring them to the negotiation table. Barcelona will be desperate to bring in a high profile signing to put behind the Neymar transfer saga and with €222m sitting in their bank, they are unlikely to be fazed by Dortmund's valuation. If the Catalan giants do sign him, it will be their fourth addition following the arrivals of Nelson Semedo, Gerard Deulofeu and Marlon earlier in the summer.
Dembele recently revealed that he was happy at Dortmund, but he has previously stated his admiration for Barcelona saying that it would be a 'dream' to play for the Catalan giants. The Frenchman's current teammate Pierre Emerick-Aubameyang seemed to hint at a potential move to the Camp Nou for Dembele when he retweeted the video of the same interview earlier this week.
Dortmund manager Peter Bosz, however, remains unconcerned about the speculation surrounding his player and believes Neymar's world-record transfer will not be a single case when players of the calibre of Lionel Messi and Cristiano Ronaldo emerge in the future.
"We are not worrying about Dembele going to Barcelona," Bosz said ahead of Dortmund's DFL Super Cup game against Bayern Munich, as quoted by the Daily Mail.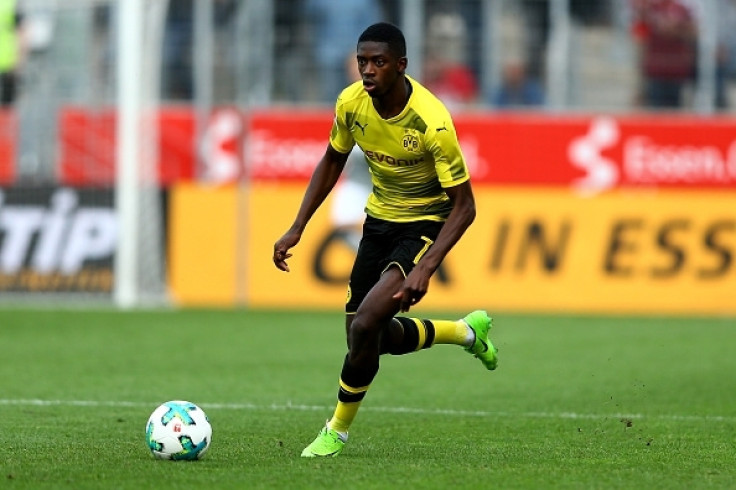 "Last year, Paul Pogba already went (to Manchester United) for more than €100m (£89m) and, when new Messis and Ronaldos appear in the future, Neymar will not be a single case.
"If I had to worry about what could happen, I would not sleep well," the Dutchman added.