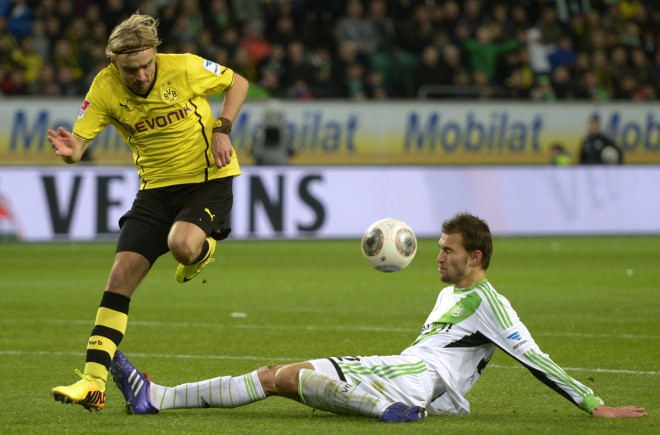 Borussia Dortmund defender Marcel Schmelzer has revealed that he is flattered by the recent rumours linking him with a move to Liverpool.
The Metro earlier reported the Merseyside club were preparing to launch a bid in signing the German international at the end of the season. Brendan Rodgers looks to strengthen his side's back four as the Reds return to Champions League next season.
The 26-year-old has been a key figure in Dortmund's back four, since making his way into the first team from the club's youth system in 2008. Liverpool are looking to strengthen their left-back position and the former Swansea boss has his eyes set on Schmelzer.
The German defender's contract with the Bundesliga outfit comes to an end in 2016 and he admitted that he was happy with his current employers.
"Of course I look forward to hearing things like that and it's nice when top clubs are interested in you. But I still have a contract with Borussia Dortmund until 2016 and I feel very, very good at BVB," Goal.com quoted Schmelzer as saying.
Schmelzer last featured for Dortmund during their 2-1 second leg Champions League defeat to Russian club Zenit St Petersburg. He limped off from the pitch and is out since then with a groin problem.
The left-back remains confident that he would be fit to face Bayern Munich in the DFB-Pokal final on 17 May. He also targets to be a part of the German squad for the summer World Cup.
"I'm feeling good again. I have been in full training since Friday and I'll be ready for the last home game against Hoffenheim next weekend," the Dortmund left-back stressed.
"I don't know whether I'll play, only time will tell. I was out for five and a half weeks. We'll see how this week goes. I'm looking forward to the last few games."
"The highlight will be Berlin and my first World Cup this summer. I hope to get back some rhythm from the games against Hoffenheim and Hertha," Schmelzer concluded.