Bosnian Serb officials have named a student dormitory after Radovan Karadzic, the former president who is now accused of involvement in genocide and war crimes during the 1990s Bosnian civil war.
The plate bearing Karadzic's name was unveiled by Milorad Dodik, president of the Bosnian-Serb political authority the Republika Srpsk, at a ceremony in the town of Pale, a stronghold of Bosnian-Serb forces during the 1992-1995 civil war. Among those attending were Karadzic's wife Ljiljana and daughter Sonja.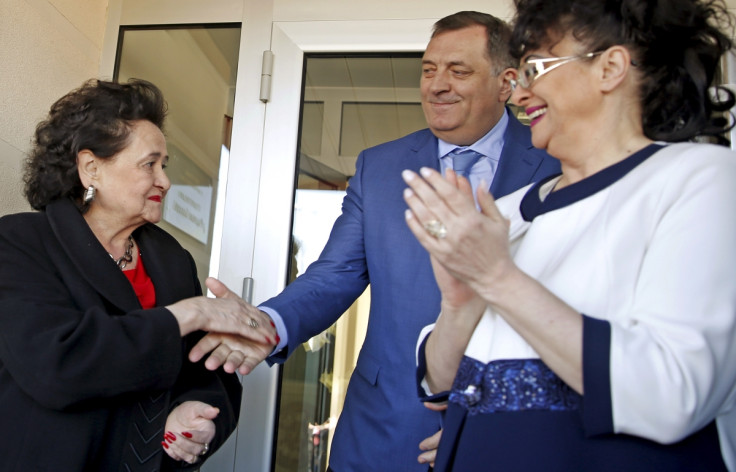 "We dedicated this place to the man who undoubtedly set the foundation of Republika Srpska – Radovan Karadzic, the first president of this republic," said Dodik at the ceremony, AFP has reported.
Former poet and psychiatrist Karadzic, 70, is accused of war crimes, genocide and crimes against humanity for his role in the war, in which 100,000 people were killed and millions more left homeless. He was on the run for 13 years after the conflict and was arrested in Belgrade in 2008, where he was living under an assumed identity and working as a natural healer.
The International Criminal Tribunal for Former Yugoslavia (ICTY) is expected to deliver its verdict in Karadzic's case on Thursday. He is accused of crimes including involvement in the massacre of 8,000 Bosnian Muslim men and boys in Srebrenica in 1995, the siege of Sarajevo, in which 10,000 civilains were killed in a 44 month long shelling and sniping campaign. Dodik has spoken in defence of Karadzic at his trial, and said that the former president had "sacrificed himself" for the Republika Srpska.
The peace deal that ended the conflict resulted in the country being divided into two semi-independent entities, the Republika Srbska and the Muslim Croat Federation.