UN prosecutors have demanded a sentence of life imprisonment for Bosnian Serb leader Radovan Karadzic for alleged crimes committed during the 1992-1995 Bosnian war.
In a written statement, prosecutors called him the "pre-eminent political and military leader of the Bosnian Serbs and their forces". Prosecutors and Karadzic are due to begin closing arguments in his long-running trial at the Hague's International Criminal Tribunal for the Former Yugoslavia on Monday.
The final trial brefing, which was filed confidentially in August, was made public on Friday by the UN tribunal.
Nicknamed the "Butcher of Bosnia", Karadzic, 68, is accused of a total of 11 charges of genocide, war crimes and crimes against humanity. One charge relates to the 44-month siege of Sarajevo in which 12,000 civilians were killed.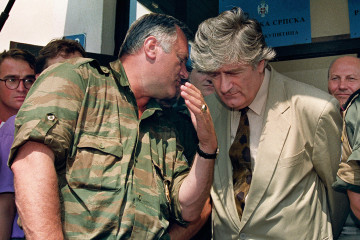 Considering the ideologue of Serb nationalism of the early 1990s, Karadzic dreamed of carving out an ethnically pure Serbian state from the territory of Bosnia-Herzegovina.
More than 100,000 people died in the conflicts which erupted between successor countries as Yugoslavia tore itself apart in the early 1990s. The Bosnian War, which raged between 1992 and 1995, pitched Muslims, Croats and Serbs against each other.
After the war, Karadzic went on the run and remained a fugitive for 13 years until he was arrested in Belgrade in 2008, and brought to trial the following year.
He had evaded the authorities by working as an alternative medicine practitioner in a private clinic under the false name of Dragan David Dabic.
In 2012 he told a court that he "succeeded in reducing the suffering of all civilians" and "should have been rewarded for all the good things" he has done instead.
"I did everything in human power to avoid the war," said Karadzic, who also asserted that he "proclaimed numerous unilateral ceasefires" and "stopped the army when it was close to victory" on several occasions.
Srebrenica
Karadzic was initially charged with genocide for the 1995 massacre of some 8,000 Bosnian Muslims, mainly men and boys, in Srebrenica. The slaughter was inflicted by Bosnian Serb troops allegedly led by Commander Ratko Mladic, also on trial at The Hague.
The Srebrenica massacre, the worst Europe has witnessed since World War II, took place exactly 18 years ago on 11 July 1995.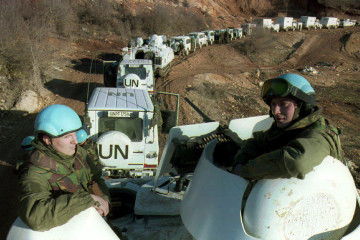 Srebrenica was a UN-protected Muslim town in Bosnia, besieged by Serb forces throughout the country's four-year war. The United Nations managed to create a safe haven there, with 450 Dutch soldiers responsible for watching over the compound.
However, troops broke into the enclave and UN peacekeepers stood by as men were separated from women by the Bosnian Serb army. Within a few days 8,372 boys and men had been massacred in fields, schools and warehouses.
This year's commemorations brought together families of 409 newly identified victims, who will be buried at a special cemetery near Srebrenica. Among them are 43 teenage boys and a baby who was born during the ordeal.