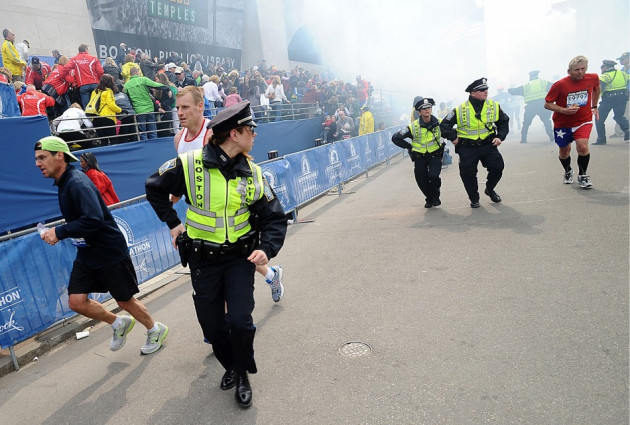 The twin blasts which rocked yesterday's Boston Marathon took place near the finish line after most of the 23,000 runners had already finished the race, it has emerged.
The first explosion occurred around 14:50 (18:50 GMT). One of the bombs was reportedly placed in a rubbish bin while the other exploded several hundred feet away, a few seconds later.
An eight-year-old boy is believed to be among the three dead. Reports suggest at least 10 injured have had their limbs amputated, while more than 144 people have been admitted to hospitals, and scores are said to be in critical conditions.
Ambulances and emergency workers descended on the scene soon after the blasts which triggered widespread chaos among the participants and spectators.
"It sounded like a sonic boom. I haven't stopped shaking yet," one of the onlookers, Melissa Stanley, told Reuters. Another witness, Joe Anderson, said: "I saw people who looked like they had their legs blown off. There was a lot of blood over their legs. Then people were being pushed in wheelchairs."
The marathon, which has taken place in Boston since 1897, was being held on Patriots' Day which marks the first battles of the American Revolution in 1775.
No one has claimed responsibility for the attack. Although no arrests have been made so far, investigators said a Saudi national is being questioned.
A fire broke out at the John F Kennedy Presidential Library located a few miles away from the finish line of the marathon, but officials ruled out any connection between the two incidents.
Unexploded Bombs
Media reports earlier claimed more undetonated explosives were found at the scene, but police authorities have refused to comment. Conflicting reports suggest two more explosive devices were defused by the bomb disposal squad.
Pointing to crude bombs being used in the blasts, an official said the explosives were "unsophisticated."
"Any event with multiple explosive devices -- as this appears to be -- is clearly an act of terror, and will be approached as an act of terror. However, we don't yet know who carried out this attack, and a thorough investigation will have to determine whether it was planned and carried out by a terrorist group, foreign or domestic," said a federal official.
Washington and New York have been placed on high alert following the attack.
The blasts have also forced the British police to review security measures for the upcoming London Marathon.