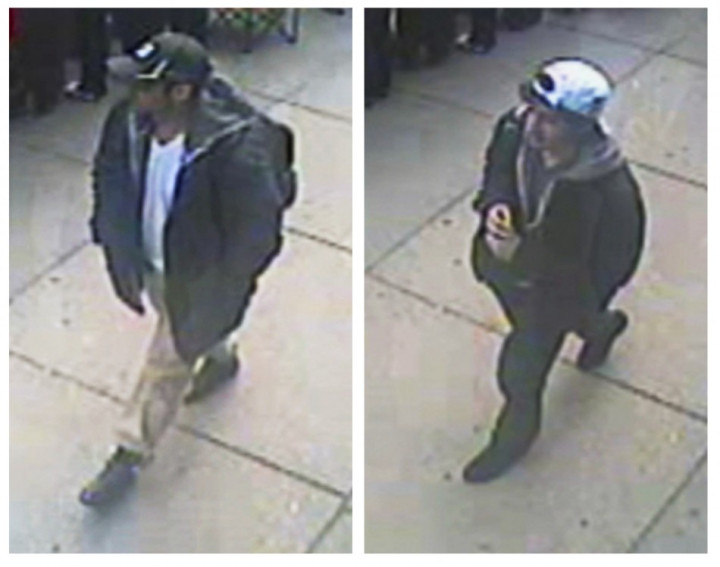 The FBI has released photos of two suspects in connection with the Boston marathon explosions which killed three people and left several others severely injured.
The suspects, who were wearing baseball caps, were caught on CCTV camera roughly 13 minutes before the blasts took place. One of the suspects, wearing a white cap backwards, was seen placing a backpack at the explosion site.
US authorities, who are seeking help from the public in identifying the suspects, warned that the two men could be "armed and extremely dangerous". FBI Special Agent Richard Deslauriers, however, ruled out another potential attack.
Soon after the FBI released the images of Suspect 1 and Suspect 2, the officials received a "high volume" of phone calls. Along with the pictures, a 30-second video has also been released on FBI's website.
Reports suggest the investigators are hoping to pin down the suspects quickly in the wake of the release of the images. The authorities are believed to have been analysing the suspects' pictures over a brief period of time before making them public.
The investigators had earlier urged thousands of onlookers who were present at the explosion scene to submit their images along with scores of media pictures.
"We strongly encourage those who were at the Forum restaurant but haven't contacted us yet to do so," Deslauriers told a press conference.
The senior official added: "Somebody out there knows these individuals as friends, neighbours, co-workers, or family members of the suspects. Though it may be difficult, the nation is counting on those with information to come forward."
The bombs, packed in pressure cookers, were later placed in black backpacks, said the authorities.
The FBI released the suspects' pictures hours after President Barack Obama addressed an interfaith ceremony in Boston.
In an emotional speech, Obama vowed that the city "will run again." Obama was joined by the city's leaders and victims.
"The spirit of this city is undaunted; the spirit of this country shall remain undimmed. Every one of us has been touched by this attack on your beloved city. Every one of us stands with you. Because after all it's our beloved city too," he told the congregation that took place at the main Roman Catholic cathedral in Boston.