Three new suspects have been taken into custody in the Boston Marathon bombing case, according to Boston Police in a tweet.
Three additional suspects taken into custody in Marathon bombing case. Details to follow.
— Boston Police Dept. (@Boston_Police) May 1, 2013
Boston.com reports that the three are college students at UMass Dartmouth who were linked to Dzhokhar Tsarnaev. They have been accused of helping him after the fact.
CNN reported that the three were accused of "obstruction of justice". Two of them are of Kazakh origin and were already in custody over immigration violations. The third is an American citizen.
The suspects are believed to have removed items from the dorm room of Dzhokhar Tsarnaev, according to NBC News. Two college friends of Dzhokhar, Azamat Tazhayakov and Dias Kadyrbayev, were jailed by immigration authorities the day after his capture. They denied any wrongdoing.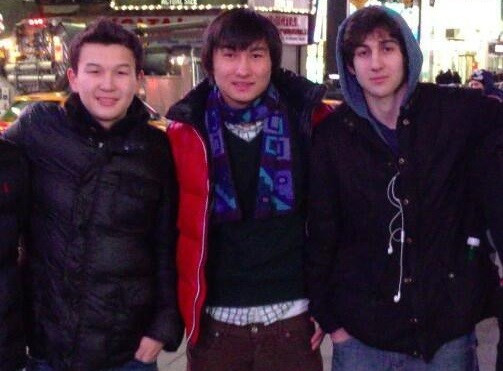 The only suspects until now have been the two Tsarnaev brothers. Tamerlan Tsarnaev died in a shootout with police, while Dzhokhar was apprehended after an intensive manhunt. He is recovering in prison from injuries sustained during the arrest and faces charges of using a weapon of mass destruction and malicious destruction of property.
Police believe that Tamerlan, 26, and his brother Dzhokhar, 19, may have been motivated by radical religious views to carry out the deadly attack that killed three people, including an eight-year-old child, and injured more than 260.
Sleeper Cell?
It emerged in the Sunday Mirror that the FBI was believed to be hunting a terrorist "sleeper cell" linked to the brothers.
Agents were investigating theories that the pair received training in bomb-making.
It emerged that a man and two women were arrested 60 miles from Boston in the port of New Bedford in the hours before Dzhokhar's capture. The three were believed to be of college age.
According to the Sunday Mirror, a source close to the investigation said: "We have no doubt the brothers were not acting alone. The devices used to detonate the two bombs were highly sophisticated and not the kind of thing people learn from Google.
"They were too advanced. Someone gave the brothers the skills and it is now our job to find out just who they were. Agents think the sleeper cell has up to a dozen members and has been waiting several years for their day to come."
More than 1,000 FBI agents have been assigned to track down the cell. A specialist team of CIA and FBI interrogators is on hand at Beth Israel Deaconess Medical Centre in Boston, waiting to question Dzhokhar.
The FBI has admitted interviewing Tamerlan two years ago, at the request of the Russian government, but said it wound up its inquiries after interviews with him and other family members "did not find any terrorism activity, domestic or foreign".
The FBI now says the pair were part of a terrorist cell, though they were not under surveillance at the time of the bombings, according to US government officials.
CNN reported that Russian authorities had intercepted a call in early 2011 from one of the Tsarnaev brothers in the US to their mother in Dagestan in which jihad was mentioned although the conversation was "very vague". After those calls, Tamerlan spent six months in Russia in 2012.
An Armenian Muslim convert claimed by the brothers' uncle as a fanatic who radicalised Tamerlan has denied any involvement. Misha, whose full name is Mikhail Allakhverdov, 39, was tracked down by New York Review of Books journalist Christian Caryl.
"I wasn't his teacher. If I had been his teacher, I would have made sure he never did anything like this," Allakhverdov told Caryl.