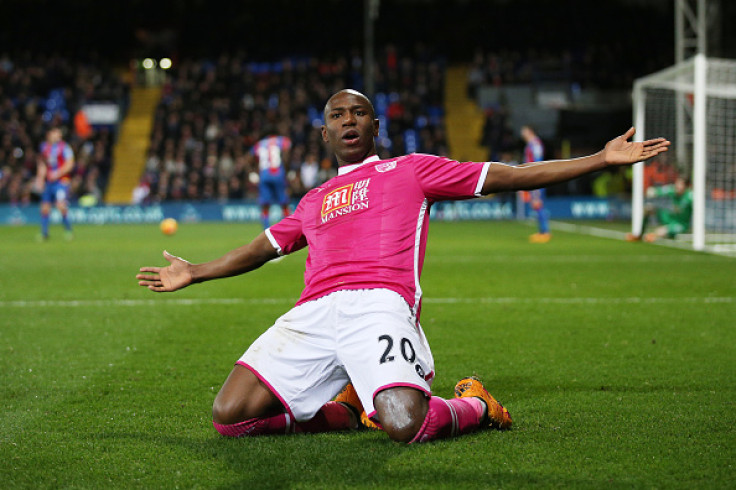 Benik Afobe has refused to criticise Arsenal ahead of their clash against Bournemouth on Sunday (7 February) in what will be the first clash for the striker against his former club. The Cherries star spent his entire career with the north London club before being let go during the 2015 January transfer window, when he signed a three-and-a-half year deal with Wolverhampton Wanderers.
Bournemouth signed the England U21 international in a club-record deal during the recently concluded winter transfer window, after being impressed with his performances for the Championship club. He was the top scorer in England during the 2014/15 campaign with 32 goals in all competitions, which was one more than Tottenham Hotspur's Harry Kane.
Afobe joined Arsenal as a six-year-old in 2001 and came through the ranks at the club, but never made the breakthrough into the first-team despite some impressive performances for the reserve sides. The young striker was handed his first professional contract in 2010 before being shipped off on loan to Huddersfield Town. He spent the next four-and-a-half seasons on loan with six different clubs before being permanently let go by the Gunners despite his impressive goals scoring record during his final loan spell with MK Dons in the first half of the 2014/15 season.
The English forward, however, bears no grudges towards his former employers and believes Arsenal played a huge role in developing him into the player he is today. Afobe has settled into life in the Premier League and has already begun to justify the Cherries' faith by scoring three goals in his first four games. He has, however, made it clear he will be looking to pile on the misery for his former club on Sunday, as they go into this game on the back of a three-game winless run, which has seen Arsenal drop to fourth in the Premier League.
"They have been massively responsible because I was there from when I was six. At six you're still a young boy, a baby really. They've played a big part in the way I play football and helped me progress as a player, so I've got a lot to thank them for and I respect them a lot," Afobe said, as quoted by the Guardian.
"Arsenal always bang on about how, technically, as a centre-forward you have to hold the ball up, have a good first touch ... all that stuff. Of all the clubs I've been at Arsenal have banged on more than any of the others about having good technique, so that's what I've taken from them. But on Sunday I've got a job to do for my club here and there will be no friends."
"I don't hold any grudges. I've already scored three goals in my last three games so I've got nothing to prove to Arsenal. It was their decision to sell me and I've moved on. It's been years now. I've got great friends there, I've got nothing bad to say about them as a club. I would've liked to have got my chance but it didn't happen," the Cherries striker added.
"That's not how life works. Not everything can go your way. I believe I would've scored goals for them, but I'm not there any more and I don't hold any grudges. I'm here in the Premier League scoring winners at Selhurst Park, so I'm enjoying it and I want to keep improving."