Key Features:
Available in black and white
Foldable design
Removable ear pads and cable
iPhone and iPad compatible
Price: £169.99
Introduction:
Premium speaker manufacturer Bowers & Wilkins has launched the P3 on-ear headphones, featuring a compact and foldable design, while providing class-leading sound quality.
Launched at the world-famous Abbey Road Studios, the Bowers & Wilkins P3 headphones are now on sale, but IBTimes UK bagged a pair last month and have used them extensively to find out if they can bring B&W quality at a more affordable price.
Tagged as a 'Concert for One', the P3 headphones are said to "represent a new level in affordable mobile headphone listening. The superior drive unit terminals allow uniform airflow to ensure greater linear movement and less distortion - resulting in a truer, more natural sound that envelops the listener in a private concert for one."
Bowers & Wilkins P3: Design and Build Quality
Aimed primarily at portability, the P3 headphones are considerably smaller than the flagship P5 model and can be folded up and stored in a hard plastic case. The soft leather of the P5s is gone, replaced with B&W's custom-made 'acoustic fibre' covering, which sits on top of memory foam on each earpiece.
The acoustic fibre also lines the inside of the headband, which is constructed from rubber, allowing the P3s to be comfortably stretched over the largest of heads - you can also extend each side by approximately 1.5in.
Bowers & Wilkins said at the launch that the P3's are designed, built and tuned by the same engineers who work on the flagship P5 headphones, the Zeppelin speaker dock and the 800 Series Diamond speakers, which are used in Abbey Road Studios.
For the P3s, B&W has retained the magnetic earpieces that can easily be popped off, revealing the cables which can be removed and replaced. The headphones come with two cables - one plain, and one with an in-line microphone with play/pause and volume buttons to control an iPod or iPhone. We found the play/pause button to work with a Samsung Galaxy S3, but sadly the volume controls did not, so your milage with Android devices may vary.
The £250 P5s offer better noise cancelling and comfort over a long period of time, as they have more memory foam and the leather is softer than the fabric found on the P3s.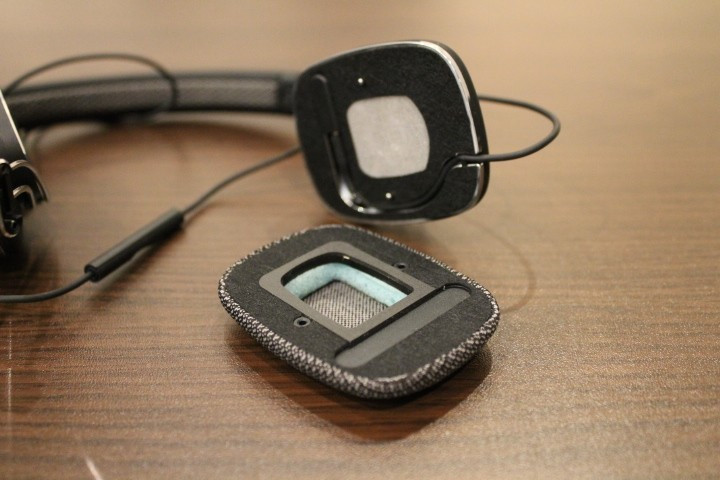 Build quality, as with all B&W products, is excellent and the black rubber with aluminium construction gives a real feeling of class, even if these are considered to be the 'cheaper' model. The headband is flexible but, unlike headphones that use a solid plastic construction, doesn't feel like it's going to snap everytime you put them on.
The headphones fold up neatly with a sturdy hinge on each arm and the magnetic ear pads snap into place with a reassuring click and, being a breathable fabric rather than leather, stop your ears from getting too warm.
While not quite offering the comfort of its P5 bigger brother, we found that the P3's to be lighter and more practical solution for those who travel a lot and want a pair of quality headphones that aren't too cumbersome and can be folded into a small case.
As for complaints, the P3s can become uncomforatble after several hours of use and some users may find the headband quite hard, but this is a small niggle rather than a major problem. Finally, the cable is very thin, becomes knotted easily and probably wouldn't take too much effort to break.
Having said that, the cable can easily be replaced, as it connects to each earpeace with a 2.5mm socket.
For £170 we would have expected a better case than the one Bowers & Wilkins provides with the P3s. Hard plastic on the outside and thin felt on the inside, the case struck us as a bit of an afterthought, at least compared to the stylish sleeve that B&W treats the P5s to.
Bowers & Wilkins P3: Sound Quality
Having used our P3 headphones almost daily for the past month, we've given them a thorough going over and can report that for mid- to high-range headphones that are usable on a cramped commute, these B&Ws are hard to beat.
For anyone used to the £20 earphones bundled with their smartphone, spending £170 on a pair sounds like a big ask, but the difference in sound between the P3s and even a £50 or £60 pair of earphones is significant.
Mid- and high-range sound quality is impressive, but we found the P3s to be sometimes lacking in bass and we put this down to the small earpads providing a less snug fit as much as the quality of the speakers themselves.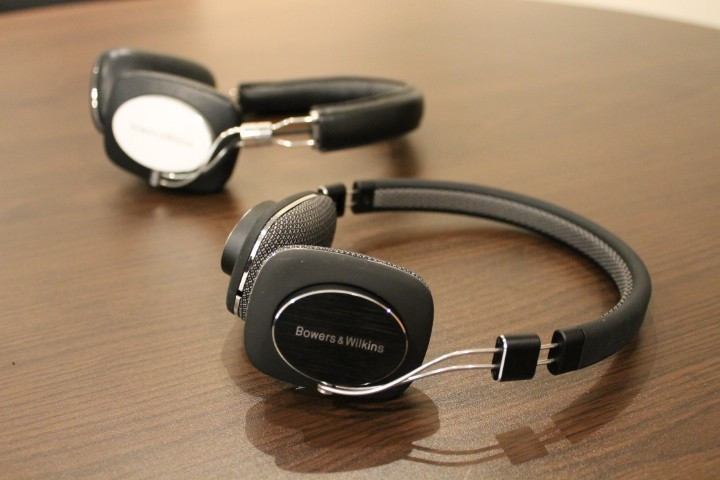 We've previously used the Beats by Dr Dre Solo headphones - which retail for around the same price as these Bowers & Wilkins P3s - and found that the Beats have a bit too much bass, whereas the P3s offer slightly too little.
The sound quality isn't affected much either way, and which you buy would be down to personal preference.
Overall, tones are warm and well-ballanced in an attempt to please the majority of music listeners, rather than appealing to a specific genre, as some headphones do by adding emphasis to a strong bass.
Verdict:
Bowers & Wilkins has played a smart game by introducing the P3s to sit in a lower sector of the market than the P5s, while still offering the style and build quality that B&W is known for. The sound quality is good, neutral and well-balanced, if a little lacking on the bass.
Sound isolation is good considering the size of the earpads and comfort is excellent, at least for a few hours, by which time a more expensive and large pair of headphones would probably out-do them.
The Bowers & Wilkins P3 headphones are available in black and white, and are on sale now for £169.99.
Scores:
Build quality: 9/10
Design: 9/10
Sound quality: 7/10
Value: 7/10
Overall: 8/10
The Good:
Excellent build quality
Smart, compact design
Good sound performance
The Bad:
Lacking in bass
Thin cable is easily knotted
A little uncomfy after prolonged use
Must Read: