It was a shade under three years ago that Mikkel Kessler came out victorious from a brutal battle with Carl Froch to win the WBC super-middleweight title and cement his legacy as one of the toughest fighters on the planet.
After 12 rounds of intense action against a fellow warrior, the two men were separated by the referee as the final bell sounded. You would have expected exhaustion after a pulsating final three minutes; instead a wide smile appeared on the face of both fighters. They would have happily returned to the days of 15 rounds in order to prove who was the fitter and stronger.
Instead they waited to hear the verdict of the judges. Kessler received a unanimous decision but, despite winning the battle, the war had not ended. He now travels to London in order to renew his rivalry with Froch at London's 02 Arena in front of 17,000 passionate Brits baying for his blood.
Yet this does not faze the 'Viking Warrior'. In 48 contests he has just two losses on his record, one against the undisputed king of the division Andre Ward, the other against Joe Calzaghe at the Millenium Stadium in Cardiff. This was the epitome of fighting behind enemy lines.
So will he be intimidated when he travels to London on May 25? "Try 55,000 people against Calzaghe. I promise you that's worse," Kessler exclusively reveals to IBTimesUK with a broad smile.
"It was intimidating and I was like 'what the f**k am I doing here, I should have stayed at home'. It was an unreal atmosphere but it's a good experience and you have to simply enjoy it."
How Kessler could enjoy that electric atmosphere and the role of villain says a lot about the nature of the fighter. He is not one to back down from any challenge, perhaps there is a touch of the sadist in him, but admits that his failure to secure a rematch against Calzaghe led to him guaranteeing Froch that he would have his chance for revenge.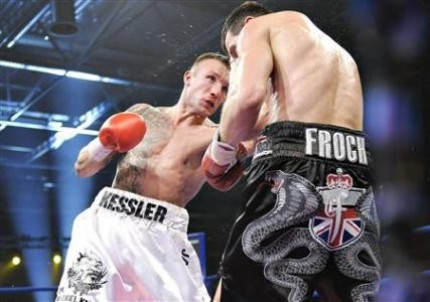 "It's the warrior spirit that made me want to give him another shot but I'm just glad he admitted I won the first fight. That was the first time he's said that so thank you very much."
Froch had always maintained that he felt he did enough to get the better of Kessler in Demark but felt he received somewhat of a home decision. However, as they met face-to-face in London, the 'Cobra' was man enough to admit he lost the bout.
Kessler has fond memories of that first brutal contest with Froch. Both men refused to take even a half step backas looked to assert their dominance. This is the type of fight that the Dane enjoys the most, one where his rival stands toe-to-toe and wants to trade hammer blows.
"It was a war and I gave everything I had," admits Kessler as he stands in a fight stance and acts out the contest, throwing imaginary hooks and jabs. "My trainer told me I was behind on points after the ninth round and I couldn't believe it so I thought 's**t man, I have to go out there and give it my all'.
"So of course I did everything I could and we continued to the last bell as I am there to entertain the fans, that's what made my name and that's what makes me a world champion."
In fact this is what has made Kessler a five-time world champion. In May he aims to add Froch's IBF title to his name and it is clear that this is the bout he wanted. Conversation often turns to Ward, the one man to have defeated both fighters, but the rematch with the three-time world champion is the one that gets Kessler excited.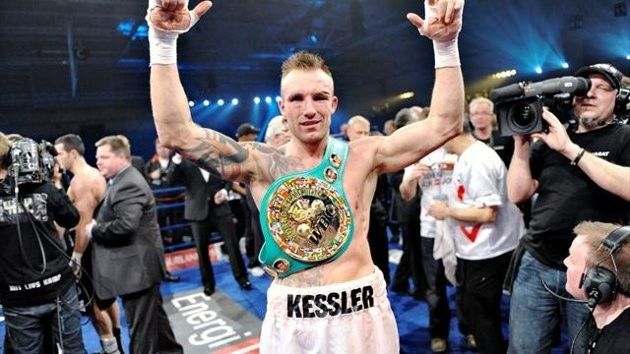 Ward frustrated Kessler with his superb defensive work and sharp reflexes, so knowing that he will not have to go searching for Froch brings another grin to his face.
"Ward wants to ruin a fight. He holds and as a fighter he doesn't want to fight. I saw that he clinched me 88 times; 88 times he grabbed me and not even one warning. I was like 'come on, be a man', that's why I'm so happy to get back in the ring with Carl," states Kessler.
"You know I would rather get knocked out than resort to holding and spoiling. I know I have to take some chances and he knows he has to take some chances which is why I nearly dropped him last time. He's going to be jumping out of the corner, I know that. I know that's how it will be. That's why he will make a mistake."
Making a mistake against Kessler has inevitably brought an end to a contest. The granite-like fists of the 33-year-old have knocked out 35 opponents, the last of which was Irishman Brain Magee who was floored on numerous occasions with brutal body shots before being stopped in the third round.
Froch also demonstrated his explosive power when crushing the previously undefeated Lucian Bute last year. He has seemingly become even more aggressive since losing to the Super Six final to Ward and has never backed down from a challenge. Kessler was the man he wanted and he is ready to gain revenge.
Neither man seems enamoured with the idea of a rematch with Ward but Kessler admits he may once again challenge the American after Froch. But for him, this is the biggest fight in the division.
"I would consider Ward but it's not fair for the fans. I always tried to push him away and encourage him on but everything was wrong. That's why the biggest fight you can make in super middleweight division is me and Carl. That is the fight the fans want to see and I can guarantee it will be a war. I am fresh, I am healthy and I am ready to defeat him once again."