American sensation Deontay Wilder has promised to be the shining light in a heavyweight division that is crying out for a new superstar.
The 2008 Olympic bronze medallist will travel to Britain later this month to face veteran heavyweight Audley Harrison, who won gold at the Sydney Games back in 2000.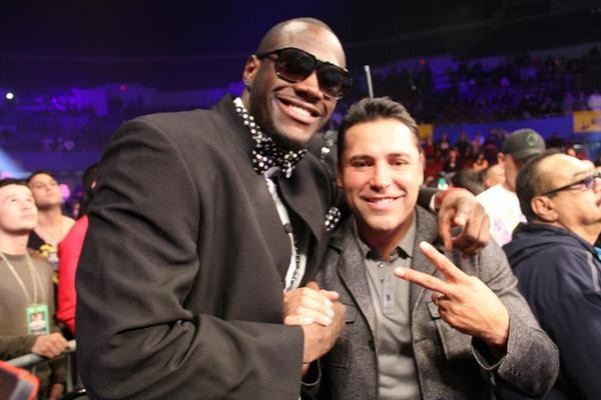 Taking place on the undercard of Amir Khan-Julio Diaz on April 27 in Sheffield, Wilder has the chance to prove why he should be considered a serious contender as he enters the ring with a fighter desperate for one final shot at glory.
Harrison, 41, has never managed to fulfil his potential in the professional ranks but he still represents the biggest test of Wilder's fledgling career.
The 27-year-old is certainly on the rise having stopped all 27 of his opponents, but he has never been beyond the fourth round. Despite his lack of experience he believes now is the time for him to brighten up the heavyweight division.
"I'm a starving lion that's ready to eat. On April 27 in Sheffield, my next meal will be served; on the menu: Audley Harrison. Bon appetite," said Wilder.
"For the many fans in England, Deontay 'Bronze Bomber' Wilder is coming. You've been waiting for this moment and now it's here. I can't wait to show you guys why I am the light and the way for this dark division."
For Harrison it is a final opportunity to prove he belongs amongst the heavyweight elite and he is determined to grasp this opportunity with both hands.
"Deontay is a fast, dangerous puncher, but he has not been tested as a pro," said Harrison. "I have lot of respect for him, so it's not personal, but this is the door I must walk through. Lose and it's over, win and I'm in the top ten for sure, eligible to challenge for the world title. Biggest risk, for the biggest reward. It can't get any better than that."
Harrison has fought for a heavyweight title, when he faced David Haye back in 2010, but he was brutally knocked out in the third round and has been stopped in three of his last six fights.
However, it seems likely that the winner of this bout would be propelled into the world title mix, with Wladimir Klitschko still looking for new opponents and showing no sign of walking away from the sport.