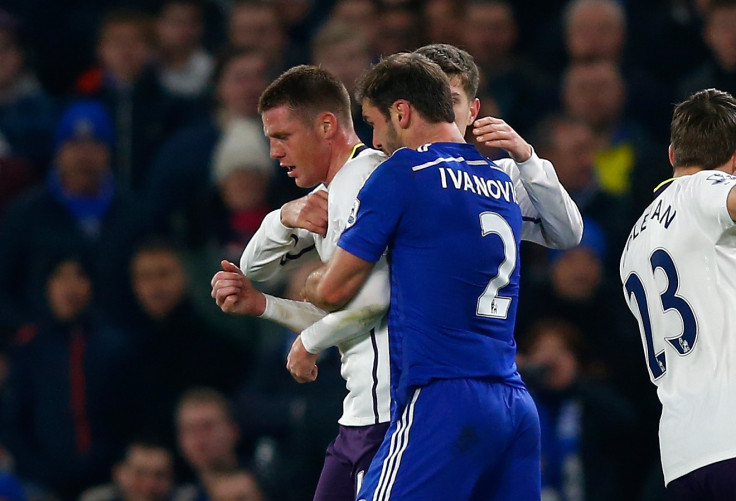 Chelsea find themselves in the middle of yet another controversy after defender Branislav Ivanovic was spotted headbutting and biting James McCarthy, moments before the Blues secured a crucial winner over Everton at Stamford Bridge.
Ivanovic was involved in a biting controversy two seasons back when Luis Suarez was found guilty of digging his teeth into the Serbian and handed a 10-game ban. The same fate may now befall Ivanovic if the FA find malice in his conduct. He could miss a significant chunk of the remainder of the season if the ruling body are consistent in their punishment.
Everton gave a good account of themselves in the game and were unlucky to not lead the tie after Petr Cech made a brilliant save on point blank range from Romelu Lukaku in the second half.
Mourinho brought in Cesc Fabregas to cool the nerves and add some fluidity in his midfield, which was striving to breach the Everton defence, but had to struggle against a well drilled unit, who had not conceded a single goal in almost a month.
The Portuguese manager, who had gone on a self imposed media silence following the ban handed to Diego Costa, refuted any talk of Ivanovic\'s transgressions and insisted that the referees had a brilliant game and there was no cause for controversy after the match.
\"Did Branislav Ivanovic go in with his head? Don\'t make me laugh. Don\'t make me laugh,\" Mourinho said.
\"I\'m more concerned with my reaction because one more question, I leave, and then you are not happy. The next question for that story, I leave.
\"You know, I am tired of the stories and I am never tired of football. Football is emotion and that is what he had here.
\"We risked a lot to try to win. It was a refereeing performance that in my opinion was very good. We had a goal which was fantastically well disallowed by the assistant referee. A great decision,\" he concluded.