There has been an outbreak of "low severity" H7 bird flu at a poultry farm in Hampshire, officials from the Department for Environment, Food and Rural Affairs (Defra) have reported.
Although the H7 strain is less dangerous than the H5N8 strain found at a Yorkshire duck farm in 2014, a 1 km poultry exclusion zone has been established round the farm, which has not been identified. "Robust action" is now being taken to prevent the disease spreading, although it is said by Defra to pose a very low threat to human health.
Chief Vet Nigel Gibbens said: "We have taken immediate action to contain this outbreak as part of our robust procedures for dealing swiftly with avian flu. This is a low severity form of the virus and we are taking action to ensure that the disease does not spread or develop into a more severe form. We are investigating the possible sources of the outbreak.
"I would urge poultry keepers in the surrounding area to be vigilant for any signs of disease and to ensure they are maintaining good biosecurity on their premises."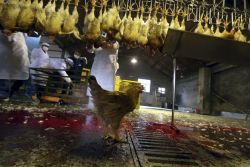 The Food Standards Agency says there is no food safety risk to consumers. A spokesperson said: "On the basis of current scientific evidence, Food Standards Agency advice is that avian (bird) flu does not pose a food safety risk for UK consumers. Laboratory investigations on the outbreak indicate that it is the N7 sub-type of H7 but this will need to be confirmed in further testing."
Last year ducks at an East Yorkshire farm had to be culled after an outbreak of the more severe H5N8 strain. The deadliest strain of bird flu, H5N1, has killed at least 400 people - most of them in southeast Asia - since first emerging in 2003.