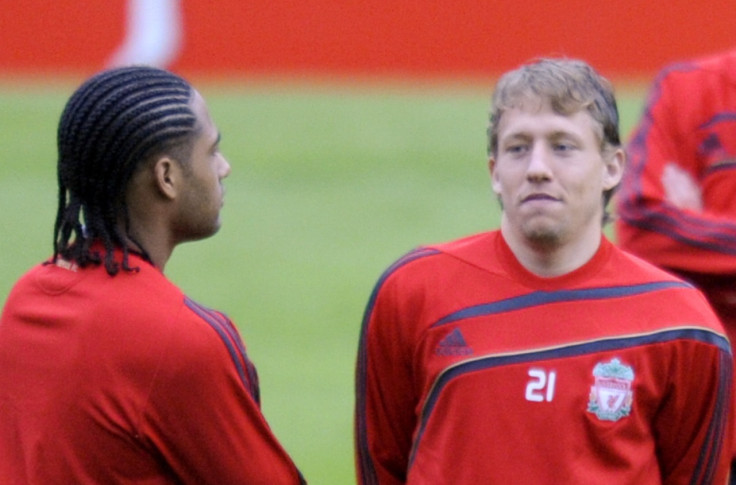 Liverpool manager Brendan Rodgers is keen to prevent Glen Johnson and Lucas Leiva from leaving the club despite both players being out of contract at the end of the season.
Neither Johnson nor Lucas are any closer to agreeing new deals which expire at the end of the season, although the pair have each had limited opportunities to convince the club to offer them fresh terms.
Captain Steven Gerrard is already a confirmed departure at the end of the campaign, with the Liverpool midfielder joining LA Galaxy in the summer, and Rodgers admits he is concerned others could follow.
"We can't have three or four leaving next season," he told reporters ahead of the FA Cup 4th round tie against Bolton Wanderers. "The intention will be to keep everyone, partly because of the mix in the group.
"Steven [Gerrard] will obviously be a loss, when you are losing someone of that calibre of man and player it would be a loss to any club, but you move on.
"For the younger players to develop their potential they are going to need that seniority around them. You can't just have a whole group of young players. Glen Johnson we want to keep, Lucas we want to keep."
Full back Jon Flanagan, who has missed most of the season after undergoing knee surgery in September, is also out of contract however the club would get a fee for the 22-year-old England international should a new deal not be agreed.
The future of Johnson is the greatest concern to Rodgers, with reports linking the player with Napoli – managed by Rafael Benitez – but the Liverpool boss is optimistic he will be able to warn off any interest in the defender.
"I know the club and his [Johnson's] agents spoke towards the beginning of the season but I am hopeful he will stay," he added. "Obviously, like every player, you want that security and it sorted earlier than it is now.
"But when he looks at it he realises he is at one of the biggest clubs in the world with a team which is developing and growing that he would want to be a part of.
"I think he will try to find a solution with the club to stay here. He loves being here, he enjoys working with the way we are playing.
"His game will adapt over the next couple of years. He is not the marauding full-back of six or seven years ago but he is still a quality player and he has a lot to offer with his experience and football. He is one we would look to keep."