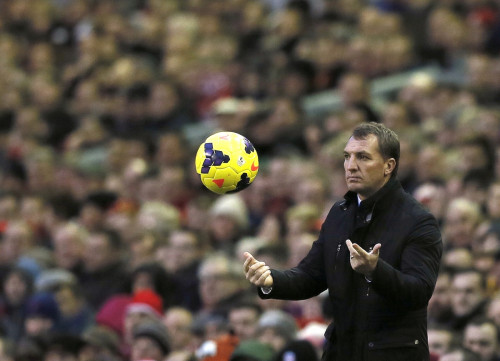 Brendan Rodgers has urged his players to keep up their tradition of winning trophies by defeating Bournemouth in the fourth round of the FA Cup on Saturday.
The Reds are among the most illustrious clubs in the English league, having won 18 league titles and seven FA Cups thus far. Their last trophy was under manager Kenny Dalglish, when they won the Capital One Cup in 2012 but have failed to challenge for silverware following that trumph.
Rodgers is desperate to bring his team back to winning ways and has managed to keep them in the top four thus far this season as they look to push for a Champions League spot.
Liverpool have been greatly benefited by the form of Luis Suarez, who has scored 22 goals thus far this season and is a major reason behind their ascendancy in the league.
The return of Daniel Sturridge and Steven Gerrard will give them some much needed ammunition for the rest of the season but Rodgers wants to make sure that they give themselves a chance to win some silverware by progressing in the FA Cup.
"It's a competition we want to do well in, the history of the club dictates that it's about winning trophies and this game is important for us, so we'll be strong and look to get a good result," Rodgers told LiverpoolFC.com.
"Whatever your motivation is for games against Manchester United or Chelsea, I think you have to go five times more in a game like this because they're such tough games.
"They're a great side and Eddie [Howe] is a terrific manager, who's found a good home at Bournemouth. He's set the club up really well, they're ambitious going forward, they use a 4-3-3 and have good players all through the field.
"It's for us to ensure that our mentality is right and that we're willing to do the dirty stuff, and the ugly bits in the game and then you look at your quality to come through in the end," he concluded.