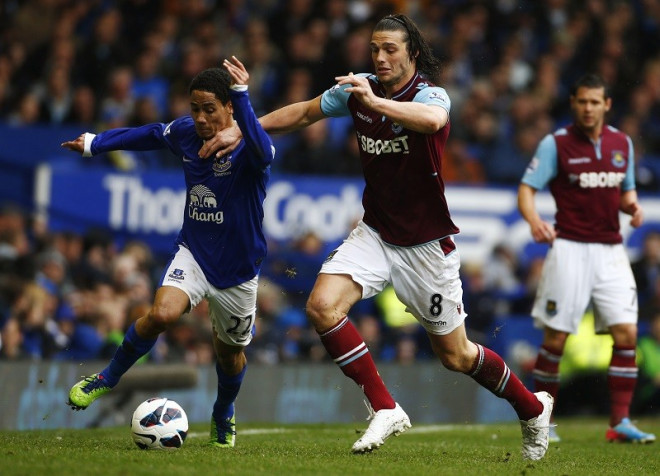 Brendan Rodgers has revealed Liverpool has allowed Andy Carroll to leave Anfield to raise money to bring in new faces to the club.
The England international joined the Reds in January 2011 for £35m from Newcastle United. Before his move to the Merseyside club, Carroll was in fine form for the Magpies. However, the 25-year-old failed to replicate his Newcastle form for Liverpool.
The former Swansea manager took over the managerial role at Anfield before the start of the 2012-13 season. Rodgers allowed Carroll to join West Ham United on a season-long loan and landed Daniel Sturridge from Chelsea last January.
The increase in competition in the squad meant the former Newcastle striker would have seen his playing time restricted if he had continued with the Reds. Carroll joined the Hammers on a permanent transfer last summer.
Liverpool face West Ham in the next league fixture at Upton Park. Rodgers believes the England striker has nothing to prove against his former club.
"Andy wasn't let go by me because he wasn't good enough let's get that clear. His style of play he's one of the best in Europe. Attacking the ball, heading, he's outstanding," Rodgers told the Mirror.
"But we came in with a certain approach and philosophy, and it's not to say he couldn't fit into that style, but he needed to play. There were financial considerations too, and it was really a question of him getting the chance to play regularly, which he's done brilliantly at West Ham."
"I'm not sure Andy will feel he has a point to prove - he knows he's a top player, West Ham paid a lot of money for him and in the style they play he's one of the best there is," Rodgers explained."
"Playing week in week out was probably the biggest factor, and it was a chance for him to do that. I don't think he has to prove anything to anyone," Liverpool manager concluded.
Carroll has scored two goals and managed four assists from nine league appearances this season.