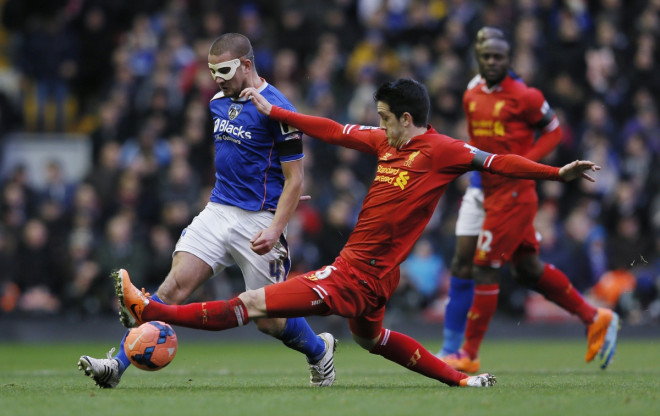 Liverpool manager Brendan Rodgers has revealed Luis Alberto's signing last summer was done keeping the club's long-term project in mind.
The 21-year-old joined the Merseyside club for £6m from Sevilla before the start of the season. Alberto has not started for the Reds in the Premier League this season, but has made nine appearances from the bench.
The former Swansea boss admitted that Alberto's debut season has been disappointing with the lack of playing time for Liverpool. Rodgers insisted a decision will be made regarding his long-term development at Anfield in the summer.
"It was a signing for the long term, that was the idea. He's a young player who has come in and sampled life at a big club and made a contribution. He will stay with the group for the rest of the season and then we will review his development come the summer," Rodgers told the Liverpool Echo.
"It's probably been a difficult season for Luis because he hasn't had many opportunities to make an impact. But he needs to keep working. He's still a very young player and he does have quality. It shows you the level of where we are at."
Meanwhile, Rodgers expressed his sympathy to Alberto's compatriot, Iago Aspas for not featuring regularly for Liverpool this season. The Spaniard was signed on a £7.7m deal from Celta Vigo and has seen his appearances restricted in his debut season at Anfield.
"I really feel for Iago. It's been so difficult for him. He has a world-class striker in Luis Suarez for competition and another who has come in and done exceptionally well in Daniel Sturridge," Liverpool manager said.
"Daniel is potentially world class and I'm sure we will see that over the coming seasons. But that has never stopped Iago working well every day in training. He has never given up the fight. He may have only come on for small periods in games but he has made a contribution."
"I've got the utmost respect for Iago and his professionalism. He keeps working, he has a great character and mentality. We will see where we're at with him come the summer," Rodgers concluded.