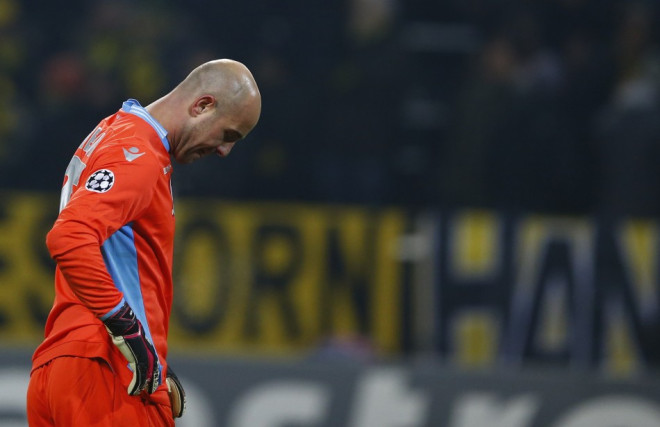 Brendan Rodgers believes that Pepe Reina is likely to leave Liverpool at the end of the season.
The 31-year-old is currently on loan at Napoli until the end of the current campaign, playing under former Reds manager Rafael Benitez who is now in charge at the Serie A club.
The Spaniard was allowed to leave in order to get first-team opportunities last summer after the Merseyside club acquired the services of Simon Mignolet from Sunderland.
Reina's current deal with Liverpool expires in 2016 and the Spanish goalkeeper earlier this week revealed that he was uncertain about his future and would return to England before making a decision.
"He's already written his letter, hasn't he? He wrote a goodbye letter, didn't he? I was surprised at the letter - when you are a loan player I would expect that he should come back, but obviously Pepe made it very clear when he went to Napoli that he was looking to move," Rodgers said.
"He penned a great, big letter saying he was going to work with the best manager that he'd worked with and thanked for his time for Liverpool. So, for me, it probably sounded like he'd made his decision there."
Despite Reina's intentions to return to England, it is unlikely that he will remain at Liverpool and play second fiddle to the Belgian who has firmly established himself as Rodgers' first choice keeper at Anfield.
The Northern Irishman's words will come as a welcome boost for Atletico Madrid who are reportedly chasing Reina for his signature in the summer.
The Spanish capital outfit currently have Thibaut Courtois as the first-choice keeper, and he is enjoying his third season on loan from Chelsea.
However, the situation surrounding the Belgium international's future at Vicente Calderon is highly unclear and it is doubtful if the 21-year-old would feature in Jose Mourinho's plans next season. The west London club already have Petr Cech who is the main man guarding the goal and it is certain that Courtois will not settle for a place on the bench at Stamford Bridge.
Any departure from Diego Simeone's side could pave the way for Reina to directly fit into the Argentinean's starting lineup next campaign.