Britain First's Holy War: Home Office condemns 'anti-Muslim propaganda' as petition calls for group to be banned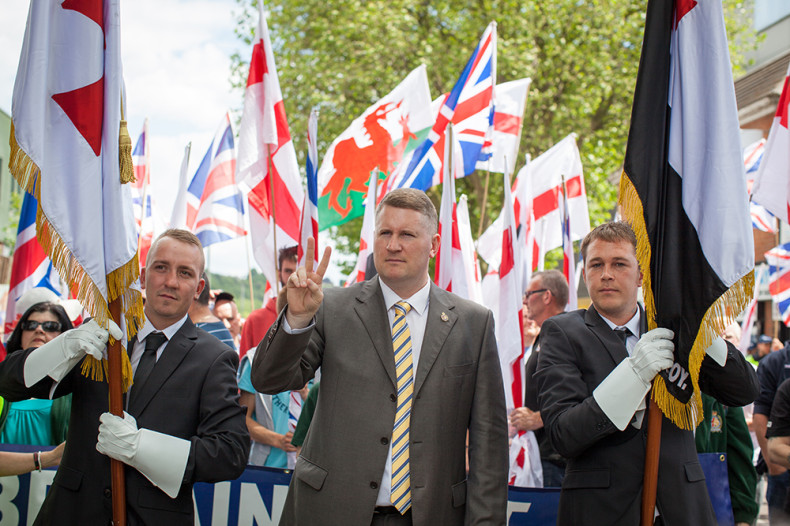 A petition calling for the government to ban anti-Islam group Britain First has prompted a statement from the Home Office condemning those who "seek to spread hate by demonising British Muslims". More than 12,000 people and an anti-Islamophobia charity have now demanded ministers take action against the Christian conservative group.
The petition accuses Britain First of being an "extremist offshoot of the BNP", adding: "Via the internet and social media the group spews out anti-Muslim propaganda in order to fulfil their goal of a 'Holy War' against the Muslim community in the UK. The UK government must proscribe this party before they achieve their aims."
Britain First told IBTimes UK the petition "can't be taken seriously" and said its Holy War was "against the extremes of Islam, not Muslims".
Jayda Fransen, deputy leader, said: "The fact is, our men fought, bled and died for democracy yet the left-wing believe freedom of speech should only apply to those who agree with them.
"We are a registered political party who campaign for British people to be put first in their own country. We are also a Christian movement who believe that Muslims are victims of a barbaric ideology; our Holy war is not 'against the Muslim community in the UK', it is against the extremes of Islam."
She added that the 2014 comments cited in the petition – in which founding member Jim Dowson is quoted as saying the group was involved in a "crusade" – were outdated as Dowson had left the movement in 2014. Britain First leader Paul Golding revealed today (29 January) that Dowson would be speaking at an upcoming Britain First march in Dewsbury, however, describing him as an "outstanding orator".
A response to the petition by the Home Office, published on 28 January, said while the government kept the list of proscribed organisations "under review" it would not confirm if it was considering banning Britain First.
But in what appears to be a swipe at the group, the Home Office added: "The government condemns those who seek to spread hate by demonising British Muslims. Those who seek to divide us damage our country by stoking anti-Muslim hatred and deliberately raise community fears and tensions by bringing disorder and violence to our towns and cities."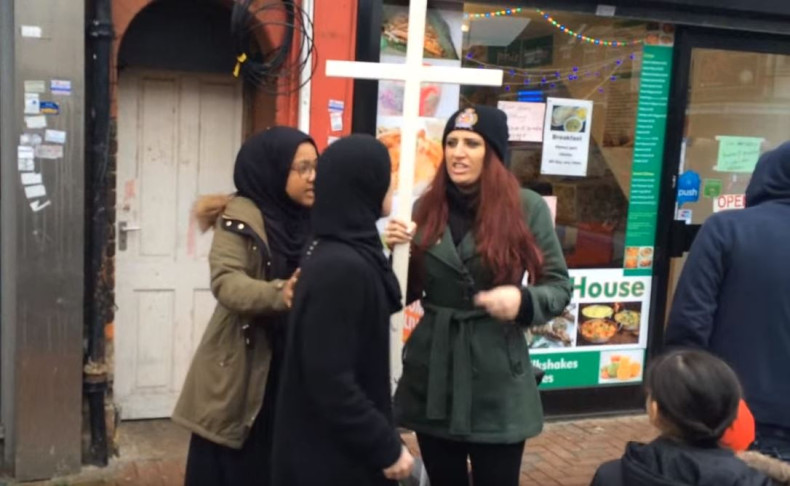 Britain First, which was formed by ex-British National Party (BNP) members in 2011, has attracted controversy for launching a series of provocative campaigns in areas with large Muslim communities. This includes its Christian patrols through high streets and "mosque invasions", in which activists hand out anti-Islam literature to Muslims arriving for prayer.
An IBTimes UK interview this week saw Fransen warn "civil war" between British Muslims and Christians was coming to the UK, and that her group planned an unprecedented number of events for 2016.
Numbers attending the group's protests and marches have so far only been in the hundreds. But it is the organisation's social media presence that has allowed it to claim itself a popular political movement in the UK, with it's Facebook page receiving more "Likes" than the Conservative and Labour parties combined. Millions view and share the videos it publishes.
On 30 January, the group will hold its first national march of the year through the West Yorkshire town of Dewsbury, in another attempt to transfer this online support into street-level action. The march has been condemned by local councillors who accuse the group of spreading a "message of hate".
Britain First insists it has the support of many people in the town – which it said had become a "hotbed of Islamic extremism" – and dismissed claims the march would provoke unrest, saying it had a strict policy against any supporters engaging in violence or disorder.
On Friday (29 January) anti-Islamophobia charity Tell Mama added to calls for ministers to take action against the group, claiming events like those in Dewsbury were dividing communities.
A spokesman told IBTimes UK: "Britain First have the right to protest. And so do the communities who object to their anti-Muslim agenda. What is clear, however, is that Britain First readily exploits issues at the expense of community cohesion. They care little for the financial burden such actions place on communities and police forces. The right to protest must be balanced against fears of public disorder.
"In the past, we've seen how the government has intervened to stop far-right protests. There's no reason why it cannot happen again. That way it will reassure communities that far-right groups like Britain First are not above the law."