Britain First leader Paul Golding to run for London mayor: Wants to hang opponents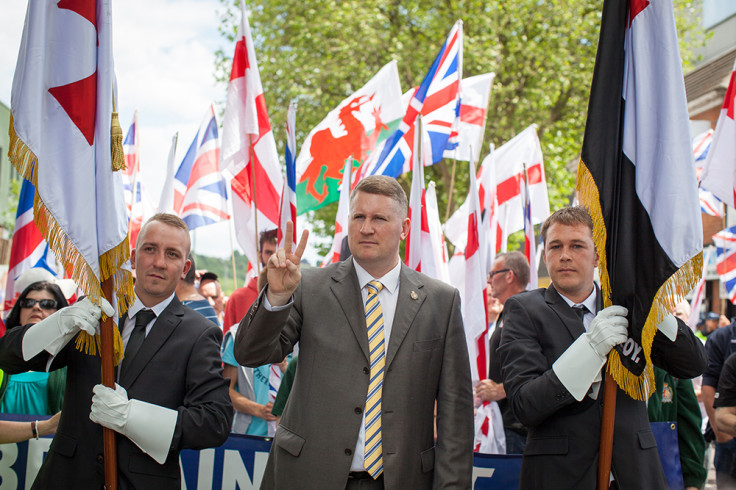 Far-right group Britain First announced on Sunday (27 September) that their leader Paul Golding will stand in the London mayoral election next year. Deputy leader Jayda Fransen made the announcement on the group's Facebook page, along with comments that their "pro-EU, Islamist-loving opponents" should be hung as punishment for "crimes against our country".
"They think they can get away with ruining our country, turning us into a Third World country, giving away our homes, jobs and heritage," wrote Fransen, "but they will face the wrath of the British First movement, make no mistake about it! We will not rest until every traitor is punished for their crimes against our country. And by punished, I mean good old-fashioned British justice at the end of a rope!"
The announcement then went on to appeal to their followers for donations to fund Golding's campaign, which they state will cost a total of £30,000. With the funds they promise to reinforce the "British First brand" and transform the group from a "street army" to an "electoral party".
"We need every single member, activist, commanding officer and supporter to chip in to our campaign fund," urged Fransen in the Facebook post. "When you contribute with a gift of £20, £50, £100 or even £500 or £1,000, it will help build a lasting legacy, a ray of hope for our beleaguered and long-suffering people in our beloved capital city."
While the group has ensured their supporters that they "cannot and will not be beaten", many took to social media to dismiss the announcement of Golding's candidacy. Some said that the only way the group would be able to win the election is by indeed hanging their opponents. Others were quick to comment on the request for donations to fund Goldings' campaign.
Britain First attacks Church of England
Paul Golding's mayoral announcement came alongside Britain First's vent against the Church of England for "siding with Islam". Thirteen clergies from the Church of England wrote an open letter to the far-right group raising concerns over their plans to protests against the building of a mosque in Burton, Staffordshire.
"What disturbs us is the implication that 'Britishness' and Islam should be seen as incompatible," read the letter. "We support, under the law, freedom of worship and religious assembly. We support, under the law, building for that purpose." However, Britain First ignored the clergies' call for peace by taking to Facebook to vent their anger against the open letter.
Britain First did not respond to comment at the time of publication.
© Copyright IBTimes 2023. All rights reserved.