Activists due to attend a rally organised by anti-Islam group Britain First in Dewsbury have been banned from carrying their "No More Mosques" banners, with police warning those who did not comply would be arrested. Officers from West Yorkshire Police said the planned march, on 30 January, had the intention to "intimidate others" and could result in serious disruption to the community.
Britain First, which was formed as a political party by ex-British National Party (BNP) members in 2011, accused the police of adopting "petty tactics" and told IBTimes UK they intended to ignore the ban. It described its march as a "day of action against Islamic extremism", saying Dewsbury had become a "hotbed for terrorism".
Jayda Fransen, deputy leader of Britain First, said: "We are planning on bringing the banner along. To ban it is nonsense and just goes to show there's no real freedom of speech. It's political correctness gone mad and just another example of the police's petty tactics against us."
It comes days after a small group of Britain First activists, including its leader Paul Golding and Fransen, gathered outside a mosque in the Dewsbury area and held up a provocative banner with the words "No More Mosques". It prompted a local councillor to accuse the group of spreading a "message of hate".
Today (27 January), West Yorkshire Police sent a letter to Britain First leaders saying it had now imposed a number of restrictions on Saturday's planned march.
Assistant Chief Constable Angela Williams wrote: "Having regard to the proposed time, place and circumstances of the Britain First protest, I reasonably believe the demonstration may result in serious disruption to the life of the community and the purpose of those organising the protest is to intimidate others."
The notice went on to list a number of restrictions imposed on the day, including one that prohibited any protester from carrying a banner or placard with the words "No More Mosques", or words to that effect. Officers policing the protest have been ordered to view the signs as a religiously aggravated public order offence, with anyone bringing the banners facing arrest and possible imprisonment.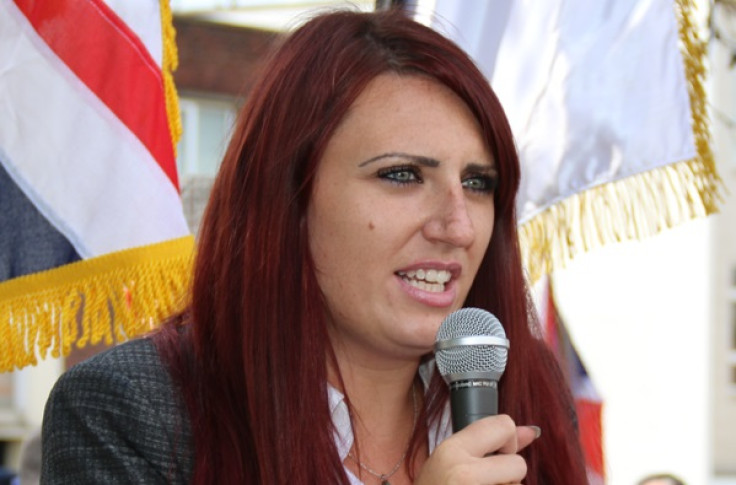 The police have also limited the group's march – which goes from the town's train station to an assembly point outside the Town Hall – to 15 minutes, saying their gathering must then last no longer than one hour.
Dewsbury has a large Muslim population centred on the Savile Town district, where all but 48 of the 4,033 residents are of Pakistani or Indian heritage, according to the latest 2011 census. The area includes the gaint Markazi mosque, funded by Saudi Arabia, that can fit 4,000 worshippers. Several British-born terrorists gre up in the town including Mohammad Sidique Khan, the leader of the ganf behind the London 7/7 bombings.
The female face of Islamophobia
It comes a day after an IBTimes UK interview with Britain First saw Fransen warn "civil war" between British Muslims and Christians was coming to the UK, and that her group planned an unprecedented number of events for 2016.
The group has been described by its critics as "far-right", "racist" and a front for "fascists" – all terms denied by Britain First. Many of its anti-Islam events take place in towns or cities with significant Muslim populations.
Another event organised by the organisation in the past week – a "Christian patrol" in Bury Park, Luton – prompted anti-Islamophobia charity Tell Mama to warn the group was "stirring up unrest" and causing division in communities.
The "patrol", on Saturday, saw Fransen and Golding lead a group of about 20 activists carrying Christian crosses through a high street where they handed out anti-Islam literature to Muslims. A video of the march saw the group confronted by angry residents who Britain First claim pelted them with eggs and hurled abuse, leading to them being given a police escort out of the area.
Detective Inspector Jackie Dadd, of Bedfordshire Police, said: "We are urging members of the community to come forward and report any information they may have about Saturday's demonstration, so that we can continue to determine whether any offences were committed during the afternoon.
"We are keen to hear from anyone who witnessed this demonstration and collate all the evidence available to ensure that appropriate action is taken where needed."
Britain first has been guarded when asked about how many members are signed up to its group, instead saying its "in the thousands". It insists it has widespread support, pointing to its Facebook page, which has over 1.2m likes – more than the Conservative and Labour parties combined.
When asked how many they thought would turn up to Saturday's march in Dewsbury, Fransen said it was "difficult to say", adding: "It could be in the hundreds, or it could be in the thousands."