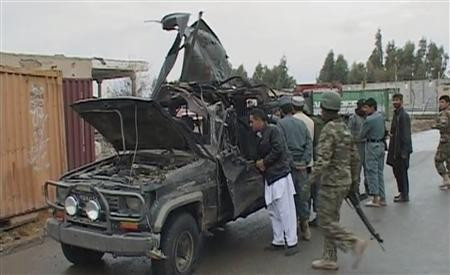 Britain took responsibility Monday for a NATO helicopter attack in Afghanistan which wounded five local children, voicing "deep regret" over the incident and saying an investigation was under way.
Five Afghan children were injured in a strike carried out by a British Apache attack helicopter, the Ministry of Defence has said.
They were working in a field in the Nahr-e-Saraj area of Helmand Province on Saturday as UK forces targeted an insurgent riding a motorcycle nearby.
They were taken to Camp Bastion, the main British base in Helmand, for treatment.
The Nato-led military coalition in Afghanistan, known as the International Security Assistance Force (Isaf), insisted it has prioritised the reduction of civilian casualties. Nato has recently been criticised for mistakenly targeting civilians, in both Afghanistan and Libya.
An MoD spokeswoman said: "Any incident involving civilian casualties is a matter of deep regret and we take every possible measure to avoid such incidents.
"A shooting incident review is now under way and UK officials in Afghanistan are keeping the provincial governor abreast of the results of the investigation."
Earlier, the ISAF announced that five children had been hurt in a helicopter strike in the southern province of Helmand, in a statement that read:
"On 23 July, UK forces used an Apache attack helicopter to conduct a strike operation against positively identified insurgents who were seen operating in Nahr-e Saraj (south).
"Regrettably, five local children working in a neighbouring field were injured during the strike. The five children were taken to ISAF medical facilities before being taken on to Camp Bastion where they received medical care."
The majority of Britain's 9,500 troops in Afghanistan are based in the province, which has been the deadliest for international forces fighting the nearly decade-long Taliban insurgency.
According to a recent United Nations report, the first six months of 2011 were the deadliest for civilians in Afghanistan since the war began in 2001.
The country saw 1,462 civilian deaths in January to June, a 15% increase on the same period last year. Most of the deaths were caused by roadside bombs and anti-government forces such as the Taliban.
While the total number of people killed by pro-government action fell by 9%, more people died in Nato air strikes, leaving 79 Afghans dead in the period in question.
More than half of those deaths have been attributed to the use of Apache ground attack helicopters and with allegations claiming the Apache is understood to have fired at the insurgent with its machine gun, many said an in-depth investigation should take place, as clearly children working in a field should not be mistaken for insurgents fleeing the NATO forces.