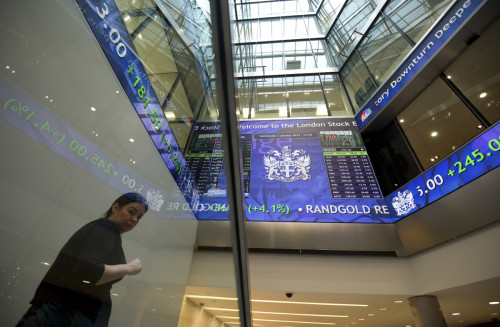 A bulk of all European markets continued trading in the red in the afternoon session on 27 January, hours after the sell-off that roiled emerging market economies.
The FTSE 100 index figured among the region's top losers and was trading 1.65% lower as of 15:59GMT.
An emerging markets sell-off dampened investor sentiment across Europe on a day when British firms BG Group and Vodafone led UK stocks lower.
A German media report, which cited an OECD study that revealed European banks had a combined capital shortfall of about €84bn, also hurt regional sentiment.
UK Trade
In London, gas major BG sank 15% after it warned that its oil-and-gas output for 2014 would be lower than previously forecast, partly owing to the ongoing political unrest in Egypt.
The group declared "force majeure" on contracts in Egypt as the government in Cairo had not honoured BG's share of gas from fields, leading to high levels of export volumes being routed back to the local market.
Earlier, Vodafone plummeted some 6% to 218.85p as of 08:10GMT after American firm AT&T put market speculation to rest by saying that it does not intend to buy out the group.
Emerging Markets
Emerging markets led a global sell-off on 27 January after foreign investors shed their exposure to dicey assets in those markets.
The benchmark MSCI emerging stock index dropped to a four-and-a-half-month low, losing 1.6% on the day.
The sell-off was triggered by concerns about slowing economic growth in China and by the uncertainty that surrounds the outcome of the US Federal Reserve's stimulus taper on markets that have relied on overseas funding to sustain growth.
In addition, political threats in Thailand, Turkey and Ukraine, alongside an approaching financial crisis in Argentina together wrecked havoc across bourses just when the Fed is preparing to trim its monthly asset buys by another $10bn (£6bn).
On Wall Street
On Wall Street, equities fell for a second day on 24 January, pulled down by a sell-off in emerging market assets.
For the week, the S&P 500 fell 2.6%, closing below its 50-day moving average on Friday for the first time since 9 October 2013.
The Dow dropped 3.5% for the week, the steepest since November 2011.
The tech-heavy Nasdaq lost 1.7% for the week.