British boxer Amir Khan has decided against representing Pakistan at the upcoming 2016 Rio Olympics after earlier stating that he would "love" the opportunity to represent the country of his birth. Khan, who won the silver medal at the 2004 Athens Olympic Games, acknowledged that he is not ready to seek an Olympic spot via the final qualification tournament, which will be held in Venezuela early next month.
The 29-year-old had hoped to return to the Olympics after the International Boxing Federation (AIBA) ratified the eligibility of professional boxers to take part in the Games. However, the World Boxing Council (WBC) has opposed the move and its president Mauricio Sulaiman claimed that professional boxers who participate in the Rio Games would be banned from boxing for two years.
The Bolton-born boxer was one of the few professionals who came out in favour of participating in the Olympics with the likes of superstars Wladimir Klitschko and Manny Pacquiao opting to give it a miss. Even 2012 gold medalists Vasyl Lomachenko and Zou Shiming decided against travelling to Rio.
Presently, Canada is the only nation to come out in favour of the move with Boxing Canada president Pat Flacco, confirming that they will seek to fill their quota with professional fighters. A number of people have raised concerns over the safety of the boxers, where the draw could see novices facing seasoned fighters like Khan, which could turn catastrophic. The Great Britain's Chef de Mission, Mark England, has said he would have no concerns if professional fighters are allowed to participate in Rio.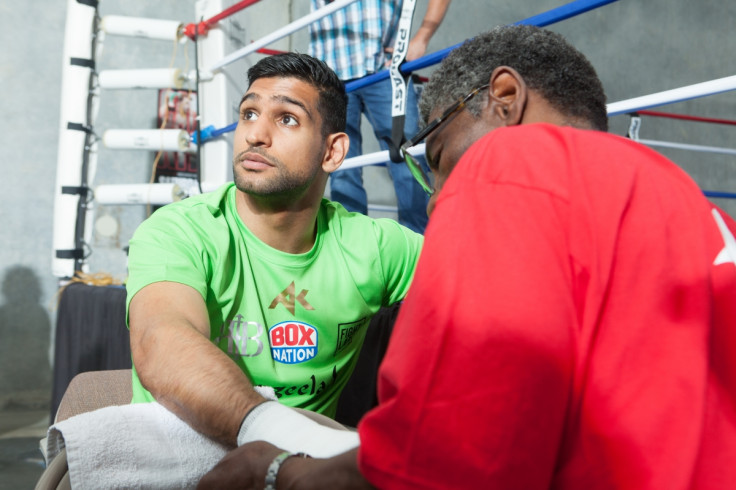 "I took Amir to Athens when he was 17 years old and he fought the European champion in the first round and the Olympic gold medallist in the final. The introduction of professionals is a complex issue that we have debated long and hard around, and I think GB Boxing have got it spot on in terms of their comments around who may or may not make the team in Rio", said England, as quoted by DailyMail.
"I think it's an issue for Rob McCracken (GB performance director) and the GB Boxing team and we have got every confidence in the ability of the team to do well," he added.