Saudi Arabia To Host Highly Anticipated Heavyweight Unification Bout Between Tyson Fury And Oleksandr Usyk
Boxing will reach new heights in Saudi Arabia next February as the Gulf state will stage the massive heavyweight fight between Tyson Fury and Oleksandr Usyk.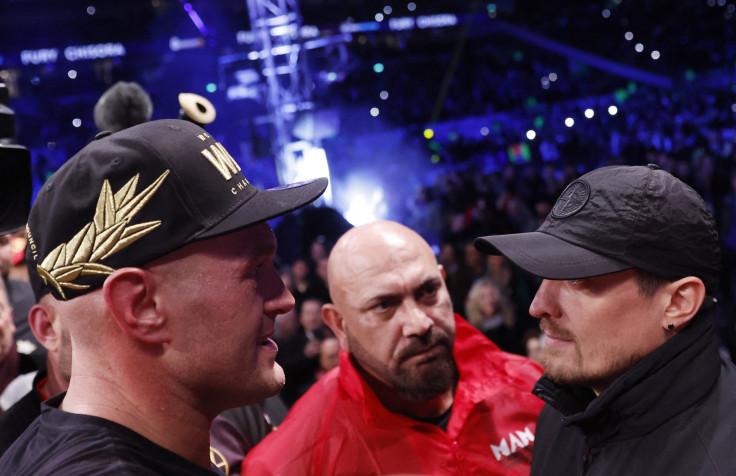 The eagerly awaited undisputed heavyweight showdown between Britain's Tyson Fury and Ukraine's Oleksandr Usyk will take place on February 17th, 2024 in Riyadh, Saudi Arabia.
WBC belt holder, Fury, and WBA, WBO and IBF, champion, Usyk, will put all their world titles on the line for the historic and lucrative bout which will crown the first undisputed heavyweight champion of the world since Lennox Lewis in 1999.
Saudi Arabia hosting an event of this magnitude and importance is the latest step in the nation becoming a sporting powerhouse. Both Fury and Usyk have fought in Saudi Arabia in recent bouts as Fury took on mixed martial artist fighter, Francis Ngannou in Riyadh last month, and Usyk's rematch with Anthony Joshua was held in Jeddah last year.
The upcoming fight between Fury and Usyk was originally scheduled for December 23rd in Riyadh, but Fury's difficulty in overcoming Ngannou meant he would not be physically ready for that date.
Fury was heavily criticised for his performance against Ngannou, as the mixed martial artist was boxing professionally for the very first time and caused Fury problems throughout the fight and even dropped the heavyweight champion to the canvas in round three with a left hook. Many felt the decision to crown Fury the winner was a controversial and unfair one.
Instead, that December date will see Riyadh host a stacked card with intriguing heavyweight matchups as former world champions, Joshua and Deontay Wilder will both be in action against Otto Wallin and Joseph Parker, respectively. Also, Daniel Dubois will come up against Jarrell Miller in another one of the heavyweight contests.
The card on December 23rd and the Fury and Usyk contest will form part of Riyadh Season, which is an annual sporting and entertainment festival that takes place in the Saudi Arabian capital from October to March. Fury's fight with Ngannou was the opening event of the current Riyadh Season.
The undisputed heavyweight contest taking place next February will see both Fury and Usyk not only put their existing world title belts on the line but also their unbeaten records. Fury has won 34 out of his 35 fights, with one draw coming in his first bout of a trilogy with Wilder, whilst Usyk has won all 21 of his fights.
Usyk has had a taste of undisputed world title fights in his career as the Ukrainian previously fought at cruiserweight and was the undisputed champion of that division from 2018-2019.
Fury, who reportedly earned above £40 million for his fight with Ngannou, is set to make well over £80 million for his clash with Usyk, according to his US promoter, Bob Arum. Fury's career earnings up to date reportedly stand at £240 million.
Usyk, reportedly earned over £40 million from his rematch victory over Joshua last year and that purse makes up the majority of the reported £60 million that he has made from his professional boxing career. The Ukrainian is in line for a payday of £50 million for his fight with Fury, according to talkSPORT host, Simon Jordan.
Whatever the final purse ends up being for both fighters, it is set to be their biggest payday by far to date and the event will set a new precedent for big-money sporting events.
The fight was officially announced at a press conference in London on Thursday, where the heavyweight pair came face to face and exchanged words with one another.
Fury touched on the significance of the upcoming contest next February, saying: "I've been in many, many heavyweight title fights before; now is the most important one. It's gonna be a fight for the ages. We've been chosen, and I believe we're both destined to be here."
Fury went on to add: "There's only one winner, and I'm destined to become undisputed champion and to cement my status as the No.1 fighter of this era. I've seen many men like him before; when they fight the big men, they struggle. He's gonna struggle on 17 February, and he's gonna lose."
Usyk was more reserved and did not have as much to say as Fury at the press conference but mentioned: "I will speak in the ring. I'm a little man, but I will be champ. I want to tell one story, which looks very similar to our story with Tyson, about David and Goliath. When the Lord gives me Tyson in my hands, I will do my job."
Saudi Arabia attracting boxing's biggest and most significant fights in recent times suggests it is the new capital for boxing in the world, possibly overtaking Las Vegas, which has previously been the stage for the sport's biggest contests in previous decades.
As well as boxing, Saudi Arabia is determined to be the centre of major football events and will showcase itself when the 2023 FIFA Club World Cup takes place in Jeddah this December. Saudi Arabia has also appeared to have won the race to host the 2034 FIFA World Cup, as Australia's decision to step out of the running means the Middle Eastern nation is the only bidder left.
© Copyright IBTimes 2023. All rights reserved.