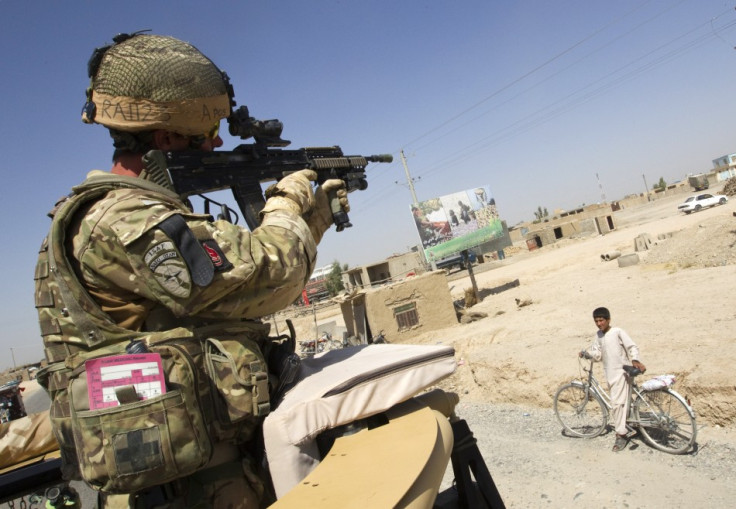 The first ever female British soldier who killed an Afghan insurgent has related the encounter in detail in a new book.
Chantelle Taylor, a woman medic, has become the first female British soldier to have killed an enemy fighter in combat.
Taylor recounts the terrifying moment when - as a sergeant in the Royal Army Medical Corps - she had to choose whether to shoot a Taliban gunman or be shot herself, in her book "Bad Company: A Woman Face To Face With The Taliban".
"Faced with the choice of him or me, I chose me," Taylor says.
The 32-year-old, who was sent to the war zone to save lives, had fired her standard issue SA80 assault rifle at another person.
Female soldiers in the British Army are officially not allowed to fight on the frontline in battles and are banned from serving in infantry units, a report in the Daily Mail, which has quoted from the book, said.
The incident occurred in early 2008 and Taylor was selected to oversee haemorrhage-control training for 16 Air Assault Brigade before its deployment to southern Afghanistan.
The Combat Medical Technician was serving in support of the British Army's 16 Air Assault Brigade.
She joined the forces in April 1998 at the rank of Private, and has served in Kosovo, Sierra Leone, Iraq and Afghanistan.
Taylor was attached to B Company (5 SCOTS), The Argyll and Sutherland Highlanders for an operation in Marjah.
Marjah is a haven for Taliban insurgents as they grown poppies.
During her stay in Marjah, the Talibans attacked their company.
She describes the situation, "Boom! Boom! Two deafening explosions are followed by small arms fire and heavy machine guns. The first explosion rocks the vehicle, smashing my head against the front of the wagon. An airburst of incoming rocket-propelled grenades (RPG) rains debris and shrapnel around us.
"Our lightly armoured convoy has turned into a Taliban shooting gallery. Our heavy machine guns open fire as broken brick and clouds of dust envelope us".
During the intense fighting Taylor, she had to shoot a Taliban fighter in self-defence.
She writes: "Suddenly, overwhelmed by a fear that I am about to be shot in the face, I experience a massive rush of blood to the head. I take in a mouthful of dust as I remind myself to breathe.
"Instinctively and purposefully I engage him, firing seven shots, which would later become quite the joke within my regiment. Apparently I was wasting ammunition."
"The fighter that I engaged has dropped. It would never be right to claim a kill as a medic but, at the end of the day, he no longer had the ability to engage us and that's all that I am concerned about. Faced with the choice of him or me, I chose me."
She describes the attack as perfectly timed.
The sergeant also describes Afghanistan's geography, history and gives some engaging details of their stay in the country.