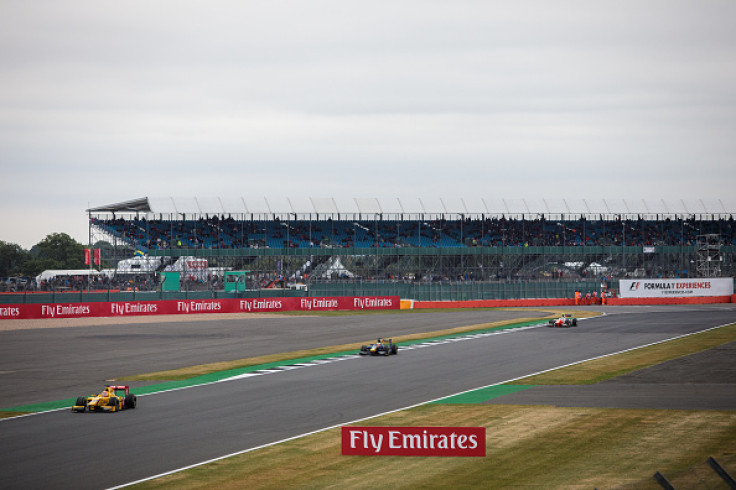 Lewis Hamilton made the Silverstone crowd go wild after claiming pole position at the British Grand Prix by more than half a second as he looks to close the gap on leader Sebastian Vettel. The Ferrari driver currently leads Hamilton by 20 points in the standings.
The Briton has now tied the record for the most number of pole positions at the British Grand Prix with a total of five, alongside the legendary Jim Clark.
The Mercedes driver's qualifying time is a record 0.547 seconds quicker than Ferrari's Kimi Raikkonen, while his closest competitor Sebastian Vettel managed a distant third, a massive 0.756 seconds adrift.
Hamilton's Mercedes teammate Valtteri Bottas was only the fourth quickest but, like Hamilton in the Austrian Grand Prix, will start ninth after a five-place grid penalty.
Max Verstappen finished fifth, while his Red Bull teammate Daniel Ricciardo – who is already carrying the same penalty as Bottas – will have to start from the back after what is suspected to be a turbo failure.
Nico Hulkenberg impressed as he took a superb sixth for Renault, pinching ahead of the Force India pair of Sergio Perez and Esteban Ocon, in seventh and eighth, respectively.
McLaren's Stoffel Vandoorne completed qualifying in ninth, his best grid position to date, while Romain Grosjean completed the top ten in his Haas.
With the penalties handed out to the drivers, the grid will read something like this – Hamilton, Raikkonen; Vettel, Verstappen; Hulkenberg, Perez; Ocon, Vandoorne; Bottas, Grosjean; Palmer, Kvyat; Sainz, Massa; Stroll, Magnussen; Wehrlein, Ericcsson; Ricciardo, Alonso.
Where to watch live
The race starts at 1pm BST (Sunday) with Sky Sports F1 and Sky Sports F1 HD providing live TV coverage. Real-time updates are available on the Live Timing section of the sport's official website.
Drivers' reactions
Lewis Hamilton (Mercedes) - P1 - "I can't really explain in words just how good that pole feels. A fifth Silverstone pole, equal with Jim Clark, it just feels crazy to me – it's surreal to be up there with these legends. I'm so happy with how this weekend has gone. We started on the right foot straight from FP1 and we've built up from there. I loved the conditions in Q1 – it's tough but those changeable conditions are so much fun. Then it was all about pushing to the limit as the track dried out, extracting everything out of the car. Everything has just been so perfect and I knew it was a spectacular lap - I knew that had to be it. I feel like I'm driving the best I've ever driven, so I hope the results start to show that. It's been super tight recently, so to end up with a gap of seven-tenths to the Ferraris is a nice surprise. I would never intentionally get in the way of anyone. I don't think I was in the way of Romain, but if I was, I apologise. The home support has been incredible and I'm so proud to take pole here again. It blows me away to see all of the flags. There's nowhere else in the world where a driver gets this kind of love and support."
Kimi Raikkonen (Ferrari) - P2- "In qualifying, the handling of my car was better than any other time this weekend and I was really happy with that. Obviously, we always want to finish higher, but today we got more or less what we could. In Q1, with the intermediate tyres on a damp track, the conditions were a bit tricky. It was very slippery, but it was not wet everywhere and the tyres wore out very quickly. Luckily we did the last run at the right time and it was ok. After that, the track was getting better and better. My last lap felt good, but it was still a bit tricky to know where to go because it was still a bit damp here and there; so I took it quite easily at first and then decided to push a bit more. The feeling that I got with my car today was nice, so I'm looking forward to tomorrow and I hope that in the race we can improve. Usually, we are a bit stronger on Sunday".
Sebastian Vettel (Ferrari) - P3 - "We are quite happy with the result and our performance was good. I think it will be tough tomorrow considering that Mercedes have been very quick for the whole weekend. Our car today was good and felt amazing, so overall I am happy. The track was not really wet and it was good fun to drive. I just found a bunch of cars ahead of me in my last run but, otherwise, I think we improved the car a lot over the weekend, also in qualifying trim, and that's what really counts."
Final qualifying results from Silverstone
POS

.
DRIVER
TEAM
TIME
1
LEWIS HAMILTON
MERCEDES
1:26.600
2

KIMI

RÄIKKÖNEN
FERRARI
1:27.147
3
SEBASTIAN

VETTEL

FERRARI
1:27.356
4

VALTTERI

BOTTAS

MERCEDES
1:27.376
5
MAX

VERSTAPPEN

RED BULL RACING
1:28.130
6

NICO

HULKENBERG

RENAULT
1:28.856
7
SERGIO PEREZ
FORCE INDIA
1:28.902
8
ESTEBAN

OCON

FORCE INDIA
1:29.074
9

STOFFEL

VANDOORNE

MCLAREN

1:29.418
10

ROMAIN

GROSJEAN

HAAS
1:29.549