British and Afghan Forces Blow-up a Tonne of Taliban Explosives [SLIDESHOW]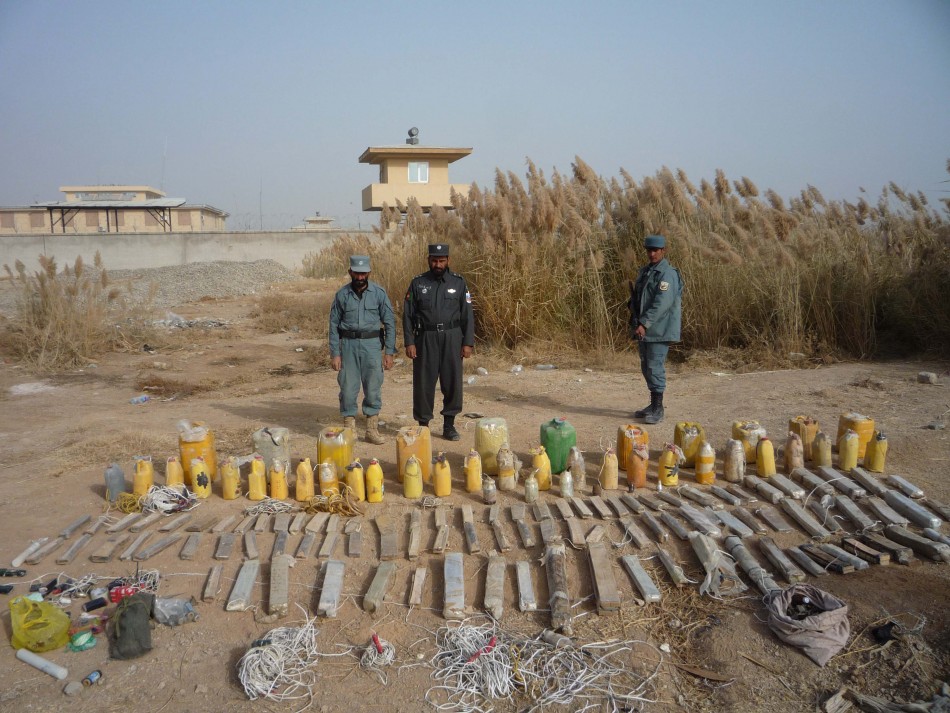 Spectacular pictures show the moment that Afghan Police and British forces detonated nearly a tonne of explosives recovered during a major operation in Helmand Province.
Around 280 British troops and 550 Afghan soldiers joined forces in Operation "Winter Success" which saw Afghan uniformed Police (AUP) help recover a cache of 27 improvised explosive devices recovered following a search of compounds
In a separate find, 64 pressure plates, six bags of explosives, fourteen remote detonation controllers and other bomb components were found.
The troops gathered all of the explosive material together to be destroyed in a huge controlled blast in the Dashte, desert area.
One Afghan policeman was killed by an IED during the operation, which also saw insurgents cleared from an area in Nad-e Ali district, before new security checkpoints were put in place.
Afghan soldiers were mentored throughout by the International Security Assistance Force (ISAF)
"The policeman who died will be remembered as a very brave man. We have named one of the new police checkpoints in his honour," said Captain Haji Omar Jan, district chief of police for Nad-e Ali.
"This operation has provided security for the people of Nad-e Ali. Through our combined efforts we will provide a safe place for the people of Nad-e Ali to live.
"The removal of such a large amount of IEDs will keep our police, soldiers and civilians safer and more confident to go about their business. I am very thankful for the support from the Afghan National Army and ISAF on this successful operation and I hope to continue to operate in this way in the future."
Major Tom Chapman, of the Queen's Royal hussars, and commander of the Operational Co-ordination centre, which liases between ISAF forces and Afghan Police, called the detonation a "significant blow" to the insurgents in the area.
"British advisor teams deployed with the Afghan police as they carried out compound searches. The police took the lead and it was their own intelligence that led them to the compound that was being used as an IED factory," he said.
"We have seen real progress in the Afghan police during this deployment and they are now ready to take the lead for security in the district."
Estonian forces took part in the operation, along with soldiers from 2nd Battalion the Rifles regiment, 2nd Battalion the Mercian regiment, 5th Battallion the Rifles Regiment and 3rd Battalion (The Black Watch) the Royal regiment of Scotland.