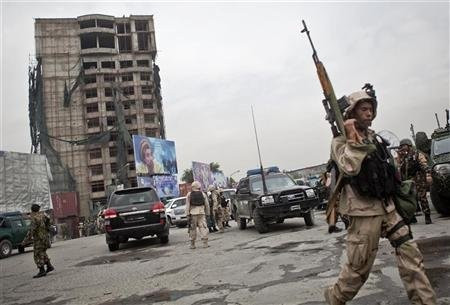 Two British soldiers have been killed in a green on blue attack at a checkpoint south of Nahr-e Saraj in Afghanistan's Helmand province.
An Afghan policeman who was deployed with the coalition forces for a security operation turned the weapon on the soldiers and shot dead two soldiers and injured three others, said the International Security Assistance Force (Isaf).
The soldiers belonged to the 3rd Battalion The Yorkshire Regiment. Their names have not been released.
The incident followed the death of a soldier serving with to the 1st Battalion Grenadier Guards after his vehicle hit a roadside bomb.
"Everyone serving within Task Force Helmand will want to send our condolences to the soldiers' families and loved ones," said Maj Laurence Roche for the Ministry of Defense (MoD).
The number of British casualties has reached 430 in Afghanistan. Nato casualties have reached 47 so year.
The gunman is believed to be part of the 16,000-strong Afghan Local Police, a coalition-trained militia separate from the 352,000 Afghan national forces.
Britain has the second largest military presence in Afghanistan, nearly 9,500 troops, after the United States.
The incident occurred on the same day the Isaf base at the Camp Bastion was attacked by the Taliban in which two US marines were killed.
It has emerged that the militants stormed the base wearing US Army uniforms. Coalition forces killed 14 insurgents and one was captured alive.
"Dressed in US Army uniforms and armed with automatic rifles, rocket propelled grenade launchers and suicide vests, the insurgents attacked coalition fixed and rotary wing aircraft parked on the flight line, aircraft hangars and other buildings," said the Isaf spokesman.
It had been reported that Prince Harry was the "primary target" of the Taliban attack. However, the officials ruled out any link between the latest killing and the Camp Bastion attack.
Isaf maintained that Harry who is known as Capt Harry Wales at the camp was never in danger.
"Prince Harry was never in any danger," said Nato spokesman Martyn Crighton.
Harry, who celebrated his 28th birthday in the camp, was considered a high value target by the Taliban.