There was a live performance by Madonna that almost ended in disaster, Kim Kardashian in an epic selfie fail, Taylor Swift winning her first Brit and an awards show where Kanye West didn't try and steal it from her.
The Brit awards 2015 were full of surprises, not least of all for the artists converging on London's 02 arena to celebrate the best in British music.
Opening the show with her hit single Blank Space, Taylor Swift dedicated her Best International Female Award to her British BFFs Ed Sheeran, Sam Smith and Cara Delevingne. "I have been coming to England and playing shows for eight years and this is my first BRIT and I'm so happy. So I want to thank my record label for sticking with me until I won this," she said.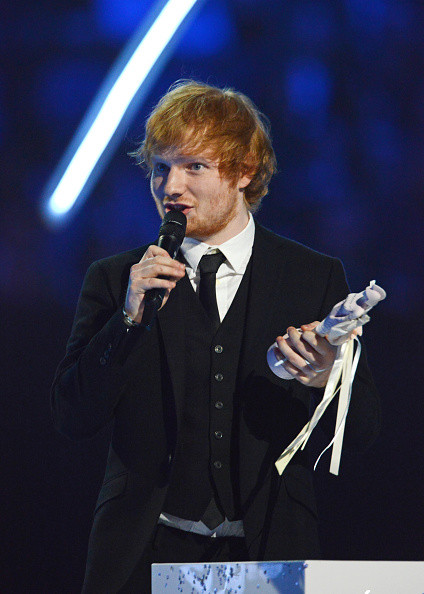 "I wouldn't be here without my British friend who took me to pubs and taught me how to make a good cup of tea. I just want to say I love you Ed Sheeran. I also want to thank Cara (Delevingne) and Ellie and Sam (Smith) I'm very lucky to have them in my life. My British fans have also changed my life," she added in a heartfelt speech.
There was also an early win for Ed Sheeran who took the prize for Best British Male Solo Artist beating Damon Albarn, George Ezra, Paolo Nutini and Sam Smith to claim the top award. The Thinking Out Loud singer said he could go home happy. "I won't be too annoyed if I don't win the Best Video award but I'm happy to have won this one. I'm going to perform and then I'm going to drink, so don't film me later," he joked.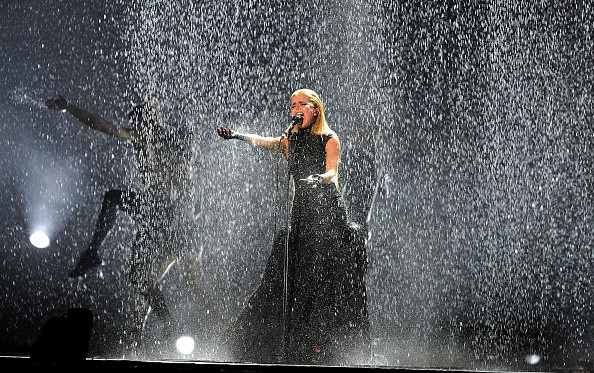 He didn't have to worry however, as he also walked away with the Best Album Award which was presented to him by Russell Crowe. "I was really worried about this album, making it. It took a long time to make it and be happy with it. It's been a very good year for British music and this is amazing but I think the sales, the accreditation all of it is a success. Just keep on making music," he said.
Meanwhile, Rock duo Royal Blood walked away with the coveted British Group prize. Accepting their award they said: "Many of you won't even know who we are but we started this band two years ago just to have a laugh with friends but this means a lot."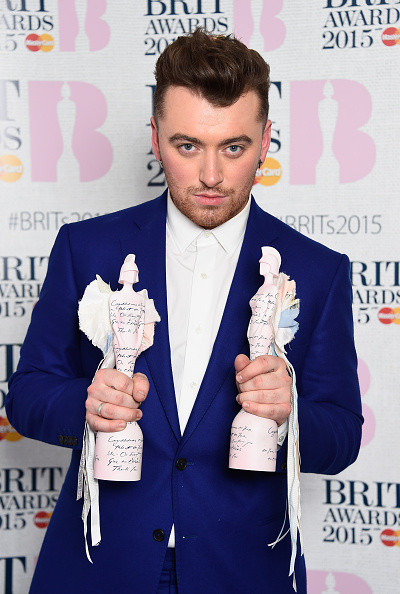 Paloma Faith made the most of her moment in the spotlight as she bagged the prize for British Female Solo Artist gong from DJ Mark Ronson. Overcome with emotion she made no apologies for launching in to a rambling speech."I'm so moved, it's been a long time coming," she said. "It's taken me 14 years to stand up here and accept this award. It means so much to me. People have been doing short speeches but they don't like gobbing off as much as me, I've been arrested twice for fly postering my album posters but now I've got this. 'It would take me an hour to thank everyone I want to thank. First and foremost, my incredible fans. I want to dedicate this to all the underdogs and grafters."
She demonstrated why she deserved the award as she performed her hit track Only Love Can Hurt Like This in the rain, in a moving set.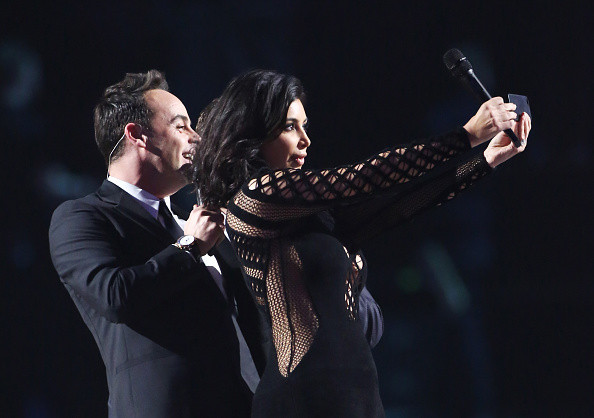 Geordie duo And and Dec proved a hit as hosts, with barely a mis-step throughout, as they held the proceedings together. British model Cara Delevingne made the most of being the "meat in an Ant and Dec sandwich." Cosying up to the hosts she said: " I've been waiting for this all my life. Dreams do come true."
Ant and Dec also had a close encounter with Kim Kardashian as she joined them on stage to present Sam Smith with the Global Success Award. Despite being dubbed the Queen of the selfies, what followed was an epic selfie fail as she posed with Ant and Dec for a photo, only to find the phone was locked.
She quickly introduced her husband, Kanye West saying: "I've been watching it all from backstage, ready for this next performance. Before this starts, I want everyone to stand up and get on their feet. Welcome my husband Kanye West."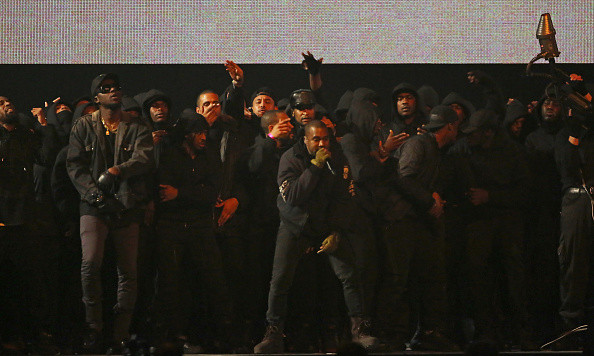 West's performance too was typically controversial. He descended on the stage with a crowd of men similarly dressed all in black, as he rapped his way through his latest track All Day as a giant flame-thrower intermittently lit up his performance.
Laden with expletives most of the song lyrics were muted out. Lionel Richie was seen watching open-mouthed and dumbstruck, while Taylor Swift, who shares a somewhat tense history with the singer, was seen dancing seductively to the track, alongside Kim Kardashian West.
But it was the arrival of Madonna to the Brits stage that had everyone talking, but for all the wrong reasons. Making her dramatic entry swathed in a black cloak with a long train held by dancers dressed as matadors, the star took a tumble as she performed her new song Living for Love. The singer was inadvertently pulled off the stage by the dancers holding her cape. While they looked visibly shocked, ever the professional, the 56-year-old star picked herself up and while ironically singing the lines "I'm going to carry on" continued with her performance unphased.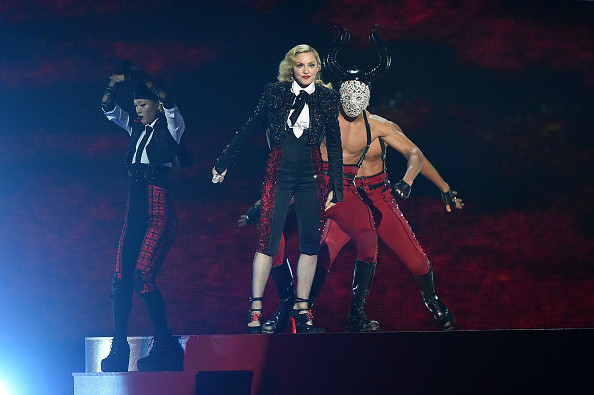 Dressed in a matador inspired outfit, she went into the routine, which included some throwback voguing and culminated in a dramatic flourish. It was the biggest shocker of the night in a show which till then had been largely without incident. And while you can rely on Madonna to steal everyone's thunder, on this occasion it wasn't quite how she imagined she'd be remembered at the Brits.
The incident instantly went viral with trolls revelling in the mishap and loyal fans leaping to her defence. Comedian Jimmy Carr made a meal of the moment. "The bit where she falls over you've got to see. Of course she's fine. She's Madonna. She's pretty much immortal," he said.
But the star was defiant proving she is a pro to the end. Writing on Instagram after the incident she said: "Nothing can stop me and love really lifted me up! Thanks for your good wishes! I'm fine! ❤️#livingforlove."
Full List of Winners
British Male Solo Artist
Damon Albarn
Ed Sheeran - WINNER
George Ezra
Paolo Nutini
Sam Smith
British Female Solo Artist
Ella Henderson
FKA twigs
Jessie Ware
Lily Allen
Paloma Faith - WINNER
British Group
alt-J
Clean Bandit
Coldplay
One Direction
Royal Blood - WINNER
British Breakthrough Act
CHVRCHES
FKA twigs
George Ezra
Royal Blood
Sam Smith - WINNER
Ed Sheeran performing at the BBC Music Awards 2014© BBC / Nick Pickles
Tahliah Barnett of FKA twigs attends the 2014 Barclaycard Mercury Prize at The Roundhouse © Getty Images / Ben A. Pruchnie
Critics' Choice
George The Poet
James Bay - WINNER
Years & Years
British Single
Calvin Harris - 'Summer'
Clean Bandit featuring Jess Glynne - 'Rather Be'
Duke Dumont featuring Jax Jones - 'I Got U'
Ed Sheeran - 'Thinking Out Loud'
Ella Henderson - 'Ghost'
George Ezra - 'Budapest'
Mark Ronson featuring Bruno Mars - 'Uptown Funk' - WINNER
Route 94 featuring Jess Glynne - 'My Love'
Sam Smith - 'Stay with Me'
Sigma - 'Nobody to Love'
British Video
Calvin Harris - 'Summer'
Charli XCX - 'Boom Clap'
Duke Dumont featuring Jax Jones - 'I Got U'
Ed Sheeran - 'Thinking Out Loud'
Mark Ronson featuring Bruno Mars - 'Uptown Funk'
One Direction - 'You and I' - WINNER
Rita Ora - 'I Will Never Let You Down'
Route 94 featuring Jess Glynne - 'My Love'
Sam Smith - 'Stay with Me'
Sigma - 'Nobody to Love'
Calvin Harris press shot.
Capital FM, Jingle Bell Ball© Getty Images
MasterCard British Album of the Year
alt-J - This Is All Yours
Ed Sheeran - x - WINNER
George Ezra - Wanted on Voyage
Royal Blood - Royal Blood
Sam Smith - In the Lonely Hour
British Producer of the Year
Flood
Alison Goldfrapp and Will Gregory
Jake Gosling
Paul Epworth - WINNER
International Male Solo Artist
Beck
Hozier
Jack White
John Legend
Pharrell Williams - WINNER
International Female Solo Artist
Beyoncé
Lana Del Rey
Sia
St Vincent
Taylor Swift - WINNER
International Group
5 Seconds of Summer
The Black Keys
First Aid Kit
Foo Fighters - WINNER
The War on Drugs
Brits Global Success
Sam Smith - WINNER