In Brussels' Place de la Bourse, mourners gathered for a candlelight vigil, laying flowers and writing notes of condolences for the victims of 22 March attacks, which left at least 31 dead and more than 200 wounded. Roads have been closed across the city, and flags are at half mast. Belgian Prime Minister Charles Michel joined the mourners after dark and was joined by European Commission president Jean-Claude Juncker.
Other countries such as Germany, Italy and the US have set up memorials for those who died and suffered in the attacks. People were seen queueing outside the Belgium embassy in Russia to lay down red roses, while mourners in Paris paid homage outside the Hotel de Ville. Berlin saw the illumination of the Brandenburg gate in the colours of the Belgian flag, along with other monuments including the Eiffel Tower, the Trevi fountain and the court of Lyon.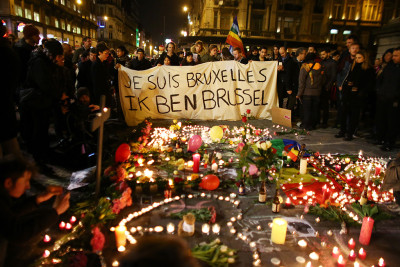 The three attacks, two of which occurred in Zaventem airport and another at Maelbeek metro station, sent shockwaves across Europe and around the world. Authorities are now racing to review security at airports and on public transport, and rekindled debate about European security cooperation and police methods. Belgian police have identified two suspected Islamic State suicide bombers captured on security cameras before they struck Brussels Airport on Tuesday in the first of two attacks that also hit the city's metro, according to reports.