Australian National Photographic Portrait Prize 2016: Winners and finalists
The National Photographic Portrait Prize, an annual event that promotes the very best in contemporary photographic portraiture by both professional and aspiring Australian photographers, has selected 49 finalists from a national field of entries, reflecting the distinctive vision of Australia's portrait photographers and the unique nature of their subjects.
Winner: Life Dancers by Elizabeth Looker
"These two people are those in the world to whom I feel most akin. I see in Aimee Grace and Innes things easily forgotten with age and time, which I am reminded of and urged to hang on to: true freedom and effortless movement, play and humour, empathy, compassion and kindness, all of which flow from within them, and constantly remind me of what is important."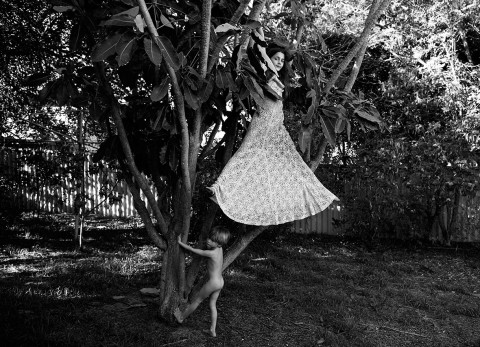 Highly Commended: Asha on North Brother by Sean Davey (Gelatin silver print)
"This is a portrait of Asha Sarma resting on top of North Brother Mountain in Dunbogan, New South Wales."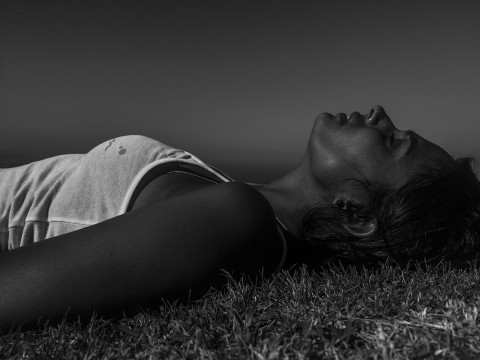 Inaugural Art Handler's Award: On Albatross Island by Matthew Newton (digital print)
"Albatross Island is located off the north-western tip of Tasmania. It is home to 5,200 pairs of Shy Albatross, who are endemic to Tasmania. The Tasmanian government has maintained a long term monitoring program on the island for over thirty years. The programme is currently overseen by marine biologist Dr Rachael Alderman, who has been visiting the island throughout the year for over a decade. After a day of banding and fitting miniature satellite tracking devices, her hands and forearms are bitten and bleeding. These are wounds of love; they mark an engaged scientist's deep affection for an extraordinary bird."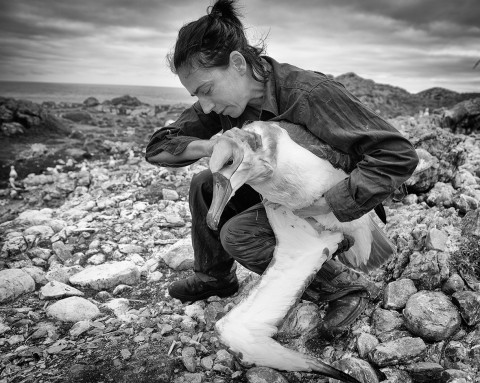 King Kamanda by Ella Rubeli (type C print)
"Nehemiah Kamanda on his eighteenth birthday, with family and friends after Sunday morning church service in Newcastle. Nehemiah is about to finish high school and dreams of being a hip hop artist."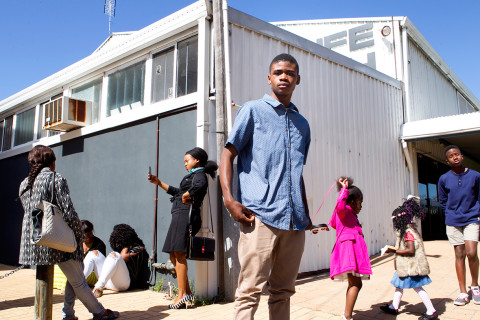 Dusty and Jed by Louise Whelan (digital print)
"After completing a bull ride in the rodeo competition at the Singleton Show in New South Wales, cowboys Dusty Parker and Jed Martin visit sideshow alley for some hot chips and fizzy drinks. This portrait is part of a series documenting agricultural shows around Australia."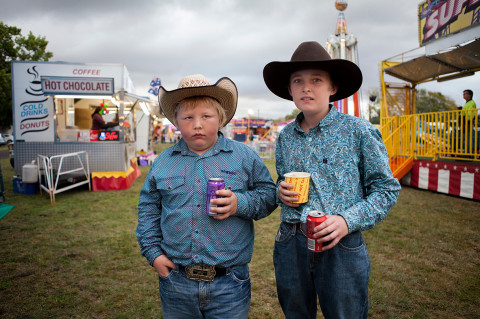 Free range cousins by Jennifer Stocks (digital print)
"The obligatory 'cousin shot' during the school holidays has turned into so much more for me (the photographer and mother to four of the children in this image). This imperfect image perfectly reveals a great deal about each of these nine unique little humans."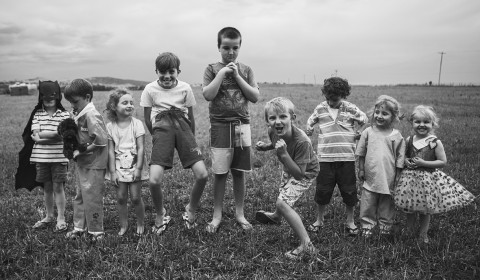 William by Sandra Lamonaca (digital print)
"This is a portrait of my son, William. He was playing in the backyard and I convinced him to pose for some photos. I was really drawn to this image as it captures the innocence with which he sees the world around him; his eyes convey the vulnerability that all children have. As he grows older, I will see less and less of his childhood innocence. It makes me want to draw him into my arms and protect him from the world."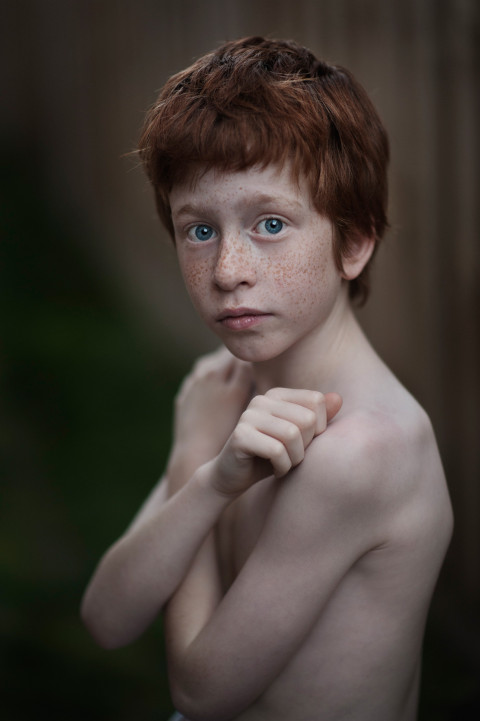 Meika IV by Michael Murchie (digital print)
"11-year-old Meika."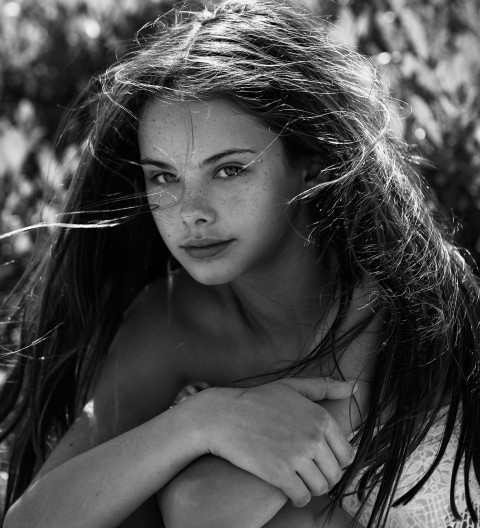 Heath by Matthew Abbott (type C print)
"Heath, aged five, during an outing to Katherine Springs with his carer."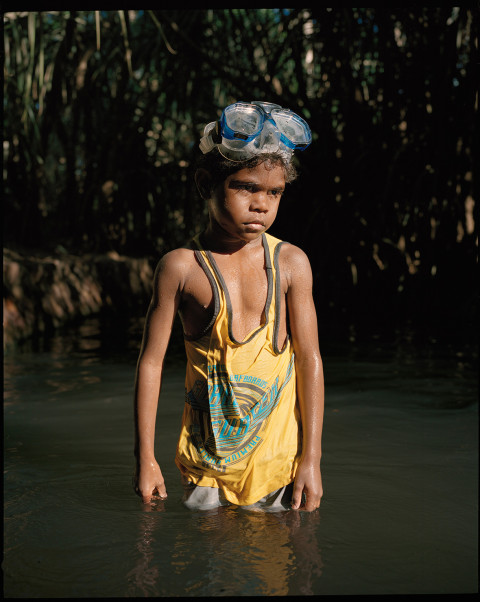 Boys and their cars by Lisa Ivandich (digital print)
"Jayden and Sawyer love their cars; they play all day, with the winners lined up. It's a serious game."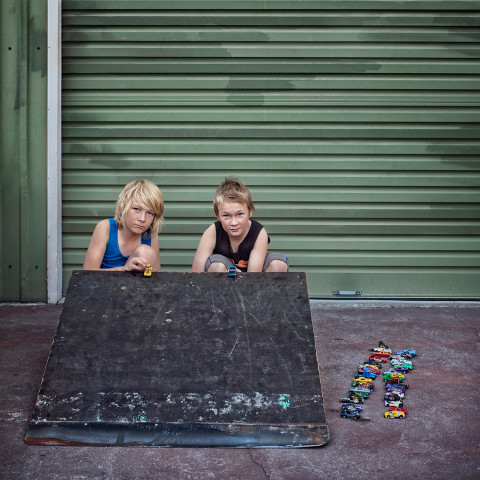 Fostin outside his Mum's, Kings Park, Melbourne by Nicola Dracoulis (digital print)
"Fostin arrived in Australia in 2007 from Burundi, East Africa, when his mother found him after ten years of separation, living as a child soldier. A rapper/songwriter, dancer and youth arts worker, he studies Youth Work at Victoria University, and works on community arts projects across Melbourne. A strong sense of family and community, as well as a desire to create something of his own, has led him and three friends to self-fund a record label, on which he is an artist and mentor to younger artists. This portrait forms a series on young Australians of the African diaspora."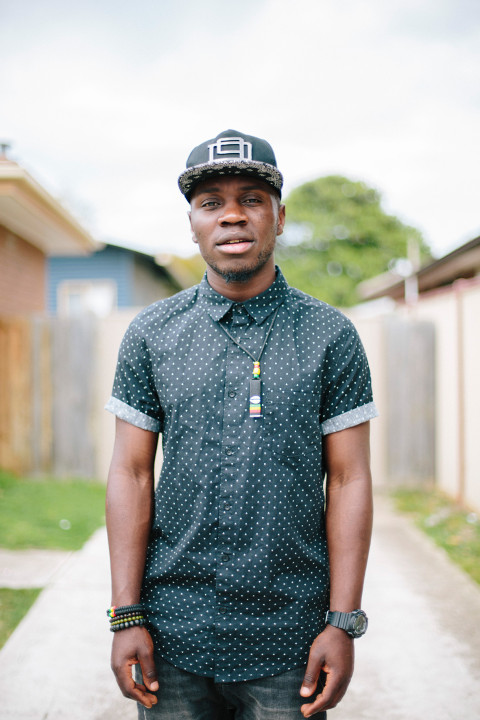 Miles and Arkie by Clint Peloso (digital print)
"Becoming a father seems to happen suddenly for a lot of men; perhaps not experiencing the physical transformation of pregnancy leaves them unprepared. We often seem to rail against the things that we think might constrain us, as though each step towards a fully realised adulthood means we have to give up something important. Something we might miss. Then time and again I see it, as in this photo, that nothing important is lost when a man becomes a father. In fact, when I see my friends holding their children, I realise I've never seen them look so complete."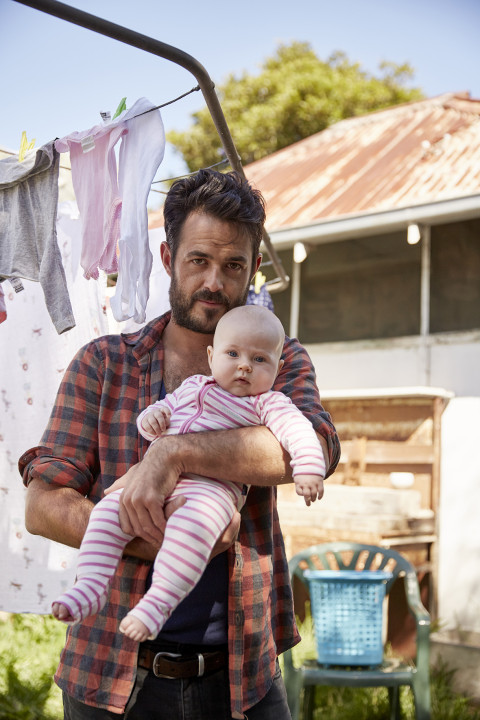 Oscar by Charlie White (gelatin silver print)
"Oscar is a friend I met at college and skate with every so often. He's very pleasant, but there is an oddly hardened, sinister character to his angular, youthful face and the way he carries himself."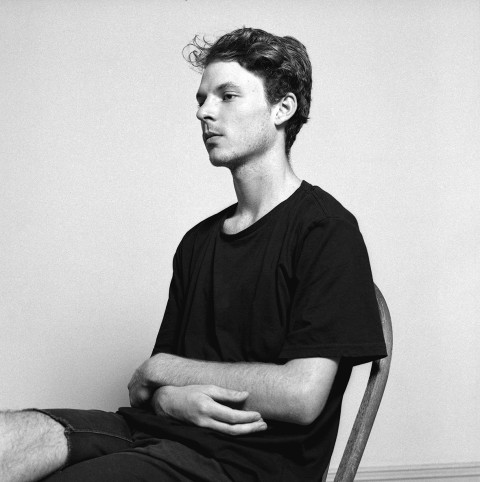 Glitter and colour on the streets of Erskineville by John McRae (digital print)
"A group of performing artists gathers in front of The Imperial Hotel, a venue where they have been working for years. They display the same colour, exaggeration and panache normally reserved for the stage, but now they are standing on the street instead. The Imperial Hotel, famous for its drag shows and appearance in Priscilla, Queen of the Desert, is an iconic bastion of the LGBT community. It recently closed its doors, sadly having fallen victim to fewer crowds and harsher licensing laws. One wonders if such magnificent creatures will soon just be memories from a more vibrant past."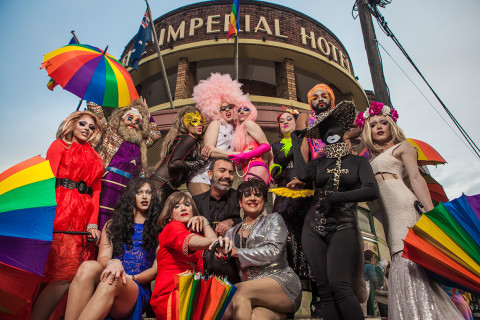 Self portrait by Rod McNicol (digital print)
"Having now spent decades making photographic portraits here in my old daylight studio in Fitzroy – subjecting a whole range of people to my very quiet and direct gaze – I feel it is fitting that I occasionally subject myself to this same unerring process. And as I am now approaching the proverbial three score and ten years, it does seem that now is the appropriate time."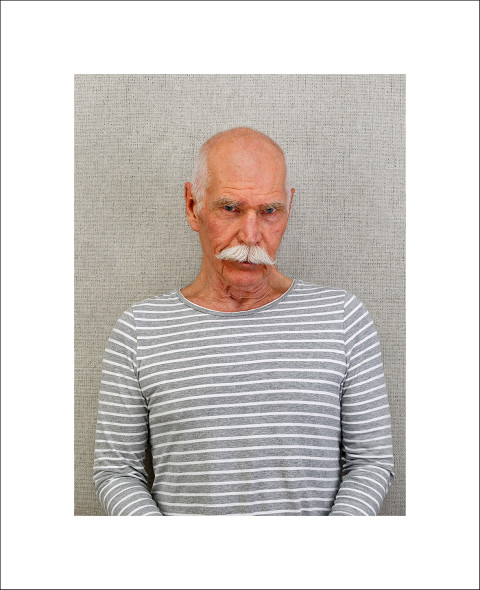 Eva by Stephanie Simcox (digital print)
"This portrait is from a suite of photographs taken on various Sydney beaches in the early winter mornings. There is a particular power in the light and mood of those first moments of dawn, almost arrested by the uncertainty of what the day will bring. Daily rituals are performed in the turning light, an ambiguous time between night and day. Those first moments of calm become a necessary part of practice for so many people. The quiet horizon becomes a meditation, a release from life and its anxieties. In the first morning light, Eva meets the sunrise."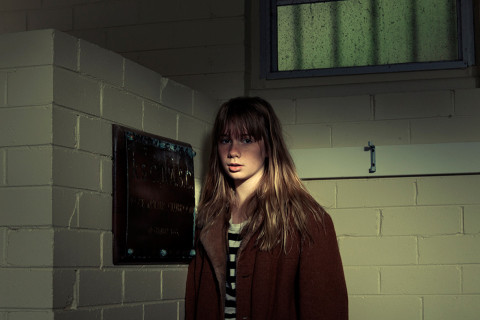 Soft and Sophia – safe by Freya Paley (digital print)
"One slow Sunday morning of the summer holidays, my daughter, Sophia, climbed into bed for a cuddle. Soft, one of our cats, followed her in. It wasn't long before they were both asleep. This photograph is the antithesis of the images of war I see every day. The image personifies a basic human right denied so many children in Australia and the world - the right to feel safe."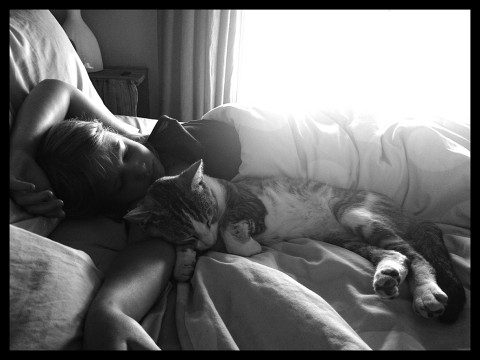 Polly Borland by John Tsiavis (digital print)
"There are multiple layers at work when one looks through a camera lens. Beyond the actions of sit, point, and click, I ask "what is really being portrayed here?" This question becomes particularly complex when the subject makes her art and creates a narrative by constructing characters and interpreting them through her lens. In Polly's deliberate projection, I find her vulnerability amplified, with a unique tension that comes when one is at the same time the photographed and the photographer."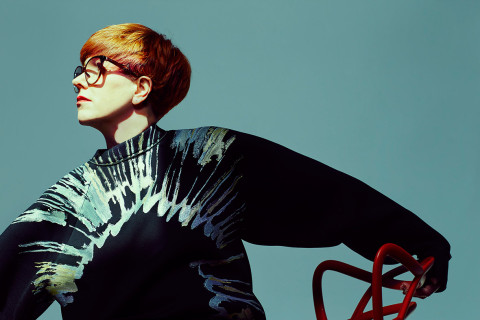 Sisters Isla and Elki role-play as princesses by Natalie Grono (digital print)
"In my photographic work I am interested in documenting a childhood world of fantasy and drama and how imaginative role-play can stimulate curiosity, self-discovery and the birth of fears."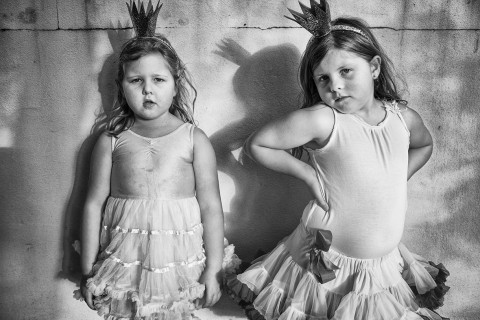 My room by Anna Sinclair (digital print)
"Ayesha is eight years old and lives with her mother in a home they rent and share with another person. She is standing in her bedroom; however, it remains unused, storing household items. Ayesha prefers sleeping with her mother and sharing her warmth and company to being alone in her bedroom. This photo was taken as part of a series looking at the growing class disparity along one street in Surry Hills, New South Wales."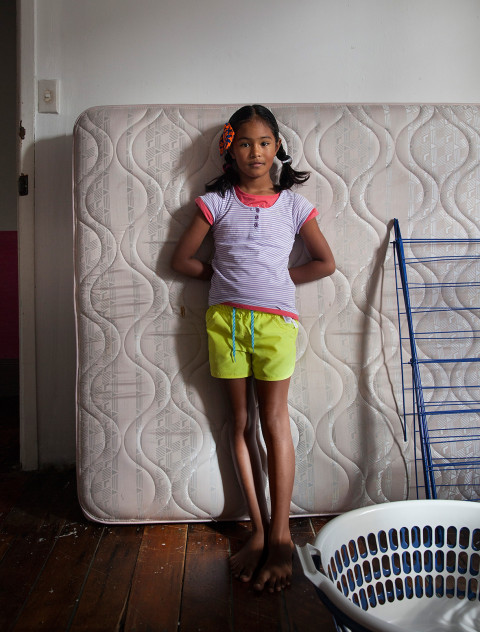 Nobby looking back by Carol Elvin (digital print)
"Nobby is my 87-year-old father- in-law. He moved to Australia from England in 1959. His career as a doctor includes stints as medical superintendent at multiple hospitals around Australia. He has a passion for the Australian bush and enjoys daily walks in the nearby hills and reserves. I have enjoyed his vivid and colourful life stories when walking with him. My time with Nobby has taught me to keep the body and mind active for as long as possible, and listen and learn from those who are looking back."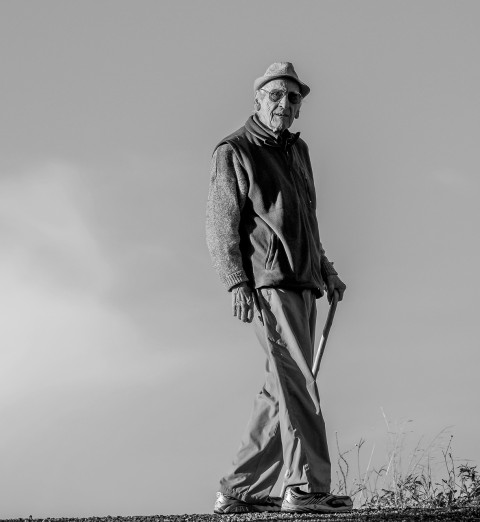 Catherine by Lynette Letic (digital print)
"Taken at a small community bush dance in Ma Ma Creek, this portrait of Catherine is part of a series titled Let's Get Together, which explores diverse individual and communal attempts at performing in regional Queensland."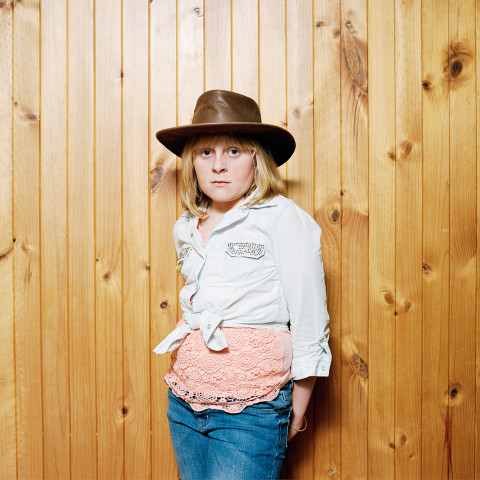 Isaiah, arms and legs folded by Marc Bowden (digital print)
"Isaiah, a strong young man from Papua New Guinea's Southern Highlands Province, embodies an attitude of pride in one's culture and identity. With references to the vibrant colours, lush vegetation and blue and white stripes from traditional male Southern Highlands attire, this portrait is a contemporary bow towards Isaiah's heritage, of which he is immensely proud. Isaiah lives in Cairns just three hours from his homeland, but sometimes it feels a world away."