George Osborne's controversial austerity measures will be extended for another year into 2020/21 because of the cuts the Chancellor outlined in his 2016 Budget, the Institute for Fiscal Studies (IFS) has revealed. The independent think-tank delivered the scathing assessment during its post-Budget briefing on 17 March.
The analysis comes after Osborne told MPs he would slash public sector spending by a further £3.5bn ($5bn) in the wake of revised Office for Budget Responsibility economic forecasts and in a bid to meet his budget surplus of more than £10bn by 2019/20. But the IFS warned the top Conservative only had a 50% chance of achieving the goal, according to Paul Johnson, the director of the IFS.
The think-tank also claimed that changes to Personal Independence Payments (PIP) for disabled people will leave 370,000 claimants £3,500 a year worse off, even though Osborne boasted the disability budget would rise by £1bn.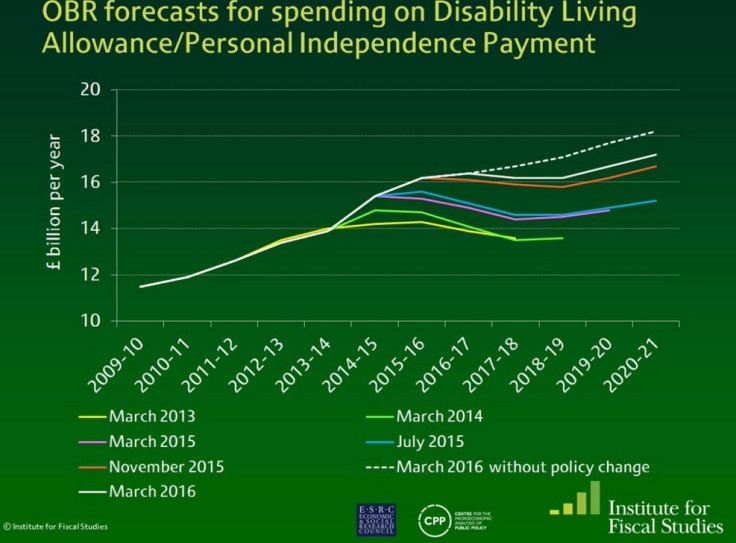 However, the Chancellor's cuts to personal income tax, including taking 500,000 people out of the 40p tax rate, will leave the rich better off. "The biggest gainers were those towards the top of the income distribution," Johnson added.
IFS' findings coincide with those from the Resolution Foundation, which estimated that the richest 20% of households will gain £225 on average from the income tax cuts announced in the Budget, while the poorest 20% will get just £10 on average.
Osborne's headline-grabbing levy on soft drinks was also torn apart by the IFS. Johnson claimed the tax, which will come into force from 2018, could encourage sweet-toothed consumers to seek their sugar fixes elsewhere. The economist explained the tax will not have any impact on the other 80% of sugar consumption, and may increase it as people move away from soft drinks to other sugary products.
Considering the Chancellor said the measures was designed to help reduce childhood obesity, the IFS' analysis will be a blow to Osborne. The think-tank also warned the tax could see high-sugar drinks taxed less because of the complex nature of the levy.