Kate Walsh has claimed Personal Independence Payments (PIP), and their various predecessors, for over 20 years now. She has had a foot amputated due to congenital shortening of the right leg, suffered from arthritis throughout her body and has had six joint replacements, leaving her with severe mobility issues throughout her life.
Now, under the new measures announced by UK Chancellor George Osborne in the Budget on 17 March, she faces cuts to her benefits and will lose her specially designed car that she describes as her "lifeline".
"It is people who have no concept of being disabled who are saying: "Oh they don't matter". It is going back to the dark ages, it is going to put us in poverty."
She added: "If they take the car away, I am stuck in the house. This government want us to work − it is their golden mantra − but they are taking the facilities away for us to get to work."
The 58-year-old flute teacher says she cannot take public transport due to her fragile skeleton, and has been advised to protect her new hip and knee replacements. However, the Department of Work and Pensions (DWP) have declared she is fit to move and decided she no longer needs her car.
The government has faced criticism over the decision to cut PIP, with Labour claiming it will affect 600,000 disabled people across the UK. In his budget speech, Osborne defended his record on disability benefits.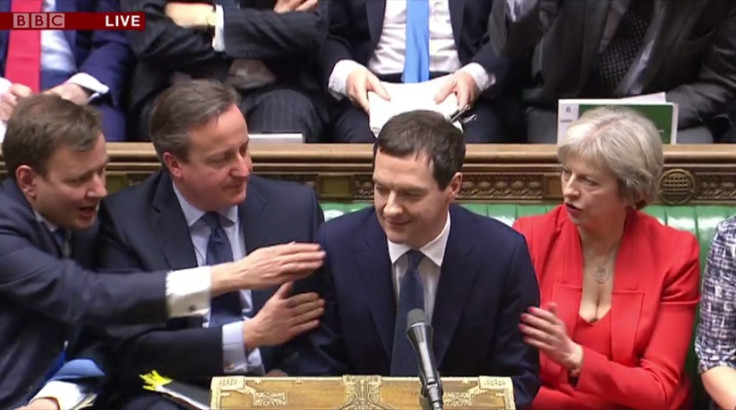 Osborne said: "On welfare, last week my right honourable friend the secretary of state for work and pensions set out changes that will ensure that within the rising disability budget, support is better targeted at those who need it most. Let me confirm that this means the disability budget will still rise by more than £1 billion, and we'll be spending more in real terms supporting disabled people than at any point under the last government".
Despite these claims, lifelong Tory, disability campaigner, and member of the Conservative Disability Group Graeme Ellis quit the party over the cuts. And Kate says she agrees they have gone too far.
"I think [Osborne] is actually breaking Human Rights law. Plus discrimination. I think what he is doing is absolutely unethical," she said.
She added: "The thing that worries me is that somebody might get so depressed they could commit suicide. And with some of the cutbacks, people could die."
The government say around £1.2bn ($1.7bn) will be saved by reforming PIP. The benefit goes towards extra costs caused by long-term ill health or disability for people aged 16-64.