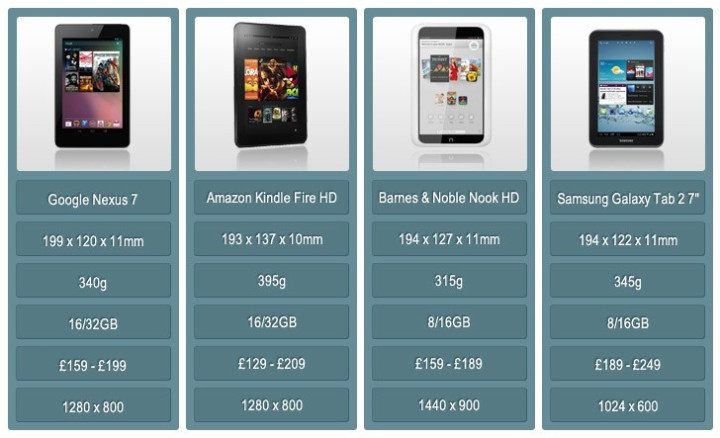 Earlier this week, we published the Part I of our budget 7in tablet group test, looking at the design, screens and hardware of the Google Nexus 7, Amazon Kindle Fire HD, B&N Nook HD and the Samsung Galaxy Tab 2 7.0.
In Part II, we're going to get under the skin of each tablet, reviewing the software and available content for each, to help you decide which tablet is best for you.
Despite all running Android, even at a glance it's obvious that each manufacturer here has taken a very different approach, producing four quite different user interfaces.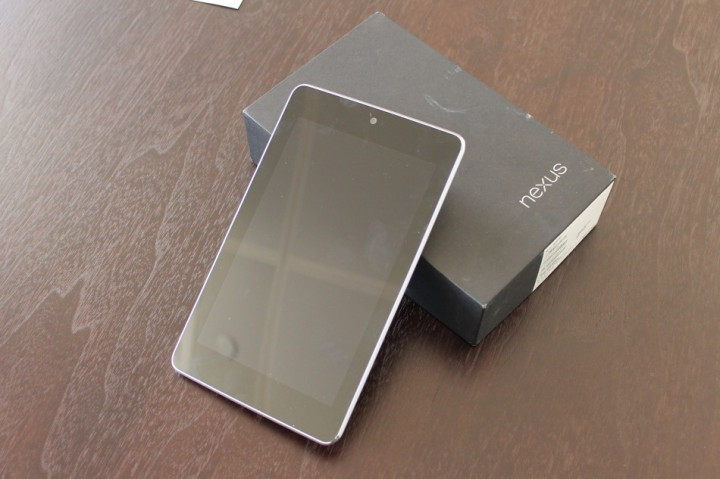 Perhaps unsurprising given the name and branding, but the Google Nexus 7 uses a build of Android 4.1 (Jelly Bean) that is exactly as the search giant intended; there's no customised skin or manufacturer bloatware here, it's pure Android.
With Jelly Bean, which debuted on the Nexus 7, Google introduced an innovation called Project Butter, which helps to keep the user interface super-smooth, ensuring frame rates are consistent and producing an operating system that is silky smooth.
The 1.3GHz quad-core processor of the Nexus 7 keeps things ticking over nicely, and with Jelly Bean we feel Google has finally caught up with iOS, by offering an operating system that is not only attractive and intuitive, but flexible and powerful too.
One of the main features of Jelly Bean is Google Now, which is a new search tool that aims to offer up relevant information and search results before you even search for them.
Essentially, it is location-aware and offers up suggestions based on where you are and what you've searched for in the past. For example, open Google Now in central London and it'll show the local weather forecast, the status of nearby public transport link and places to eat and drink.
Presented on cards than can be tapped on or swiped away if not relevant, the information given by Google Now gets surprisingly accurate, as it monitors your searches across all Android devices that you're logged into, and any Chrome browser you've used, too.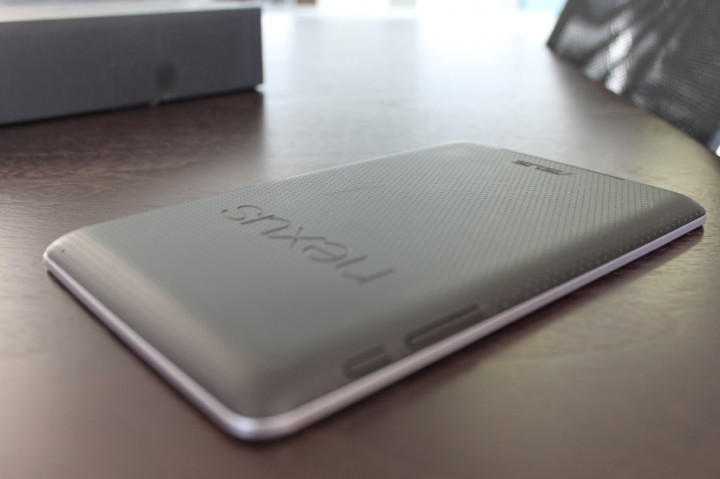 Elsewhere, Android on the Nexus 7 is highly customisable, so you can place your apps and widgets however you like over multiple home screens.
Thanks to the quad-core processor, video playback (even at full HD) is flawless and 3D games like Grand Theft Auto 3 play as well as on any other tablet - we really don't have a bad word to say about the device.
For battery life, we got 8.5 hours of video playback out of our Nexus 7, with the screen set at 50 percent brightness, which is about on par with other tablets.
Content
For content, the Nexus 7 gets access to Google Play, which serves up a large catalogue of music, books, films, games and applications.
Priced at 79p, 99p and £1.29, music tracks are about the same price as they are through iTunes and the catalogue is growing all of the time, with 5.5 million tracks added in November, including albums from Lady GaGa and Rihanna.
Google claims to offer hundreds of thousands of movies through Play, including the newest DVD releases like Ted, The Amazing Spider-Man and Avengers Assemble.
Play offers up films in four different ways; they can either be bought or rented in standard definition or HD, with prices starting from £3.49 for an SD rental (HD is £1 more), rising to £9.99 to buy a film (add £2 for HD).
Not all films can be bought outright and we found that the majority of the most popular new releases can only be rented for a 30-day period.
Television programmes are not yet available outside of the US from Play, although with films recently making the leap, we expect TV to arrive next year, once Google has deals in place with the various producers and rights holders.
Seven inch tablets are the perfect size for reading, so to encourage consumers to swap bookshelves for touchscreens, Google Play has a book library boasting four million free books and "hundreds of thousands" available for purchase.
There's a good range to choose from with many books priced around the £3-£5 mark, although new releases are more like £10-12, so opting for digital over hardback might not save you much money.
Unlike Apple's alternative, Google Play does not yet offer magazines or newspapers outside of the US. Some publications, like the Guardian, have their own apps for distributing to Android users, but the ecosystem really needs a central place to download subscriptions from.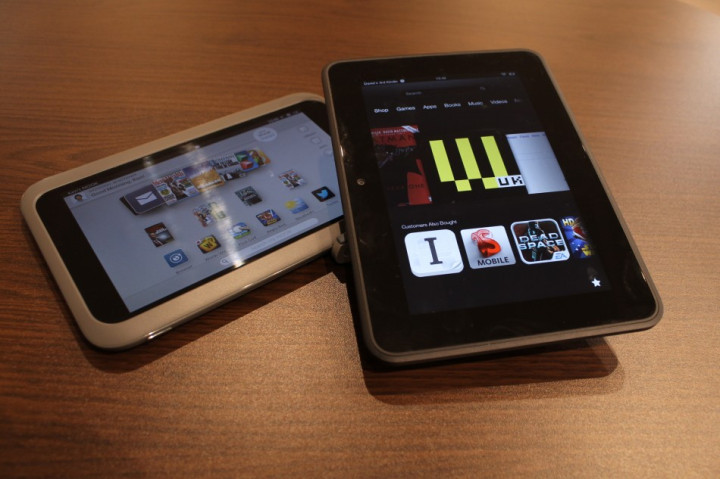 Although it too runs Android 4.0 (Ice Cream Sandwich), you would be forgiven for thinking that the Kindle Fire HD has a completely different operating system to the Nexus 7.
Highly customised and without access to Google Play, Amazon has taken the Linux foundations of Android and built its own user interface on top, creating a device that is unique.
Amazon has stripped Android down and made consuming content the central feature, with an interface that makes it easy to quickly navigate between your most recently viewed content.
The main interface features a central carousel with your most recently viewed, played or read content at the front; above this, there is a navigation bar giving instant access to search, shop, games, apps, books, music, videos, newsstand, web, photos, documents and offers.
It's best to forget that this is Android altogether, and instead treat it as an entirely new system.
Content
As there is no Google Play, the Kindle Fire HD has access to Amazon's own digital library of music, books, videos and applications.
Amazon's music store is available in the UK and contains a sizeable library of content that is priced competitively against Google Music and iTunes.
When you buy an album from Amazon it is stored in the cloud, ready to be downloaded to up to ten other devices. Amazon also lets you upload up to 20,000 tracks of your own music to the cloud for free, and lets you access it from anywhere - similar to services offered by Google and Apple.
Unfortunately, video is the Kindle Fire's biggest problem. Without a Wi-Fi connection (there is no 3G model on sale) it is not possible to easily watch video on the tablet.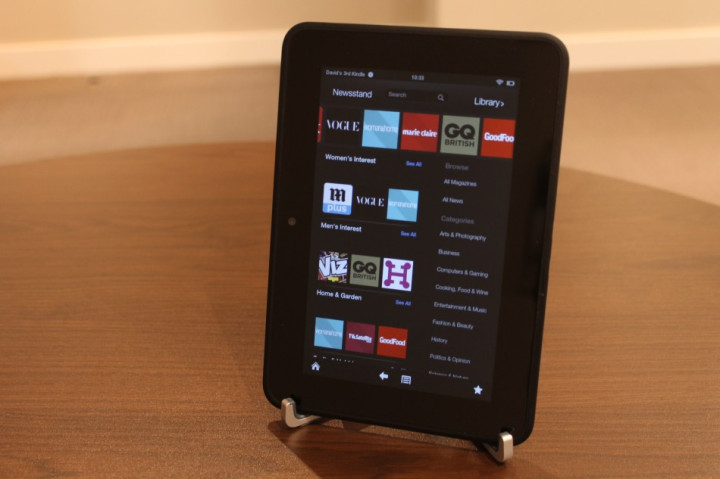 For UK customers all video content is accessed through Amazon-owned LoveFilm, and while video quality is fine - and HD looks particularly good - there is a glaring lack of content available in the UK, just as we found with the LoveFilm Instant applications in our on-demand TV group test last month.
As with the On-Demand app on other platforms, LoveFilm has some good content, but there are glaring holes in the TV and films catalogue, especially with newer releases, which Sky has exclusive rights to.
Sadly, it gets worse. There is no way to purchase or rent video from LoveFilm to watch offline, so without a Wi-Fi connection you have no video to watch on your Kindle Fire HD.
Amazon has also made it difficult to get video you already own onto the device too, as it doesn't support the popular .avi or .mov formats; instead, the Kindle will accept MP4 videos only, but for many this will be a huge hurdle forcing them to use complicated conversion programmes.
At least with reading you'd hope the Kindle Fire HD to excel, and it does. Amazon has a huge catalogue of books, magazines and newspapers to purchase, and anything you buy is synced across every device you've got the Kindle app installed on.
Thanks to the HD screen resolution, text appears sharp and is easy to read - and you can of course turn the screen brightness down to make long reading sessions more comfortable.
Amazon leads the way when it comes to ebooks, with a vast catalogue, decent prices and syncing that all of your books open at the last page you read on smartphones, tablets, PC, Mac, and of course your Fire HD.
Finally, Amazon has its own selection of applications for the tablet, and while it is nowhere near as comprehensive as Google's own Play store, all the usual suspects like Twitter, Facebook and Angry Birds are there.
Sadly, there is no access to Google's services, so users miss out on Maps, Gmail, Drive and Calendar - and although Amazon has installed its own email and contacts app, we found to be difficult to set up with a Google account.
Overall, the Kindle Fire HD is a tablet of compromise. On the one hand, it has access to the very best ebook library on the market and Amazon's syncing capabilities are excellent; but on the other, there are some severe limitations here.
Lack of video playback of anything but MP4 is a real shame, and lack of being able to buy or rent video content from Amazon is presumably a licensing issue that will be eventually addressed, but for now it's a disappointment.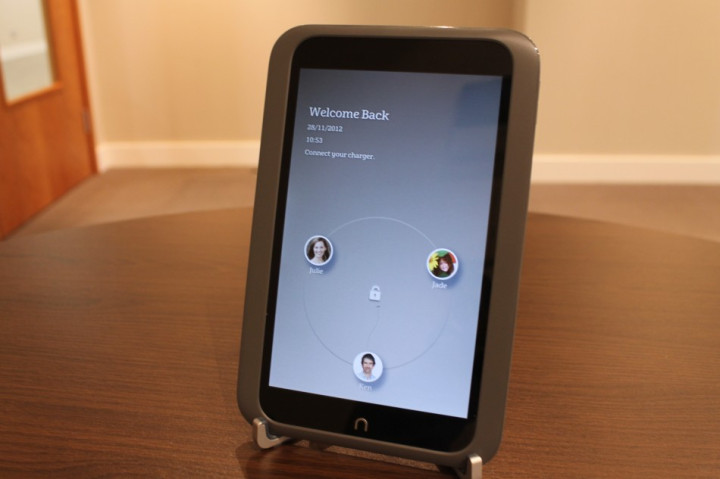 Barnes & Noble has gone down a similar route to Amazon by creating its own custom interface that looks quite different to any version of Android we've seen before.
It's still Android 4.0 under there, but the widgets B&N has developed have a strong emphasis on pointing the user towards its book and magazine shop.
This isn't a complete overhaul in the same way Amazon's software is, but it's not far off; with its own application store replacing Google Play and the unique ability to create several user accounts on the same device, the Nook HD is an interesting proposition.
A feature iOS and Android tablet users have been crying out for, multiple user accounts means that members of a family can each have their own section of the Nook HD, with their books, magazines and other media arranged how they want.
Each account can have up to five home screens to be filled with apps, links to the B&N store, the web, email, and shortcuts to your favourite books, newspapers and magazines.
It's an attractive interface that puts content - especially books and magazines - front and centre, with a carousel of your recently watched, read or played content at the top.
The Google Play store is missing, although Barnes & Noble has its own online shop, where popular apps and games sit alongside books, magazines, movies, TV programmes, newspapers and a separate section for children's applications.
The Nook's 1.5GHz dual-core processor with 1GB of RAM is enough for most tasks and even streaming HD video doesn't cause the tablet any problems; but switch between user accounts and the cracks start to show.
Logging out of one account and into another is simple enough - just a couple of taps - but the transition is jarring, with icons disappearing, leaving a blank home screen for a few seconds, before the other user's books and other content fills up the screen again.
Safe to say, the custom Android skin has a few creases to be ironed out, but we think the performance is there and B&N just need to release a software patch to help improve speed and stability.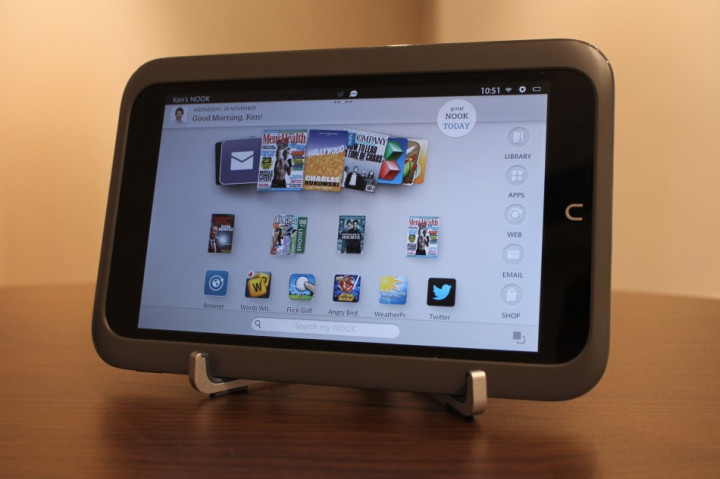 Content
Although it runs Android, the Nook HD does not have access to the Google Play Store. Instead, Barnes & Noble offers its own version, which only has around 10,000 apps and games to offer.
Despite this, the company has said that these are all tablet-optimised, so you won't see any ugly, stretched smartphone apps.
This doesn't sound like much compared to the hundreds of thousands on offer from iOS and Android, but the selection isn't bad. There is Angry Birds Star Wars, Cut The Rope, Doodle Jump, Words With Friends and many other hugely popular mobile games; and for apps there is Flipboard, Netflix, Twitter, Evernote and Dropbox to name just a few.
As for video, Barnes & Noble is yet to open its film and TV shop in the UK (that's coming in December, the company says) so for now you'll have to load it up with your own video files; for this the Nook HD is surprisingly flexible, catering for high quality DivX and Xvid files.
When Nook Video finally goes live, Barnes & Noble has promised content from HBO, Sony, Warner Brothers, Viacom and Disney; all of the content will be available on the Nook tablet and on other devices through an app which is now available for iOS and Android.
There are no signs of B&N offering a music store any time soon, so you'll have to transfer your music to the Nook HD from elsewhere. The tablet has a simple music app pre-installed and will play MP3, AAC, OGG and WAV files, but if you're planning to load much onto the Nook you'll need a microSD card to increase the inadequate 8GB of internal storage.
Reading is where the Nook HD excels, with Barnes & Noble relying on its bookseller roots to offer a comprehensive catalogue of books, magazines and some newspapers.
The book and magazine sections of B&N's shop both offer a wide choice for all tastes and there's also a section for children, but so far just the London Evening Standard, Daily Star, Express and Independent newspapers are available in the UK.
I'm sure this will increase, and we will no doubt see offerings from the Times, Telegraph, Guardian and others soon.
Samsung Galaxy Tab 2 7.0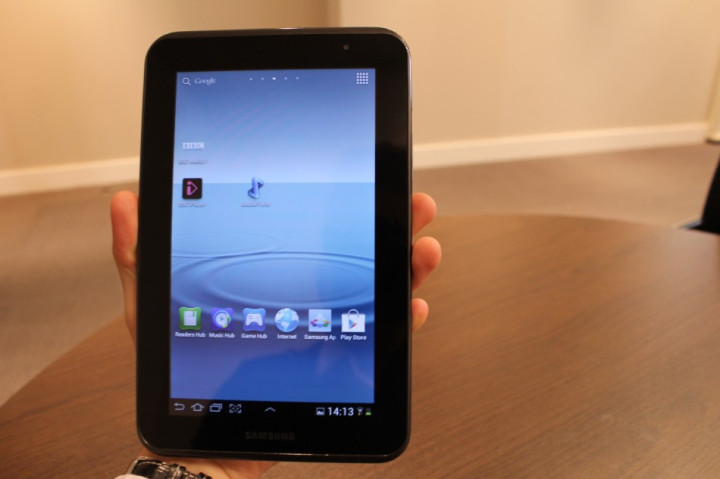 Finally, we have the Galaxy Tab 2 7.0, Samsung's second generation 7in tablet running Android 4.0 (Ice Cream Sandwich), with an update to Jelly Bean promised soon.
Sitting somewhere between the pure Android of the Nexus 7 and the heavily customised versions on the Kindle and Nook, the Galaxy Tab has Samsung's TouchWiz interface draped over the Google operating system.
What this means, is that you get the regular five home screens to cover in apps and widgets, along with the full-width notification bar and menu shortcuts at the foot of the screen.
There aren't as many gimmicks here as on the Galaxy S3 smartphone (no one needs to tilt the device to zoom in, do they?) so it's a far simpler and less cluttered user experience than some Samsungs.
Having said that, like the Nexus 7, the user is trusted to at least understand some Android basics. Whereas the Kindle and Nook are aimed at those who are new to tablets, with their simple interfaces helpfully directing users to content, the Galaxy Tab is full Android, open to let you do as you please.
The Tab's 1GHz dual-core processor with 1GB of RAM is the least powerful of the four, but don't let that put you off too much, as it can manage Android just fine.
As part of TouchWiz, the Galaxy Tab 2 7.0 has instant access to six mini applications, such as a calendar, email client, music player and calculator, which can be opened in their own small window on top of whatever else you are doing.
Otherwise, everything is as you would expect, and anyone who's used a Samsung phone in the last year or so will feel at home right away with the Tab.
Content
The Galaxy Tab 2 7.0 gets full access to Google Play and can be loaded up with the same apps and content as the Nexus 7.
Split up into apps music, books and movies (no TV yet), Play offers a wide range of content with million of music tracks, hundreds of thousands of films, and four million free books to download.
On top of this, Samsung's own Readers, Music and Game Hubs offering extra content, including newspaper and magazine subscriptions, games from the likes of EA, and music from 7 Digital.
Added to this, the Tab 2 has access to Samsung Apps, although there's really nothing of much interest here, so you are best off sticking with Google Play for apps and games.
Verdict
Picking a winner between these four budget tablets isn't easy. Each offers something unique in the way they present Android, but from early on we felt least impressed by the Galaxy Tab 7 2.0.
The South Korean company may be dominating the smartphone market at the moment, but this Tab 2 7.0 feels dated, with the poorest quality screen of the four and a processor that we worry will start to feel sluggish in a matter of months.
Less savvy consumers may well see the Samsung name, throw their money at it and be happy, but there are three better options out there.
After using Kindle ebook readers for years, we had high hopes for the Kindle Fire HD, but the chronic lack of offline video is a major problem; LoveFilm (or another service) may offer video to buy or rent in the future, but for now TV and films simply aren't an option for Fire customers.
Away from that, access to Amazon's vast book catalogue is very welcome and the 1280 x 800 resolution screen is excellent for reading on.
The Kindle Fire HD does a lot right, but the problems with video content and the unfinished feeling we got from the operating system leaves us unable to recommend it over the remaining two tablets here.
Barnes & Noble doesn't have the household name status as Amazon - or Kindle, even - in the UK, but the Nook HD should not be discredited as an also-ran in the budget tablet race; we found it to be excellent.
Against the odds, B&N has created a device with the best screen of any 7in tablet on the market - it's even higher resolution than the £269 iPad mini and makes HD video look great.
Combine this with an attractive design and a user interface that is beautifully simple, and we think Barnes & Noble is onto something with the Nook HD.
Hardcore Android users will want more though, as the Play store is missing, and that's where the winner of this group test comes in.
The flagship 7in Android tablet, the Google Nexus 7 combines an excellent operating system with a comprehensive media and apps catalogue with competitive hardware and good performance. Perhaps most importantly of all though, is the price.
At £159, it costs no more than the competition and is £110 less than the slightly larger iPad mini, and for us that makes it excellent value.
The Nook HD is great for anyone who is new to tablets and wants to keep it simple, but if you want anything more for under £200, it's impossible to suggest anything other than the Google Nexus 7.
Earlier in the week, we published Part I of our budget tablet group test, looking at the design, hardware and screens of these four devices.