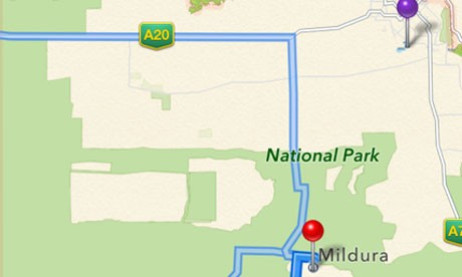 Apple Maps has been afflicted with glitches ever since the Cupertino-based company recreated the maps data and decided to replace Google Maps in iOS 6. Though several bugs were reportedly fixed earlier, it does not seem the case with Australia, as the local police authorities warned against the use of iOS 6 Maps after labelling the app as potentially life threatening.
Several Australian motorists headed towards Mildura were reportedly stranded in an inhospitable location - nearly 70Km (43.5 miles) off their actual destination. Deprived of food, water and cellphone reception, the motorists had apparently landed in the middle of Murray Sunset National Park, which is off limits to any road side service.
The victims of the unforeseen debacle were then reportedly rescued by emergency crews in unforgiving environmental conditions with temperatures rising as high as 46 degree Celsius. Local police later contacted Apple and sought a fix for the problem.
Following the hapless debacle, Apple has finally released a fix to enable the maps data to display the correct location of Mildura (a popular city known for its grape production and named after Mildura homestead - an antique sheep station) . Now, the search algorithm and directions to the town seem to be corrected. However, as The Guardian notes, the labelling function in the Maps app still seems to be inaccurate (shows the wrong location) unlike the search function that is spot on.
According to The Register, the maps issue may not be Apple's fault entirely, but rather the issue with inclusion of incorrect location by the official Australian Gazetteer. The Gazetteer, which is an authoritative list of 300,000 plus place-names along with coordinates, includes two Milduras. While one of them points to the real town, the other represents an entry for Mildura Rural City with coordinates -34.79724 141.76108. It's further ascertained that the second entry for Mildura that points to the centre of Murray Sunset National Park (close to a spot called Rocket Lake) is the real culprit.
Apple's CEO Tim Cook had earlier apologised to the public after several glitches in Maps app surfaced online and had become a primary source of embarrassment for the company. Although, Apple has taken stringent measures to curb the problem and improve its locations database, a few glaring and potentially life threatening errors like this one seem to be out of control.