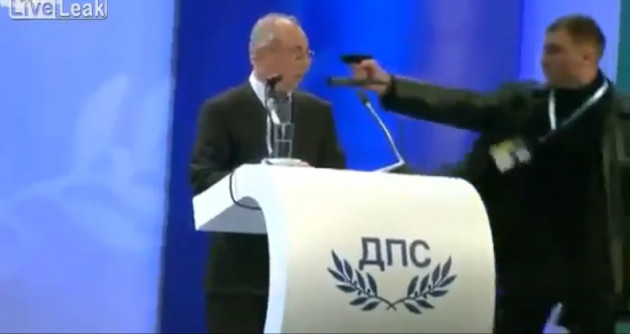 The man who pointed a gun at the head of a Bulgarian political leader at point-blank range on live TV, then pulled the trigger, has claimed he did not intend to assassinate him.
In scenes that were replayed around the world yesterday, Oktay Enimehmedov, 25, stormed the stage where Ahmed Dogan of the Movement for Rights and Freedoms Party (DPS) was delivering a speech and shot a gas handgun that appeared to misfire.
After the attack the politician pushed the gunman away before fellow party members wrestled him to the ground.
Footage then shows people forming a human shield around Dogan whilst others kicked and beat the gunman as he lay on the ground.
A bloody-faced Enimehmedov was later led away by security and taken to hospital.
Bulgarian Interior Ministry psychology unit head Nedelcho Stoychev has claimed that the gunman had left a letter for his mother in which he wrote that he wanted to teach Dogan that he was not 'untouchable'. Enimehmedov expected to die during the attack, according to Bulgarian news agency Novonite.
He also apologised for not finishing his education.
He had gained entry to the conference, at the National Palace of Culture, using an accreditation badge for a previous party event.
Novonite report that Enimehmedov is an ethnic Turk from the town of Borgas with previous convictions for causing bodily harm and drug possession and has no record of psychiatric illness.
Police said and was carrying two knives as well as the gun.
Gas pistols are usually used for training, and can cause serious injury if fired from close range.
Dogan, 58, has been leader of the DPS for almost 25 years.
The party represents Bulgaria's ethnic Turks, about 12 per cent of Bulgaria's population of six million.
Dogan, who is a key political figure in the country, was acquitted two years ago of receiving illegal payments as consultant for a hydroeletrical power project, in a high-profile anti-corruption trial.
He was revealed to have been an informer for the secret police after being jailed for the deportation of ethnic Turks during the communist era.
After the attack Dogan returned to the conference and received a standing ovation.
He had been scheduled to announce he was leaving his post, and to lend his support for DPS deputy-chairman Lufti Mesnan to become the new leader.
Turkey's Nationalist Movement Party (MHP) Tekirdağ deputy Bülent Belen, who also attended the congress to represent his party, said they witnessed a "security scandal" as officials failed to stop the gunman as he approached the stage, according to Turkish newspaper Sunday's Zaman.
Bulgarian president Rossen Plevneliev said: "Such an act is unacceptable in a democratic country. Bulgarian society is traditionally known for its tolerance, the mutual acceptance and respect between different ethnicities and religions. This is why, in the name of all Bulgarians, I want to convey the outrage caused by this act of violence."
Tsvetan Tsvetanov of the Interior Ministry has said that an investigation is underway.
WARNING: THIS YOUTUBE VIDEO OF THE INCIDENT MAY BE UNSUITABLE FOR SOME READERS.