The suspected suicide bomber who killed seven people in a blast that ripped apart a bus full of Israeli tourists was carrying a fake Michigan licence, according to AP.
Authorities are investigating the identity of the bomber who struck at Sarafovo international airport in the resort city of Burgas, around 250 miles east of the capital, Sofia.
The Sofia News Agency said, however, that the bomber was carrying a US passport, identifying him as a Michigan resident, which is believed to be fake.
Initial reports suggested that the explosion was caused by a bomb placed in the luggage compartment of the bus. Investigations carried out by Bulgarian authorities in conjunction with the FBI, CIA and Israeli authorities now points to a suicide bomber described as a caucasian man with long hair and sports attire, according to the report.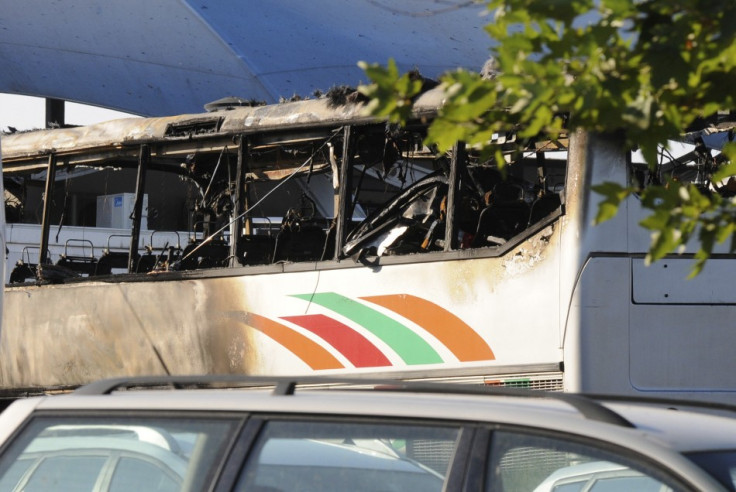 Bulgaria's interior minister, Tsvetan Tsvetanov told the Associated Press that the suspected bomber appeared on security tape for almost an hour before the attack, which injured dozens and claimed eight lives including the bomber's.
Six of those killed were Israeli citizens, and the bus driver, a Bulgarian, also died despite hospital treatment. The Israelis had just arrived on a charter flight from Tel Aviv, carrying 154 people.
Israeli Prime Minister Benjamin Netanyahu blamed Iran and its Lebanese proxy, the Hezbollah guerilla group, for the bombing - timed to coincide with the 18th anniversary of an Iranian-sponsored bombing of a Jewish community centre in Buenos Aires that killed 85.
Iranian television commentators dismissed Netanyahu's claims as "sensational" and "ridiculous".
As group of 30 wounded Israeli nationals were to be flown home by military plane, with Israeli doctors checking the wounded in Burgas to see if they can be moved safely.
Young Israelis told AP that they saw the blast, which gutted the bus in the airport's parking area.
"We were at the entrance of the bus and in a few seconds we heard a huge boom," said Gal Malka, an Israeli teenager who was slightly wounded by the explosion.
The airport was closed following the blast, whiel the Burgas mayor, Yordanka Fandakova increased the police presence in public areas that had links to the Jewish community. There are as many as 5,000 Jews in Bulgaria, the majority living in Sofia.
Soon after the attack, Netanyahu said: "All signs point to Iran. Just in the past few months, we have seen attempts by Iran to harm Israelis in Thailand, India, Georgia, Kenya, Cyprus and more.
"This is an Iranian terror attack that is spreading across the world. Israel will react forcefully to Iran's terror."
Burgas is a popular tourist spot for Israelis, with many visiting the area before they are drafted in to mandatory military service.