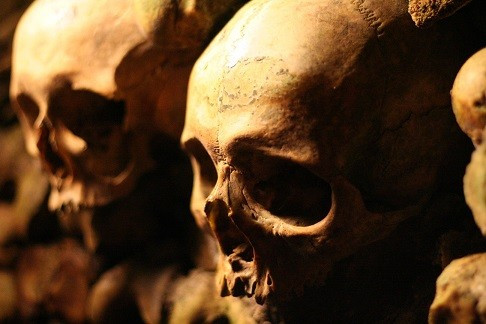 The remnants of a 1,150-year-old mass homicide has been discovered during construction of a shopping mall in California. Seven bodies were found in the mass grave, all belong to men aged from 18 to 40 and all of whom died in brutal fashion, with head wounds, broken bones and the remains of the weapons that killed them buried alongside their bodies.
The grave was discovered in 2012 in the Amador Valley, between Berkeley and San Jose, and after years of analysis at the University of California it has been revealed that the men were outsiders who had travelled for days before they reached their end. Over 200 burial sites have since been unearthed within the area, but this one holds particular importance.
Dr Jelmer Eerkens, a physical anthropologist at the University of California, told Western Digs: "The excavators noted that the burial was unusual. Seven men in their prime, buried extended and on top of one another — it looked like they were hastily buried. I had a suspicion it was a case of homicide and that they were not from there. So I wanted to find out why, by reconstructing their life histories."
Eerkens analysed the bodies and revealed that they died in around 850 – a time when the village and the surrounding areas were among the most populous within the region, with many people on the move at the time. "Such resettlement may have brought them into conflict with groups that were already living there," Eerkens said.
He believes that the men who were buried at the site – which has been dubbed Burial 85 – could have unsuccessfully attempted to raid a village or could have fallen victim to inter-village war.
By studying teeth and bone samples, the researchers were able to discover that the men originated from the San Joaquin Valley, southeast of their resting place. "Together, the different isotopes reveal different parts of the story of their lives," Eerkens added.
They also found that, by studying the mitochondrial DNA, called haplogroups, all the men were not family as four different haplogroups were found. "This means the men who were engaging together in warfare or conflict could not all be brothers or maternal cousins. In that respect, they must come from a minimum of four different families.
"This suggests to us that warfare or raiding was conducted by people who lived in the same or nearby villages, but who were drawn from different households and families. In other words, warfare was organised above the level of the family."