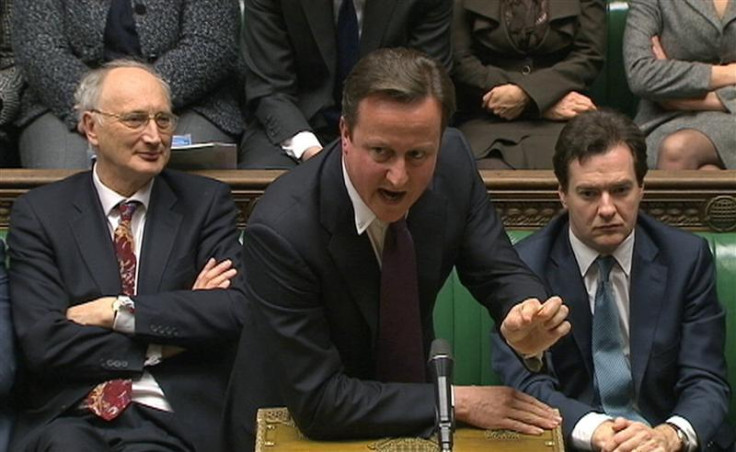 The prime minister has fended off criticism by the Labour leader Ed Miliband over the latest employment figures which suggest that more than 118,000 people lost their jobs in October and November.
The unemployment figure jumped to 2.68 million in the three months to November, the worst since the summer of 1994, giving the UK a jobless rate of 8.4%.
The number of unemployed 16-24-year-olds increased by 52,000 over the quarter to 1.04 million, the highest since records began in 1992.
Miliband said in the Commons that unemployment had risen for the sixth month running and asked David Cameron: "Do you think it has anything to do with your government?"
But Cameron turned on Miliband and accused him of having "no idea" of how to make policy. He said Miliband was "so incompetent he can't even do a U-turn properly".
The prime minister said: "The government takes absolute responsibility for everything that happens in our economy and I take responsibility for that.
"Any increase in unemployment is disappointing and it's obviously a tragedy for the person who becomes unemployed and can lead to real difficulty for that family and that is why we are taking so much action to try and help people to get back into work."
But he stressed there were some positives in the Office for National Statistics figures.
"If you look at the figures, it is noteworthy that while the increase in unemployment is hugely unwelcome there is still an increase in the number of people employed - another 18,000 people in work.
"What that shows is that we need more private sector employment; we need to move further and faster on that agenda.
"It is also noteworthy to note that there is a small decrease in long-term unemployment and I hope that shows that schemes like the Work Programme are beginning to have an effect."
Miliband, who had earlier changed his policy on spending cuts to align Labour with the government, was accused of "standing on a rake" by the PoliticsHome.com editor Paul Waugh after he said: "The prime minister has to change course."
Cameron stepped up his attack on the Labour leader, joking that Miliband "changed course every day" and was "an expert in changing course".